The Commerce Department reported today that the seasonally adjusted real value of the nation's production of goods and services grew at a 3.5% annual rate during the third quarter, a little better than the 3.2% average seen since 1947.
Rate of growth of real GDP (annual rates), 1947:Q2 to 2009:Q3. Shaded regions represent dates of recessions as declared by NBER.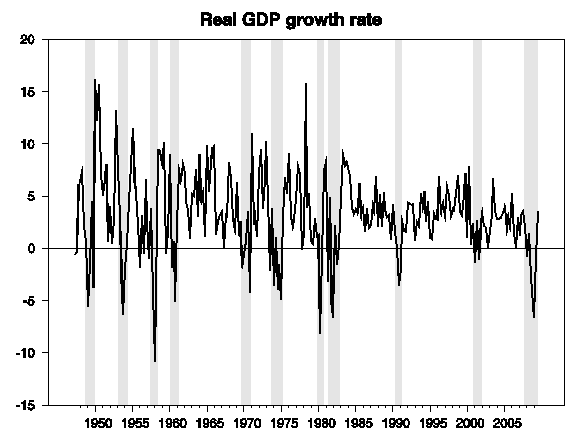 Consumption spending is the biggest component of GDP and the main contributor to third quarter growth, accounting by itself for 2.4 percentage points out of the 3.5% total, and with consumer purchases of motor vehicles and parts alone 3/5 of the contribution of consumption. Next in importance was inventory rebuilding, which added 0.9 percentage points to the total and could make a significant further contribution in the quarters ahead. Housing is finally making a positive rather than a negative contribution, and nonresidential fixed investment was a smaller drag than I had been expecting. Imports grew faster than exports, though I'm relieved that trade overall is coming back. The government sector made a smaller contribution than one might have thought given the fiscal stimulus, in part because lower state and local spending offset some of the increased federal spending. For a healthier long-run growth path I'd prefer to see business fixed investment and net exports adding rather than subtracting. But, compared with what we've been seeing recently, this overall is a quite welcome report.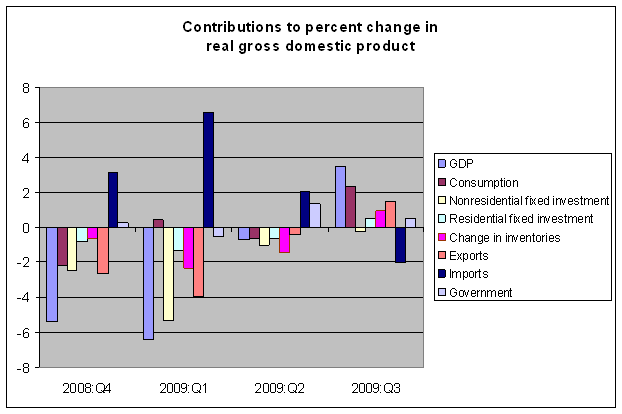 With the new third quarter numbers, we are ready to calculate our Econbrowser Recession Indicator Index for the preceding quarter (2009:Q2). This is a pattern recognition algorithm for identifying recessions that waits one quarter for data revisions and clear trend identification before making an assessment. Based on the 2009:Q3 GDP numbers just released, the value that the algorithm assigns to the second quarter of 2009 is 84.6– based on currently available data, it looks like the economy was still in recession as of the second quarter of this year. We'll declare the recession to be over when the index falls below 33. At that time, we'll use the full set of revised data available as of that date to assign a most probable date for the end of the recession.
The plotted value for each date is based solely on information as it would have been publicly available and reported as of one quarter after the indicated date, with 2009:Q2 the last date shown on the graph. Shaded regions represent dates of NBER recessions, which were not used in any way in constructing the index, and which were sometimes not reported until two years after the date.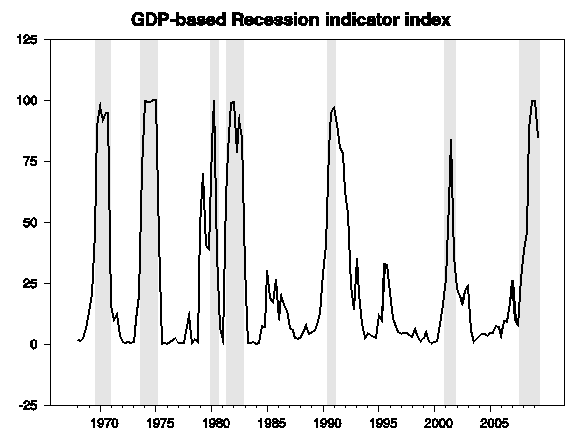 Other takes on today's numbers were provided by
WSJ Real Time,
Calculated Risk,
Jon Hilsenrath,
Economix,
and Justin Fox,
whose general theme seems to be concerns about whether this growth will be sustained into 2010.