As commodity prices start rising again — at least some — the question of whether futures are useful indicators seems relevant. Figure 1 shows the IMF commodity price indices, as reported in the October World Economic Outlook: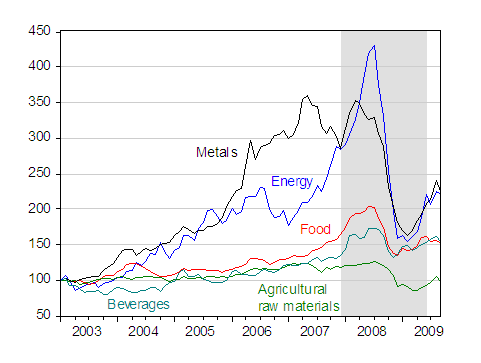 Figure 1: Commodity price indices for energy (blue), food (red), agricultural raw materials (green), metals (black) and beverages (teal). NBER defined recession shaded gray, assuming recession ends in 2009M06. Source: IMF, World Economic Outlook (October 2009), data for Chart 1.16.

In a previous set of papers, Oli Coibion, Michael LeBlanc and I examined the predictive power of energy futures post and paper.
In a new paper, Oli Coibion and I update our results regarding energy futures, and metal and agricultural commodities as well, through the end of August 2008, just before the financial crisis broke out in full force. From the paper:
This paper examines the relationship between spot and futures prices for commodities, including those for energy (crude oil, gasoline, heating oil markets and natural gas), precious and base metals (gold, silver, aluminum, copper, lead, nickel and tin), and agricultural commodities (corn, soybean and wheat). In particular, we examine whether futures prices are (1) an unbiased and/or (2) accurate predictor of subsequent spot prices. We find that while energy futures prices are generally unbiased predictors of future spot prices, there are certain notable exceptions. For both base and precious metals, the results are much less favorable to unbiasedness hypothesis. For precious metals and copper and lead, we strongly reject the null that β=1 at all three horizons. For the these other base metals, while we cannot reject that β=1, due to large standard errors. Finally, both corn and soybean futures have β close to 1, while wheat has β<1. Excepting oil and base metals, futures tend to outperform a random walk specification in out of sample forecasts.
The regression we run is:
st – st-k = β 0 + β 1 (f t|t-k – st-k) + ε t
Where st is the log spot price at time t, ft|t-k is the log futures price at time t-k that matures at time t. The resulting β coefficients at the three month horizons are displayed in Figure 2.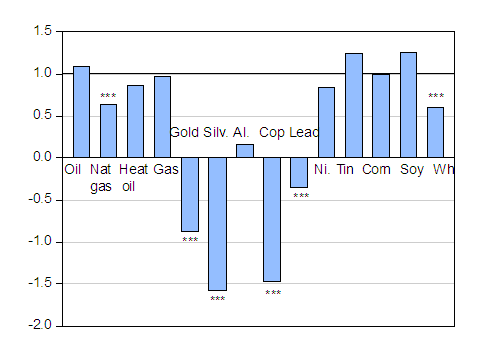 Figure 2:
β
1
coefficients, estimated via OLS. *** denotes significantly different from unity at the 1% level, using HAC robust standard errors. Source: Author's calculations.
Despite the bias in futures, along a RMSE dimension, futures outperform a random walk for most commodities, except for base metals (the out of sample period is 03M01 to 08M07). That being said, the outperformance relative to a random walk is seldom statistically significant.