The National Saving Identity states:
CA ≡ (T-G) + (S-I)
Where CA is the current account, (T-G) is the consolidated government budget balance, and (S-I) is the private sector saving-investment balance. Figure 1 depicts the profound shifts that have occurred in these components (normalized by nominal GDP).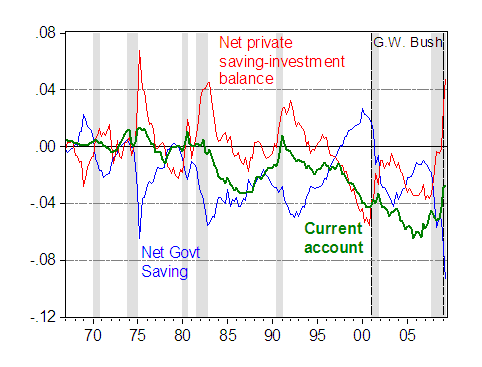 Figure 1: Net government saving (blue), net private saving-investment balance, (red) and current account (green), all normalized by nominal GDP. NBER defined recessions shaded gray; assumes latest recession ends 2009Q2. Source: BEA, GDP 2009Q2 3rd release, Tables 3.1, 4.1, 5.1.
Note that I've omitted the statistical discrepancy which makes these items add up exactly.
How much of the recent shift in the net private saving is due to changes in personal saving (as opposed to corporate behavior)? Actually quite a bit. Of the 2.6 ppts shift in net private saving since 08Q1, 2.9 ppts is accounted for by the shift in personal saving.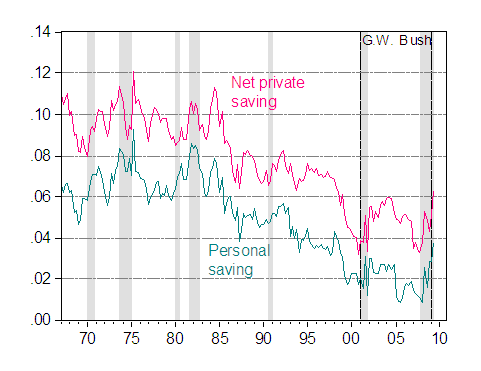 Figure 2: Net private saving (pink), and net personal saving, (teal). NBER defined recessions shaded gray; assumes latest recession ends 2009Q2. Source: BEA, GDP 2009Q2 3rd release, Table 5.1.
How persistent will this shift in the personal saving rate be? This is the big question, in terms of the rebalancing issue (keeping in mind that the national saving identity is a tautology). Deutsche Bank provides an interesting set of calculations, which indicates how long it will take to hit the 20 year average net wealth/disposal personal income ratio.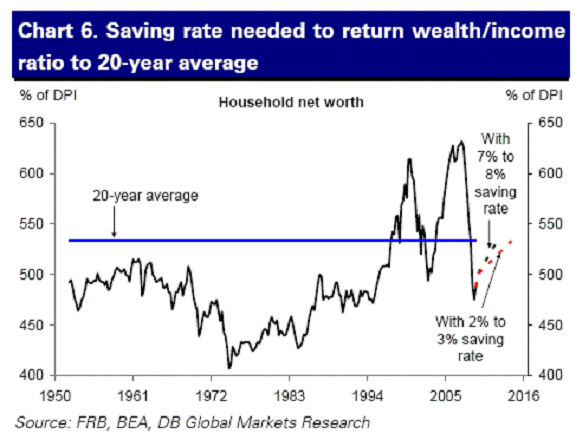 Chart 6 from Hooper, Slok, Dobridge, "U.S. Consumer Balance Sheet Adjustment: Half Way Done," Global Economic Perspectives (Deutsche Bank, Oct. 7, 2009) [not online].
Peter Hooper, Torsten Slok and Christine Dobridge write:
To try to gauge historical norms that households may aim for we appeal once again to average values that have prevailed over time. The 20-year average of household net worth is 533% of income. On this basis, net worth has
returned about half way to its historical norm from the low reached in Q1. Chart 6 shows two prospective paths of adjustment back to the 20-year average, a 3-year path and a 5-year path. To follow these paths, we assume that households use half of their saving to pay down debt, and the other half to purchase assets. We also assume that income grows at 1% a year and asset values grow at the same rate. In order to rebuild wealth in three years then, households would need to raise their saving rate to 7% immediately and to 8% by 2012. In order to rebuild wealth
in 5 years, however, households would need only a 2% to 3% saving rate. The saving rates implied by this wealth calculation are lower than the rates implied by the debt calculation. This is because net worth has risen since Q1 because of the rebound in the stock market. Net worth-toincome looks to have been about 500% in Q3; households have already made good progress towards their wealth
target.
This set of calculations suggests at least a few years of relatively muted consumer behavior. The key factor is the rate at which households seek to reestablish their target net worth/income ratios.
It's interesting to contrast this perspective with that the "Blame it on Beijing" view, which holds Rest-of-World excess saving as the driver. I believe that when considering the US economy — which is about three times as large as that of China (according to IMF WEO data) — one can reasonably argue that what happens here is at least as important as what happens in East Asia (in contrast to some observers, I take Chairman Bernanke's recent speech, focusing on raising US national saving, as a welcome return to thinking about the primacy of US factors [speech text]).