Causes, Consequences and Prospects, edited by Richard Baldwin
From Baldwin's introductory chapter:
World trade experienced a sudden, severe and synchronised collapse in late 2008 — the
sharpest in recorded history and deepest since WWII. This Ebook — written for the world's
trade ministers gathering for the WTO's Trade Ministerial in Geneva — presents the economics profession's received wisdom on the collapse….
…Two dozen chapters, written by leading
economists from across the planet, summarise the latest research on the causes of the collapse as well as the consequences and prospects for recovery. According to the emerging consensus, the collapse was caused by the sudden, recession-induced postponement of purchases, especially of durable consumer and investment goods (and their parts and components). This was amplified by "compositional" and "synchronicity" effects in which international supply chains played a central role.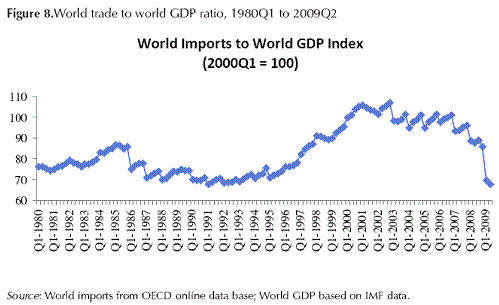 Source: R. Baldwin, "The Great Trade Collapse" (2009).
This is an excellent collection, essential reading for all interested in understanding the reasons for the decline in trade flows, and the implications for a resurgence in trade. Many of the questions raised in this May post on the trade collapse (trade credit crunch vs. vertical specialization vs. de-stocking) are answered to varying degrees in the various articles.
For a taste of what will be in our forthcoming book on the causes and implications of the financial and economic crisis, see Jeffry Frieden's chapter, which assesses the prospects for "Global trade in the aftermath of the global crisis". (Simon Evenett has an interesting round-up on protectionist trade measures thus far.)
The ebook is available here.