The price and income elasticities of Chinese trade flows are key parameters in the debate regarding the importance of Renminbi revaluation in achieving rebalancing. [0][1] I was hoping to update my estimates to incorporate data spanning the recent crisis, but Shaghil Ahmed at the Fed beat me to the punch with a new working paper that includes data spanning the recent downturn in Chinese trade flows. From Are Chinese Exports Sensitive to Changes in the Exchange Rate?
This paper builds a model of two types of Chinese exports, those processed and assembled laregely from imported inputs ("processed" exports) and "non-processed" exports. Based on this model, the sensitivity of Chinese exports to exchange rate changes is empirically examined. Unlike previous work, the estimation period includes the net real appreciation of the renminbi that has occurred over the past three years. The results show that greater exchange rate appreciation dampens export growth, both for non-processed and processed exports, with the estimated cumulative price elasticity being substantially greater than unity. When the source of the increase in the Chinese real exchange rate is appreciations against the currencies of other emerging Asian trading partners, the e¤ect on processing exports is positive but insignificant, while the effect on non-processing exports is significantly negative. By contrast, when the source of the increase in the Chinese real exchange rate is appreciation against China's advanced-economy trading partners, the effects on both types of exports are
negative. These results are consistent with the predictions of the theoretical model. Counterfactual simulations based on the estimated model strongly suggest that if the trade-weighted real renminbi had appreciated at an annual rate of 10 percent per quarter since mid-2005, Chinese real exports would have been roughly 30 percent lower today. Thus greater exchange rate flexibility could contribute to lowering China's huge trade surplus through restraining growth
of exports.
The paper uses up-to-date data (through 2009Q2), and specifications analogous to those used in Cheung, Chinn and Fujii, but using cumulative FDI as the supply shift variable, and estimated in first differences (in Cheung et al., we use DOLS).
The results indicate that real exchange rate appreciations have contemporaneous
and lagged negative e¤ects on real export growth, while foreign consumption growth
has positive e¤ects. The growth of the FDI capital stock has first a positive e¤ect
and then a small, but significant, negative one later on export growth. The long-
run solution of the statistical model, also presented in table 1, shows that a one
percentage point increase in the annual rate of appreciation of the real exchange
rate would have a cumulative negative effect on real export growth of 1.8 percentage
points, which is statistically signi…cant. A one percentage point increase in foreign
consumption growth would increase export growth by 5.9 percentage points, which
is also statistically signi…cant, and appears to be an implausibly large effect. Also,
a 1 percentage point increase in the growth rate of the FDI capital stock raises
export growth by a cumulative and statistically significant 0.3 percentage points.
This suggests significant supply-side factors at work in the determination of the
equilibrium growth rate of exports. All the estimated e¤ects are in line with theory.
The estimated model also indicates a large and signi…cant e¤ect on export growth
associated with China's entry into WTO.
Regressions based on disaggregated (processing, non-processing) trade are also estimated. Using some of these estimates, the author conducts a simulation, assuming a 10% annualized appreciation in the real effective rate since mid-2005 (to 2009Q2), instead of the actually observed 5.5% rate. This would have meant a RMB 20% stronger than actually observed as of December. Holding all else constant, exports then would take the counterfactual path illustrated in Figure 12.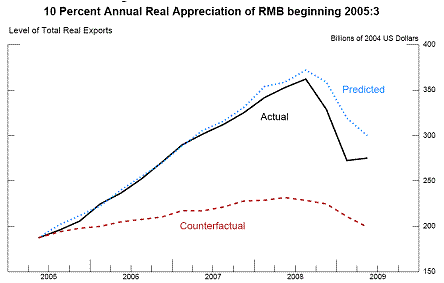 Figure 12:
from Ahmed, "Are Chinese Exports Sensitive to Changes in the Exchange Rate?"
IFDP
No. 987 (December 2009).
In contrast to the results in Cheung et al., there is a substantial impact on exports. According to Figure 12, the gap is about 100 billion (2004$), on a quarterly basis. We found a 50 billion (2000$) impact for a 20% revaluation on an annual basis. Using an alternative error correction model, we obtain a somewhat larger 90 billion dollar impact — but this is still substantially below the estimates Ahmed obtains.