In several previous posts, I've emphasized the importance of future US consumption behavior in determining whether the global imbalances shrink, or revert to their pre-crisis configuration. [0] [1] [2] An IMF SPN by Jaewoo Lee, Pau Rabanal, and Damiano Sandri weighs in on the question of consumption. From the executive summary:
U.S. household consumption declined sharply in late 2008, marking a departure from the
trend of a steady increase in U.S. consumption as a share of income since the 1980s.
Combining econometric and simulation analysis, we estimate that this departure will be
sustained beyond the crisis: the U.S. household consumption rate will likely decline
somewhat further from its current level, as the saving rate rises to around 6 percent of
disposable personal income (from nearly 5 percent in 2009). Compared to the pre-crisis
years (2003–07), this saving rate implies a decline in U.S. private-sector demand on the
order of 3 percentage points of GDP.
The paper (also discussed by Free Exchange) provides a nice summary of relevant statistics: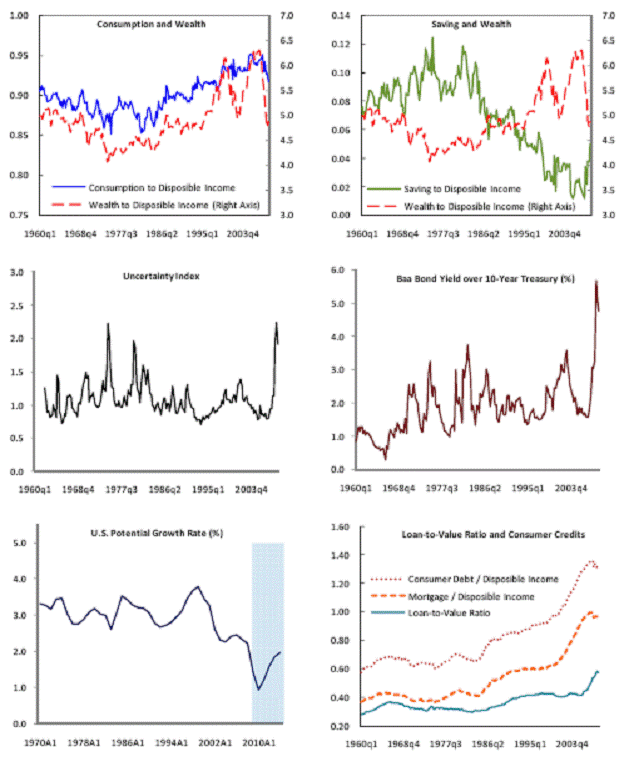 Figure 1:
Household Consumption and Selected Indicators, from
Lee et al. (2009)
.
Using a trivariate nonstructural VAR, with Bloom's (2009) uncertainty index, personal consumption-to-disposable income, and household wealth-to-disposable income ordering, Jaewoo and his coauthors obtain these impulse response functions (estimated over 1960Q1-2009Q2).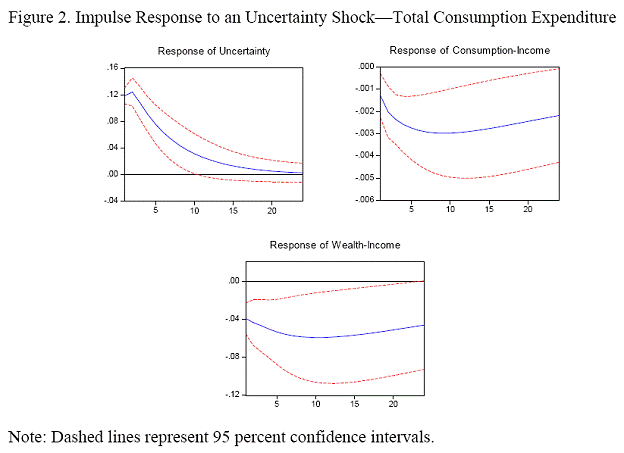 Source:
Lee et al. (2009)
.
The authors also conduct some robustness tests by way of estimating alternative specifications, and also investigate the results from quasi-structural VECMs. The paper ends:
…Compared to the pre-crisis years (2003–07), the estimated changes in
saving and consumption imply a decrease in the U.S. private-sector demand of 2-3¾
percentage points of GDP — close to a half of the U.S. current account deficit at its peak. This
will have substantial effects on global economic development after the current crisis.
That last sentence is key, and is consistent with my view that muted consumption growth will mean easier rebalancing than otherwise.
In this context, I think I would de-emphasize the traditional income-elasticities perspective, [3] [4] and focus on consumption behavior, going forward. That being said, here is Deutsche Bank's latest take on prospects for the US current account.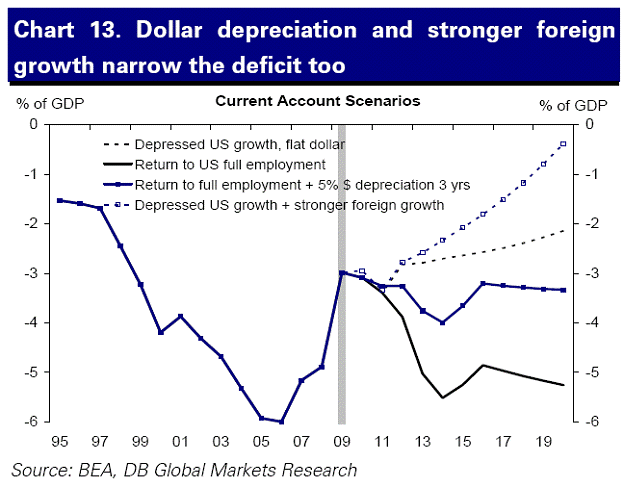 Chart 13:
from Peter Hooper, Torsten Slok, and Christine Dobridge, "US External Imbalance Prospects,"
Global Economic Perspectives
(Deutsche Bank, January 20, 2010) [not online].