Or, the end of the consumption follows a random walk view.
Following up this post last week on Lee et al., here is another analysis of consumption behavior, but this one is cross-country. From the abstract to "After the Crisis: Lower Consumption Growth but Narrower Global Imbalances?" by Ashoka Mody and Franziska Ohnsorge:
We estimate consumption dynamics in the G-7 economies, paying particular attention to the possibility of precautionary behavior in the face of uncertainty. We find that in the short run, continued income uncertainty will significantly dampen consumption growth. As such, consumption in the G-7 economies is unlikely to be the engine that revives global growth. Differences in the pace and timing of consumption moderation have implications for the evolution of global imbalances. With the U.S. experiencing a sharper rise in unemployment and, perhaps, more widespread loss of financial wealth than elsewhere in the G-7, the relative
rise of the U.S. savings rate is helping narrow global imbalances. But with a likely earlier recovery in the U.S., this narrowing could be short-lived. Moreover, long-term differences — in economic and financial volatility and in demographic structures –have been an important source of the imbalances and could soon reassert their prominence.
I had pretty much established in my own mind that the Hall finding that consumption follows a random walk didn't apply to the United States [1] [2], but I thought this paper was really interesting because it extended the finding to a broader set of countries.
The authors estimate over the 1984-2007 period:
Δ ln c i,t = α 0 + α 1 c i,t-1 + α 2 Δ ln y i,t + α 3 Δ UER i,t + α 4 V i,t + ε i,t
where the dependent variable is the growth rate of real consumption, c is the consumption share of disposable income, Δ ln y is the growth rate of real disposable income, Δ UER is the change in the unemployment rate, and V is a proxy measure for volatility in the macro outlook (based on Carare and Mody's methodology, using the standard deviation of forecast errors form a FSVAR approach to generating expected detrended output).
The authors estimate several variants; in one set of results, these basic variables are augmented with demographic variables.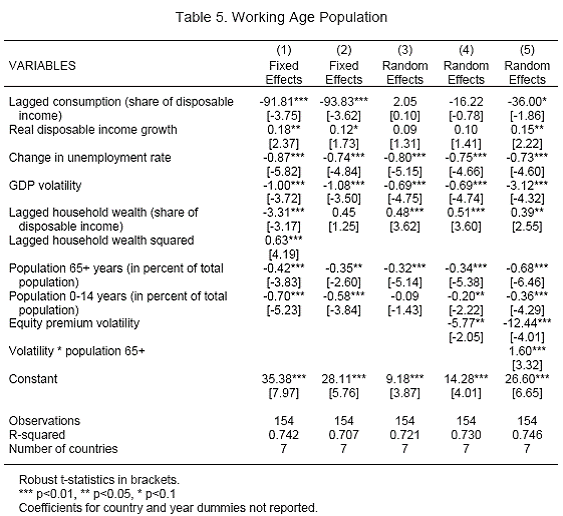 Table 5 from Mody and Ohnsorge (2009).
What are the implications for consumption and imbalances?
…U.S. consumption growth, which as noted has been in the 2-1/2 to 4 percent range for almost two decades, will remain weak. After a shrinking of consumption in 2009, consumption growth is projected at 1-3/4 percent in 2010. Elsewhere also, consumption growth will remain below precrisis levels through 2010. In terms of our model, this immediate weakness is being generated by the rise in unemployment, our assessment that GDP volatility (though reduced from its 2009 levels) will remain high in 2010, and by the destruction of financial wealth.

Writing in the context of the Great Depression, Keynes (1937) was quite clear that
consumption was unlikely to lead a recovery. As long as, he argued, consumption bears some relatively stable relationship to income — and particularly if the share of consumption is falling — production for consumption that is not accompanied by investment will result in aggregate incomes that produce insufficient effective demand for consumption goods. But investment, he went on to note, was highly sensitive to a deep form of uncertainty. The factors that influence the rate of investment, he concluded, were "most unreliable" since they were "influenced by our views of the future about which we know so little" (p. 221). Thus, at
a time when consumers are restrained by the uncertainties and fears that we have discussed in this paper, investors are likely to be all the more reluctant to step forward. Our claim that these processes may be working at the same time in all G-7 countries, though to varying degrees, implies that the synchronization puts a further dampener on the strength of the recovery.

Finally, global imbalances are narrower in 2009 because the U.S. has taken an earlier big hit on unemployment and possibly because more U.S. households held risky financial assets that have caused a more widely spread loss of financial wealth. In the countries on the other side of the global imbalances, the rise in unemployment has been slower due to the domestic structure of employer-employee relationships and public support to maintain employment.
While U.S. unemployment is projected to rise further, that rise is expected to be relatively modest compared with the projected unemployment increase, especially in Germany. The German forecasts for consumption growth reflect that anticipated increase in unemployment. As such, if events were to develop in line with the projections, the implication is that the unwinding of the global imbalances could reverse quite quickly in 2010.
This is a careful analysis, so it bears close study. I have a slightly different perspective driven by my focus on the ongoing process of deleveraging going. Deleveraging is occuring in the household sector, but that is in part driven by the forces outlined in the Mody-Ohnsorge paper. But what is not directly included is the tightening up of lending standards, and increases in capital requirements. To the extent that the Mody-Ohnsorge models fit well over the 1984-2007 sample period, perhaps ease of financing is not an important determinant of consumption behavior (or is proxied by financial wealth variables). However, I tend to think otherwise (note — I don't know how one could incorporate easily this ease-of-financing factor in the regression analysis).
Hence, I think it still possible — although maybe not probable — that US consumption growth will remain sufficiently muted to constrain the current account to GDP ratio. (And it's important to realize there is not a one-for-one relationship between consumption and the external balance. [3])