From the CBO's report "Policies for Increasing Economic Growth and Employment in 2010 and 2011″ released Jan 14, is an assessment of the boost to GDP and employment from various policies. Proper consideration of these measures are critical given the prospects for the output gap [0] and employment growth [1].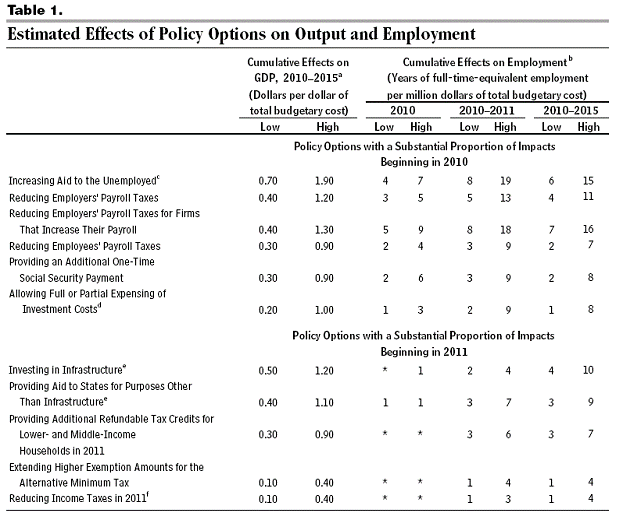 Table 1: from CBO, "Policies for Increasing Economic Growth and Employment in 2010 and 2011″ (Jan. 14, 2010).

The estimates of employment effects are summarized in a graphic form in this chart from the CBO Director's blog post on this report. Notice that employment and GDP not necessarily ranked similarly.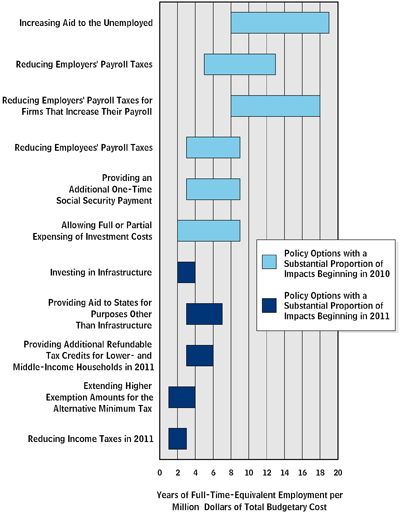 Figure
from
CBO Director's blog
Interestingly, the two policies that have the maximal (and mean of range) impact on employment are "Increasing aid to the unemployed", and "Reducing Employers' Payroll Taxes for Firms That Increase Their Payroll". Both of these have larger impacts than measures that take away revenue streams from Social Security. The former measure is described thus:
Under current law,
some people who exhaust their unemployment benefits
by the end of February 2010 will be eligible for additional
weeks of benefits through emergency unemployment
compensation (see Box 1 on page 4). People receiving
those benefits also are eligible to collect an additional
weekly payment of $25; payments for those supplements
are scheduled to phase out beginning in March 2010. In
addition, under amendments to the Consolidated Omnibus
Budget Reconciliation Act of 1985 (COBRA, Public
Law 99-272), the government will pay for 65 percent of
health insurance premiums for up to 15 months for individuals
whose employment was involuntarily terminated
between September 2008 and February 2010. The policy
option analyzed by CBO would provide further assistance
to the unemployed by extending through December
2010 the benefits that will begin to phase out in
March 2010 under current law; under this option, no
added benefits would be paid after July 2011.
The latter measure is described thus:
In the late 1970s, the New Jobs
Tax Credit was enacted in order to increase employment
by reducing labor costs (see Box 5). CBO analyzed a
related policy that would give employers a one-year nonrefundable
credit against their payroll tax liability for
incremental increases in their payrolls during 2010.
Because the credit would be nonrefundable, the credit
amount would not exceed the firm's payroll tax liability.
Such a credit could be based on payrolls in each calendar
quarter so that firms could receive the credit quickly. To
prevent firms from firing existing employees and hiring
new ones, the credit could be based on the difference
between the wage base in the current quarter and the
wage base four quarters previously (the "reference
period"). Also, to reduce the incentive for firms to delay
hiring or to lower their wage base before the policy was
implemented, the policy could be retroactive to the
beginning of the quarter of enactment. In addition, the
eligible wage base could be capped at an annual amount
for each employee. Wage bases for the Federal Insurance
Contributions Act (up to $106,800 in annual earnings
for 2010) and the Federal Unemployment Tax Act (up to
$7,000 in annual earnings) can be calculated quarterly for
most employers from information already reported to the
Internal Revenue Service, thus reducing the administrative
costs of this option.

Providing tax credits for increases in payrolls would
increase both output and employment. The effect on output
would come through the same four channels as the
effect on output of reducing employers' payroll taxes.
CBO estimates that this option and the preceding one
would have approximately the same economic impact per
dollar of budgetary cost through the first three channels
discussed above. Through the fourth channel, however,
this option provides a substantially larger increase in
employment and hours than the previous option because
this policy would provide tax benefits linked to payroll
growth; fewer budget dollars would be used to cut taxes
for workers who would have been employed anyway, so
the incentive to increase payroll per dollar of forgone revenue
would be greater. However, linking the availability
of the credit to payroll growth would provide no incentive
to maintain employment at firms that have been contracting
and thus less incentive to maintain employment
overall in industries and regions where the economy
remains the weakest.
As noted on Box 4 of the report, in this study, the Fed is assumed to withdraw monetary stimulus in 2011. Hence, the multipliers are smaller in the previous CBO analysis [2].
The report is full of useful information; one interesting tidbit illustrates where the biggest state budget shortfalls are.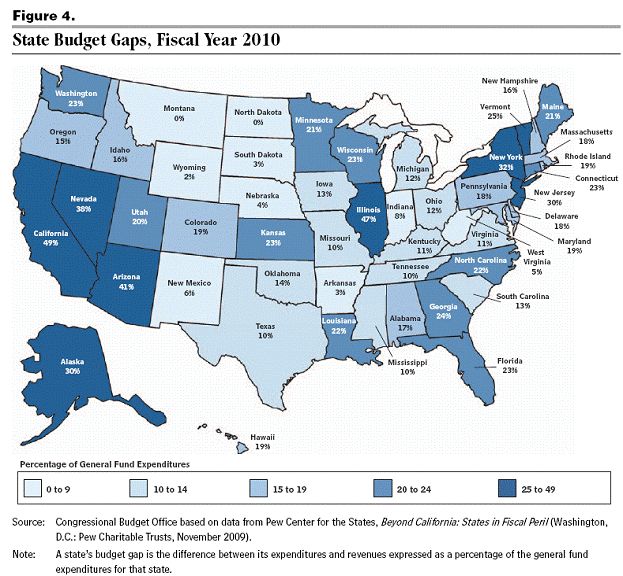 Figure 4:
from
CBO, "Policies for Increasing Economic Growth and Employment in 2010 and 2011″ (Jan. 14, 2010)
.
These shortfalls are something to keep in mind given trends in state and local employment (see Figure 7 in this post).

Update 1/31/10 10pm Pacific: Here is a link to the Bartik-Bishop proposal for an employment tax credit.