On the one year anniversary of the passage of the ARRA, it seems appropriate to recap, not what the academics say, but what the business sector forecasters say about the impact of the stimulus package.
The Private Sector Forecasters
I can think of no better graphic to depict the bottom line that this one, originally posted in November.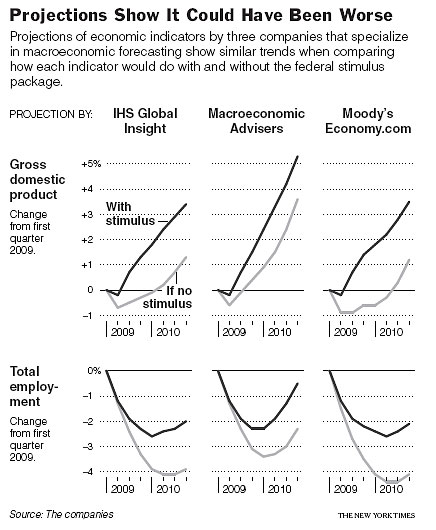 Source:
J. Calmes and M. Cooper, "New Consensus Sees Stimulus Package as Worthy Step," NYT (Nov. 21, 2009)
.
The three forecasting firms represented are fully in the mainstream; the individual forecasters are regularly polled in the WSJ survey, among others. In each of these instances, one cannot resort to the complaint, often leveled by critics against the Administration's estimates, that no "counterfactual" is estimated (see here). In each case, there a "no stimulus" and a "with stimulus" forecast.
Is there a political bias associated with each of the forecasting firms? I haven't heard of there being any. Like all forecasters, there are any number of possible biases in play, but partisan effects I've never heard of. So, I think David Leonhardt is on safe ground when he concludes "Judging Stimulus by Job Data Reveals Success":
…Perhaps the best-known economic research firms are IHS Global Insight, Macroeconomic Advisers and Moody's Economy.com. They all estimate that the bill has added 1.6 million to 1.8 million jobs so far and that its ultimate impact will be roughly 2.5 million jobs. …
This is where many "analysts" (e.g. here) conveniently dismiss these estimates, preferring to focus on the one or two studies (typically from academics) that imply negative effects or near zero effects. Actual economists, such as John Taylor, are more careful; in addition to the conventional models, he cites Barro's study (previously I have observed the potential sensitivity of Barro's results to sample — see [0]), and the Smets model. The Smets models is a New Keynesian DSGE. Of course, one can appeal to the IMF's DSGE, which has a similar assumptions regarding monetary policy, and obtains yet a different result, i.e., much larger multipliers (see a discussion of these DSGE's [1], [2]).
If there is an appropriate criticism of the forecasters listed, it's that the forecasts are generated using old-fashioned models in the spirit of the neoclassical synthesis (demand determined in short run, supply determined in the long run) with (as I understand it) backwards looking expectations rather than model-consistent expectations. I leave it to the readers whether these characteristics are the biggest sins of macro modelers in the run up to the latest crisis, and the ensuing Great Recession. (After all, one could reasonably argue that assuming perfect capital markets, or a unitary bond market, might be more problematic assumptions that adaptive expectations.) Documentation of these models is floating around; Macroeconomic Advisers' model is described here; by the way, Macroeconomic Advisers now has its own blog!
What Does a Respected, Non-Partisan, Organization Say?
Finally, we have in the Congressional Budget Office an organization committed to providing nonpartisan views regarding the impact of all sorts of government policies, including the effect of the stimulus package on economic activity. Yet, its assessments in this regard are conveniently ignored, despite its analyses being cited by those same critics when convenient. In any event, in its November update, the CBO presents the range of estimated impact on various measures of economic activity.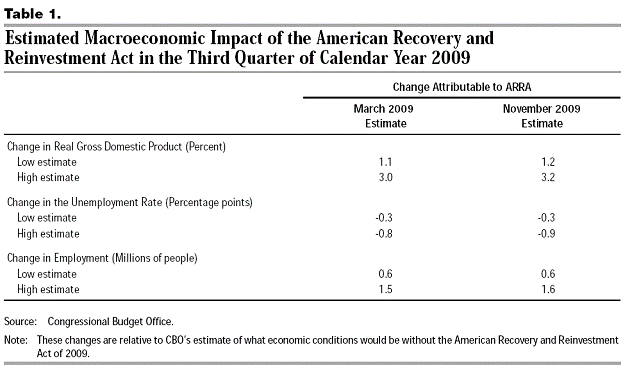 Table 1
from
CBO, "Estimated Impact of the American Recovery and Reinvestment Act on Employment and Economic Output as of September 2009″ (November 2009).
Longer range predictions (from February 2009) are here.

So, in order to make their case, critics who argue that the stimulus package passed a year ago had no positive impact on GDP need to either (1) explain why the commercial forecasters are incorrect in their assessments, (2) why the CBO is similarly misguided, or (3) why their preferred models are superior to the alternative approaches in this context (demonstrating, along the way, their superior predictive power). Until that occurs, I'll stick with the mainstream. (Caveat: I freely admit I have no access to the simulations from the Fed's DSGEs, which would also be in what I consider "the mainstream".)
Additional Reading
In addition to Leonhardt's story, see also Ezra Klein. For a typical criticism, read Russ Roberts, who mischaracterizes Leonhardt's statements on ultimate employment impacts; after quoting Leonhardt (the same one reproduced above), Russ writes:
That estimate of job creation is embarrassingly imprecise and the 1.6 million number would not be a conservative estimate but rather the high end estimate.
I believe that the "conservative" adjective applied to the ultimate impact at 2.5 million. Russ should've read the February CBO letter, discussed in this post. Taking a look at the 2009Q4 impact, one finds in Table 1 the low end number at 0.8 million, the high end at 2.3 million. The end 2010Q4 impact is low/high 1.2 million/3.6 million.
Technical/quantitative expositions on the stimulus: [3] [4] [5] [6] [7] [8]. Latest CEA report here
[Update: 10:25am Pacific, 19 Feb] Alex Tabarrok asks for analogous plots of the actual data. Here they are, with the same vertical scales and horizontal scales to ease comparability.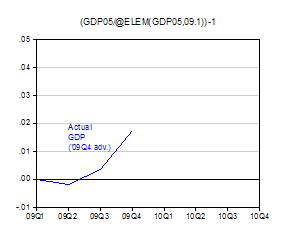 Figure 1A: Actual GDP relative to 2009Q1. Source: BEA 2009Q4 advance release, and author's calculations.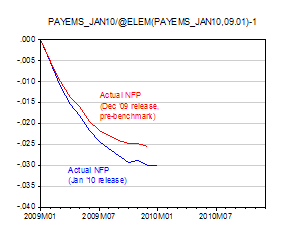 Figure 1B: Actual nonfarm payroll employment relative to 2009M01 (Jan 2010 release, blue; Dec 2009 release, red). Source: BLS January 2010 employment situation release, BLS January 2009 employment situation release (pre-benchmark revision), and author's calculations.


Using the latest vintage of GDP data, it looks like Macroeconomic Advisers hit closest. On NFP, one needs to consider whether the forecasts were trying to hit the pre-benchmark or post-benchmark values. If pre-benchmark (which seems most reasonable), then I'd say IHT Global Insight forecast was spot on.