The December trade release surprised some observers in terms of the rise in imports. [0] I think there are some other interesting implications. First, the implied downward revision in GDP is minimal. Second, the drop was less pronounced in the ex-oil trade balance. Third, although real trade flows are rising from their troughs, they have not re-attained pre-Lehman levels. Fourth, the US-China goods trade balance continues to improve.
Implications for Estimated GDP Growth

Figure 1: GDP growth rates, SAAR (light blue bar), net exports (NX) contribution (salmon bar), implied GDP growth rate (dark teal bar), implied net exports contribution (red bar). Implied growth rates and contribution use December 2009 trade release for real goods, assumes services trade balance is as assumed in 2009Q4 advance release. NBER recession dates shaded gray, assumes recession ends 09M06. Source: BEA, 2009Q4 advance GDP release, BEA/Census December trade release, NBER, and author's calculations.
The implied reduction in GDP growth is on the order of 0.25 percentage points.
The Trade Surprise, and the Role of Oil

The ex-oil trade balance continues to decline, but at a much slower pace than the total trade balance.

Figure 2: Trade balance (blue), and trade balance ex.-oil imports (red). NBER recession dates shaded gray, assumes last recession ends 09M06. Horizontal solid line is Bloomberg consensus. Source: BEA/Census, December trade release, NBER, and author's calculations.
The sensitivity of the US trade balance to fluctuations in the oil price (see also CR Haver) reminds me that the imperative still remains to reduce America's dependence on imported oil. That can be done in any number of ways; in my 2005 Council on Foreign Relations report on the twin deficits, I suggested a gasoline tax (see also [1] [2]). However, a price on carbon would also serve to reduce oil imports, and I think reducing oil imports is an important component in attaining a sustained reduction in the US current account deficit.
Real Trade Flows and the Goal of Doubling Exports
Real US trade flows are recovering, but have not yet "recovered".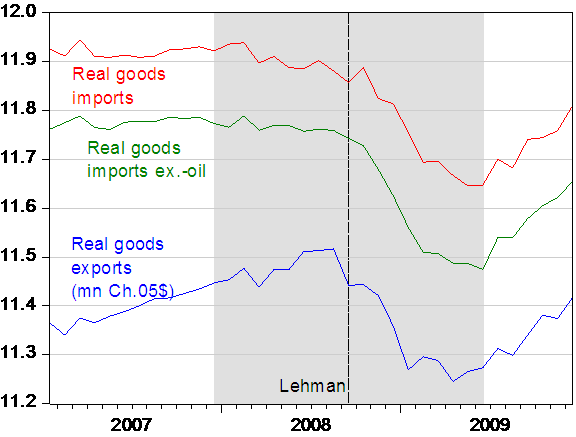 Figure 3: Log real goods exports, (blue), log real goods imports (red), and real goods imports ex.-oil (green), all in millions of Ch.2005$, seasonally adjusted. NBER recession dates shaded gray, assumes last recession ends 09M06. Source: BEA, December trade release, NBER, and author's calculations.
One point has struck me; not only are exports below pre-Lehman levels, in some sense they have been below below what would be expected from a traditional trade flow equation (an ECM expressing exports as a function of rest-of-world income and the real exchange rate, estimated over 1973-00, suggests that exports have been running 10% under predicted, in log terms, over 2001-07).
This observation is relevant when thinking about the Administration's goal of doubling exports (presumably nominal) by end-2014 (see the discussion of the goal this post). If there is reversion to (cointegrated) trend, then the objective becomes more plausible.
On this point, the Economic Report of the President, released on Thursday, notes (Ch. 4, p.133):
Exports can be expected to rise rapidly as the world economy recovers for a number of reasons. Just as trade typically falls faster than GDP in a recession (discussed in Chapter 3), it typically grows faster during a rebound. Trade-to-GDP ratios have fallen in the last year and can be expected to bounce back as the world economy recovers. This bounce-back alone will lead to rapid export growth. More generally, the crucial driver of exports is
always the performance of the world economy. For U.S. goods and services to be bought abroad, demand in other countries must return robustly. This is one reason for the United States to strengthen its ties with fast-growing regions such as emerging East Asia. The faster our trade partners grow and the more we trade with fast-growing economies, the more demand for U.S. exports grows….
The ERP also has a lot of interesting material covering new developments in international trade theory, including the roles of productivity, fixed entry costs and vertical specialization in trade (see Chapter 10). In particular, some attention is devoted to vertical specialization:
…Today, multinational corporations (U.S. or foreignbased)
are involved in 64 percent of U.S. goods trade (imports and exports),
and fully 19 percent of U.S. goods exports are sales from a U.S. multinational
firm to its affiliates abroad. An increase in international vertical specialization,
where firms have production in multiple countries and break up the
production of a particular good into stages across different countries, has
contributed significantly to growth in world trade. The process can be within
a large firm or intermediate inputs can be bought and sold on the market.
Decreased trade costs have made it easier to break up the value chain of
production as various parts of production can be done in different places
and an in-process good can be shipped many times before final assembly.
One study estimates that roughly one-third of the growth in world trade
from 1970 to 1990 was attributable to the growth in vertical-specialization
exports (Hummels, Ishii, and Yi 2001). Calculations about the extent of
vertical specialization vary from estimates that 30 percent of OECD exports
contain imported inputs to estimates that intermediate inputs account for
up to 60 percent of world trade.
As I noted in the post on doubling exports, to the extent that vertical specialization is an ever more pervasive phenomenon in US trade, then the growth in gross exports might become ever more rapid, and more rapid than value added in exports. However, in the absence of more precise and frequent measurement, this can only be a conjecture. (More on vertical specialization [4], [5].)
The US-China Trade Balance
Finally, on a non-economically interesting but politically sensitive variable, the US-China trade balance continues to improve, despite the stabilization in the US-China exchange rate.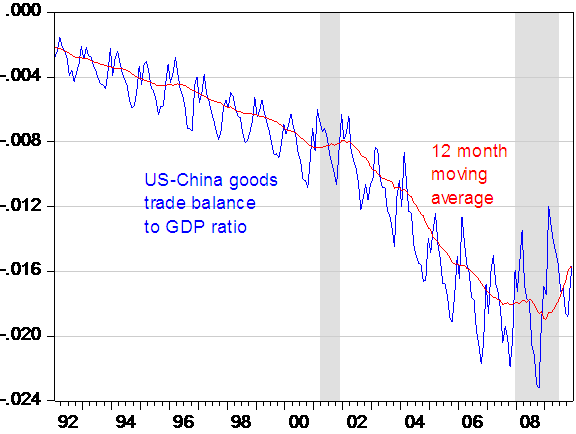 Figure 4: US-China goods trade balance (blue), and 12-month moving average of trade balance (red), both normalized by monthly nominal US GDP. NBER recession dates shaded gray, assumes last recession ends 09M06. Source: BEA/Census, December trade release, Macroeconomic Advisers February 12, 2010 release, NBER, and author's calculations.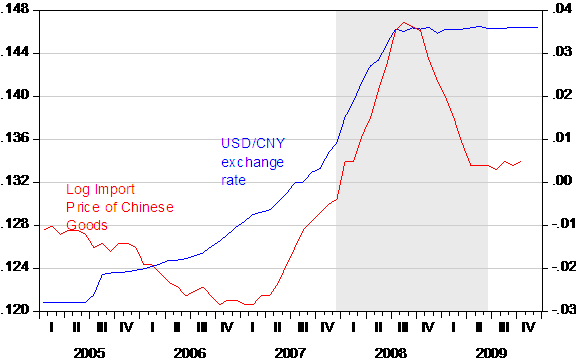 Figure 5: US dollar/Chinese yuan exchange rate (up is depreciation of USD) (blue, left axis), and log import price of Chinese goods, 2003=0 (red, right axis). NBER recession dates shaded gray, assumes last recession ends 09M06. Source: FRED II, and BLS, import/export price release.
If the conjecture of some analysts that a resumption of yuan appreciation is imminent [6], then continued reduction in the US-China trade deficit is more likely at least over the short term.