Or, if we have Excel, why can't journalists and bloggers add and subtract, and do sensitivity analysis?
From Dobridge, Hooper, Slok, "Overview of the 2010 Health Reform Bill," Deutsche Bank Global Economic Perspectives March 31, 2010. [not online]
In our view, there are reasons to question whether the costsavings cited in the bill will actually come to fruition. The biggest cost savings in the bill are projected to come from reducing Medicare fee-for-service (FFS) payment rates ($196 billion in savings), and reducing Medicare Advantage payment rates ($136 billion in savings).8 Many of the fee-for service payment reductions assume that scheduled "market basket" payment increases to hospitals, nursing homes, hospices and others will be reduced each year by the rate of multi-factor productivity growth (which has recently been averaging about 1 percent a year). Over time, however, this will open up a considerable gap between the costs of providing care and the reimbursement rates, which will lead to pressure to increase payments. There is precedence for scheduled payment reductions not actually going into effect. Medicare payments to physicians have been scheduled to be cut each year since 2002, but these cuts have only been implemented once. Since 2003, Congress has taken action each year to prevent the cuts from going into effect and Medicare physician payments were scheduled to be cut by 21 percent starting April 1.
The Centers for Medicare and Medicaid Services, however, have delayed the cuts by about two weeks in order to give Congress time to reconvene and act. With this
precedence, we question whether these new fee-forservice cuts (and the Medicare Advantage cuts) will go into effect entirely as scheduled. The bill also did not
implement a fix for the issue of scheduled Medicare physician payment cuts — CBO estimates that raising payment rates 1.2 percent and restructuring the formula for
payment cuts will cost $208 billion over the next 10 years. Including this fix, the bill would have increased the deficit.

An additional cost issue, but a longer-term one, is that the income cut-offs for the bill's tax increases are not indexed to inflation. The 0.9 percentage point Medicare tax rate increase and the 3.8 percentage point increase on unearned income applies to individuals making $200,000 a year, or couples making $250,000 a year. As those cut-offs are not indexed to inflation, they will cover a growing share of the population over time—similar to the Alternative Minimum Tax. If, like for the AMT, Congress passes "patches" to prevent to tax increases from reaching more families, the bill will not raise as much revenue as scheduled. While this is not an issue for the 10-year budget window, it could be important for the budget after that point.
Point number one is the famous "doc fix". My observation — this cost would have been incurred even in the absence of PPACA being proposed. So it's kinda wierd to bring it up as a defect of the bill.
The second, "patch", issue, which the CBO scoring mentions on page 13-14, is where we will have to wait and see. Perhaps the political scientists can forecast what will happen here.
But let's start off the debate by assuming not a single dollar's worth of revenue enhancement is collected, from "Medicare and Other Medicaid and CHIP Provisions Reductions in Annual Updates to Medicare FFS Payment Rates", as shown in Table 2 in CBO, "H.R. 4872, Reconciliation Act of 2010: Estimate of direct spending and revenue effects for the amendment in the nature of a substitute released on March 18, 2010," (March 18, 2010). (I don't think even the most extreme critics think this would happen, but let's just take the most conservative assumption here.) How would that change our assessment of PPACA relative to the great fiscal disasters of the recent past, EGTRRA, JGTRRA and Iraq (through FY10)? Let's reprise the graph from this post, appropriately revised.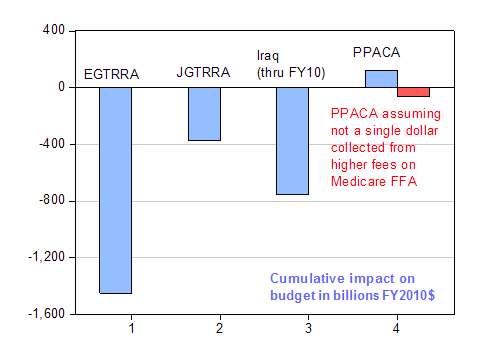 Figure 1: Impact on budget balance, in billions of FY2010$, for EGTRRA; for JGTRRA; cumulative budget authorization for operations in Iraq through FY2010; for Patient Protection and Affordable Care Act, and alternative (red bar) assuming no revenue enhancements from lower Medicare reimbursements; in billions of FY2010$, deflated using CPI. Source: CBO, Budget and Economic Outlook: An Update (August. 2001), Table 1-4; CBO, Budget and Economic Outlook: An Update (August 2003), Table 1-8 (revenue implications only); and CBO, "H.R. 4872, Reconciliation Act of 2010: Estimate of direct spending and revenue effects for the amendment in the nature of a substitute released on March 18, 2010," (March 18, 2010), Tables 1 and 2; and Iraq costs from A. Belasco, The Cost of Iraq, Afghanistan, and Other
Global War on Terror Operations Since 9/11,
Congressional Research Services (Sep 09), Table 3: budget authorization for DoD, State, and VA Medical; for CPI, historical from FREDII, and forecasts/projections from CBO (January 2010).
Conclusion: Not much impact.
This graph was quite easy to generate. Makes one wonder why those observers so concerned about the possible failure to carry through on revenue-enhancement didn't generate this graph (or did, but failed to post…). Innumeracy and mendacity are plausible interpetations.
Now, let's turn to cost savings that CBO excluded. I think this is fair game, because Mr. Samuelson [0] and other critics have listed all the things that CBO did not include because of the parameters of the scoring procedure.
As we discuss in more depth below, rapidly increasing health care costs pose a huge fiscal threat to the US federal budget. There are several key provisions in the bill intended to reduce long-term health care cost growth, with the potential for some significant cost savings in the decades to come. The cost savings will take some time to come on stream, however, and for small test projects designed to lower costs and improve efficiency, there is still considerable uncertainty about whether any cost savings will actually be realized. The state-based health exchanges have the potential to limit cost growth to the extent that they encourage competition among insurers and lead to more transparency about medical pricing. The excise tax on high-cost health insurance plans is another provision that may have an important effect on lowering costs. The tax-advantaged
status of health insurance plans encourages individuals to obtain more generous coverage and consume more health services than they would otherwise, likely driving up medical costs overall. With the excise tax, individuals will face more
of the costs of their high-value insurance, and insurers will have an incentive to reduce premiums. The Council of Economic Advisers estimates that the excise tax could reduce the rate of health care cost growth by 0.5 percentage point a year. The tax is not implemented until 2018, however, which is a long time to wait for these cost savings.9

The bill also implements a number of pilot programs geared towards reducing costs. One pilot program would bundle Medicare services for health episodes that include hospitalizations, instead of following the standard fee-forservice
procedure in use today. Bundling care reduces incentives to provide low-value treatments or procedures; recent research has shown that bundling payments for
chronic diseases and elective surgeries could lower medical spending by 5.4 percent through 2019.10 If this program is found to be effective in reducing costs without sacrificing quality of care, it will be rolled out widely. In another
provision, if Medicare cost increases continue to outpace overall inflation, an independent board will be required to submit recommendations for cutting Medicare costs. Unlike most boards tasked with providing recommendations, this Medicare board has a good deal of power to actually have their proposed policies enacted. Their recommendations would go into effect automatically If not acted on by Congress. And if Congress votes against them, but the
President vetoes Congress's action, the policies will go into effect unless Congress can override the Presidential veto by a two-thirds vote — a high bar.

There are a number of other potential cost-saving proposals in the bill as well, including initiatives for value-based payments, which take into account patient outcomes and health status in physician and hospital payments; funding for comparative effectiveness research, which analyzes which health treatments are the most effective; incentives for hospitals to reduce hospital-acquired infections; and the promotion of employer-based wellness initiatives. The CBO projects essentially no budget effects from these measures due to the considerable uncertainty about their cost-containment outcomes. In our view, even if these
programs can substantially reduce costs, we are unlikely to see those reductions for some time. These are small pilot programs, the effectiveness of which will take time to evaluate. If found to be effective, the programs will take
still more time to implement on a large scale. [Emphasis added – MDC]
I think the item emphasized in the quote is one of the measures that Mr. Samuelson thought the plan's defenders citing was "self-serving and unconvincing".
The impact of these various measures were deemed as speculative in nature by the CBO. So they weren't included. Now, here comes the hard part — are the conjectured outcomes of these measures any more speculative in nature than the assertion that none of the revenue enhancing measures will come to pass? Maybe, maybe not. I guess we need some health care economists (here, I do think you need to listen to people with PhD's) to provide some probability estimates against what the political scientists say is likely to occur (here, I'd like to give more credence to people with PhD's, but that's a matter of taste). So, in my view, the plain ol' CBO scoring is not such a bad place to start, once one recognizes things that were left out on both sides of the ledger.
A parting graphic, for those who are concerned that fiscal apocalpyse will be attributable directly to PPACA+Reconciliation: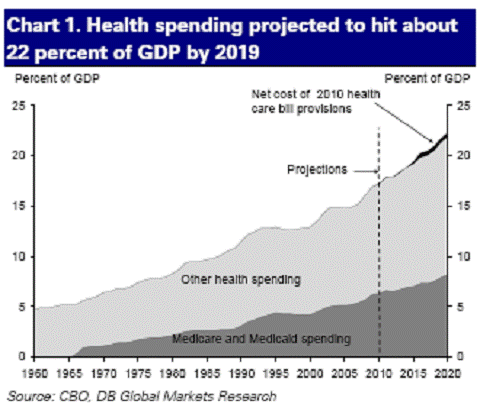 Chart 1 from Dobridge, Hooper and Slok (2010).
I think there are plenty of reasons to worry about fiscal solvency. EGTRRA and Iraq set us on a worrisome path. But PPACA's contribution is, well, readers can determine for themselves.
See the Committee for a Responsible Federal Budget's take here.