From Reuters:
China's $7.24 billion deficit in March, the first time the trade balance has been in the red since April 2004, mainly reflected strong imports of oil, raw materials and cars, the General Administration of Customs said on Saturday.
Here is a time series plot of the log trade weighted real value of the Chinese yuan, and the (annualized) trade balance.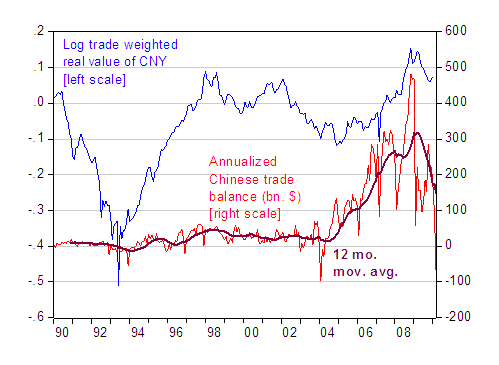 Figure 1:
Log trade weighted real value of the CNY (blue, left scale); and Chinese annualized trade balance, in billions of USD (red, right scale), and 12 month trailing moving average (purple). CNY series is spliced, to incorporate swap rates in pre-1994 data; see discussion in (Chinn, Dooley and Shrestha, 1999). Source: IMF,
International Financial Statistics
, various issues, and author's calculations.
The general consensus appears to be that the deficit was driven by distortions in output and shipping around the lunar new year, in combination with a surge in imports to be used in exports. From WSJ:
Economists said March's exports were lower than they otherwise would have been as factories were slow to reopen after the weeklong Lunar New Year holiday in February. Exports still grew quickly in March, but the expansion slowed to 24.3% from a year earlier, compared to 31.4% growth in the first two months of the year.




With the March trade figures showing no fundamental change in China's economic trend, analysts still generally expect China to move away from the strict peg to the dollar it has kept since July 2008. Economists say a more flexible and stronger currency could help China better handle rising inflationary pressures, and manage its economy more independently from the U.S.