Yin-Wong Cheung, Eiji Fujii and I have just written a chapter for a VoxEU book The US-Sino Currency Dispute edited by Simon Evenett (link to blog post). After discussing the various approaches to measuring misalignment, we summarize the most recent estimates of CNY undervaluation.
To recap, currency misalignment can be determined on the basis of the following criteria or models:


Relative purchasing power parity (PPP)

Absolute purchasing power parity

The "Penn Effect"

The behavioral equilibrium exchange rate (BEER) approach

The macroeconomic balance effect
The basic flows approach
An equilibrium approach

In our chapter, we report the most recent estimates in each of these categories (save the "equilibrium approach" which is difficult to implement), and summarize them in this chart: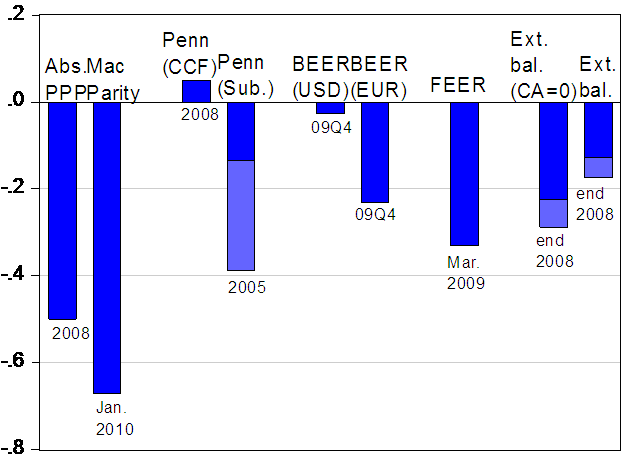 Figure 1:
Estimates of Chinese yuan misalignment, in log terms. Absolute PPP, from
Cheung, Chinn and Fujii (2010)
; Mac Parity, from
Economist (2010)
; Penn effect estimate from
Cheung, Chinn and Fujii (2010)
; Penn effect from
Subramanian (2010)
; Behavioral Equilibrium Exchange Rate (GSDEER) from
Goldman Sachs (2010)
; Fundamental Equilibrium Exchange Rate (FEER) from
Cline and Williamson (2010)
; Basic balance from
Goldstein and Lardy (2009)
, and author's calculations.
In this paper, we also update our estimates of the degree of CNY misalignment, based upon the "Penn effect". This approach has been discussed various times on the weblog: [1] [2] [3]. Our most recent estimate, based on data extending up to 2008, indicates a slight overvaluation (although the standard errors are sufficiently large that we could not reject the null hypothesis of a substantial undervaluation, at conventional signficance levels).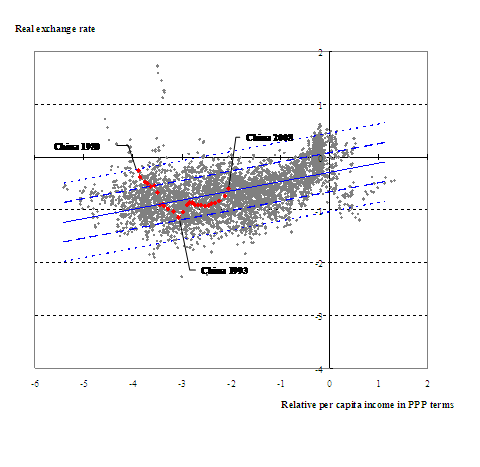 Figure 2:
Price level-per capita income in PPP terms relationship (blue line), +/- 1 std error band (long dashed lines), +/- 2 std error band (short dashed lines); OLS estimates for 1980-2008 period. Source: authors' calculations.
The book covers numerous topics, from misalignment to trade to macro interactions; anybody who is interested in the topic should definitely take a look.