Back in November 2009, Casey Mulligan asked this question, and observed:
Both of these [disposable income and consumption] are HIGHER in September 2009 than they were a year earlier.
I observed that it made sense to look at per capita values; and that changed the conclusions substantially.
Per capita consumption in September 2009 had not re-attained September 2008 levels. In fact, what's interesting is that only in January 2010 did real per capita consumption re-attain pre-Lehman bankruptcy levels. For sure, they have not, and will not soon, exceed previous peak levels in 2007M11.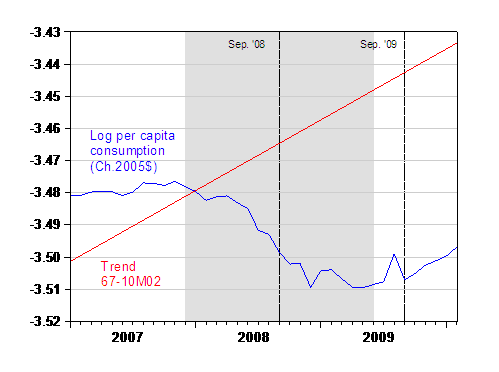 Figure 1: Log per capita consumption, in millions Ch.2005$ (blue); 1967M01-2010M time trend (red). Recession dates shaded gray, assumes last recession ends 2009M06. Source: BEA via FREDII, and author's calculations.
Is this a consumption disaster? Perhaps it's only part of the necessary rebalancing of the US economy; but I suspect (given the evidence on how consumption moves with current disposable income) that the consumption response was not solely an optimal response to a decline in anticipated permanent income (see discussion of the permanent income hypothesis in this post). I also believe in the absence the ARRA, consumption would have declined even more than it did.