Yesterday, Greg Mankiw discussed the trilemma in international finance, noting that countries can trade off between capital mobility, monetary policy autonomy, and exchange rate stability, but cannot fully all three of those objectives at a given time. In this post, Hiro Ito cites work with Joshua Aizenman and myself, in which we quantified how countries have traded off these objectives over time (paper here).
Professor Mankiw argues that, given these tradeoffs, we should not be surprised if some countries pick configurations different from what the United States has — and he references China in this regard. I thought it of interest to show how China has made those tradeoffs over time.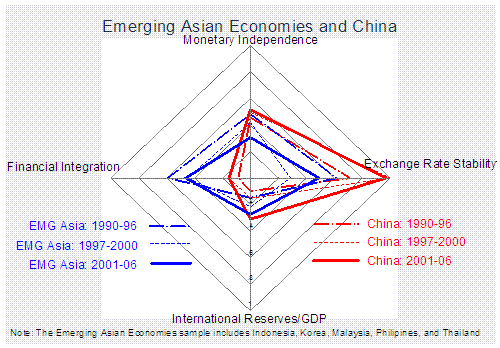 Figure 1:
drawn from Figure 4 in
Aizenman, Chinn, Ito (2008)
.
Monetary autonomy is measured by the (lack of) interest rate correlation with base country interest rates, exchange rate stability by the inverse of the standard deviation of the monthly nominal exchange rate changes, and capital mobility by the Chinn-Ito capital account openness index. The international reserves/GDP serves as a buffer; accumulation/decumulation of reserves allows for a different set of tradeoffs, and is possible because the domestic financial system is somehow partly insulated from the international financial system.
The "diamond charts" show that China has behaved somewhat differently from the other emerging market Asian economies. It has moved substantially towards exchange rate stability. However, it is important to note that in this graph, even the latest subperiod ends with 2006, so that only about a year and a third of data from after China's move to greater exchange rate flexibility in July 2005 is included.
The impact of those tradeoffs on macroeconomic performance is discussed in this post (also by Hiro Ito), and in this paper.
My own personal views regarding the optimality of China's exchange rate regime choices are here. Resumed real appreciation on a trade weighted basis — although not a panacea — is what China, and the world, needs. And maybe we'll even get it.