From Bloomberg's Mike Rosenberg, in FX Market Insights (June 28):
The euro is now two years into what might be another
long-term downtrend. …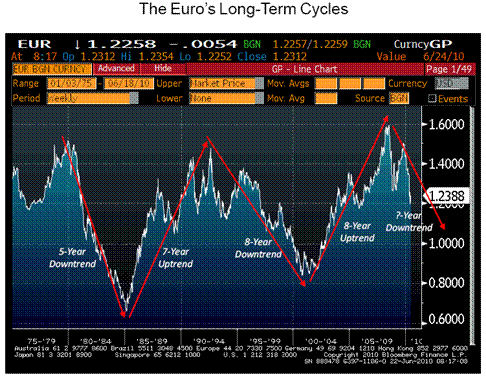 From M. Rosenberg, FX Market Insights, June 28, 2010.
…If the historical pattern of long-term
swings were to continue, we might see the euro gripped
in a major bear-market cycle for the next 3-5 years; one
that could conceivably take the euro into deeply undervalued
territory versus the dollar.



Sustained euro weakness will, in my view, complicate gobal rebalancing, but in itself will not halt it. However, to the extent that fiscal retrenchment induces much slower Euro area growth relative to US growth (where question big question marks reside), then successful rebalancing will be much more difficult.