A reader requests that we update some of the charts we've used to track U.S. energy expenditures.
Oil expenditures as a percentage of U.S. GDP. Recessions are indicated by shaded areas and dashed line is drawn at 4%. Oil expenditures calculated as average monthly price of West Texas Intermediate (from FRED) times 365 times average daily petroleum product supplied to U.S. markets over the last 12 months (from EIA). Nominal GDP from quarterly BEA Table 1.1.5 interpolated to form a monthly series. Recession dates from NBER with the exception that current expansion (not yet declared by NBER) is shown here as beginning July 2009.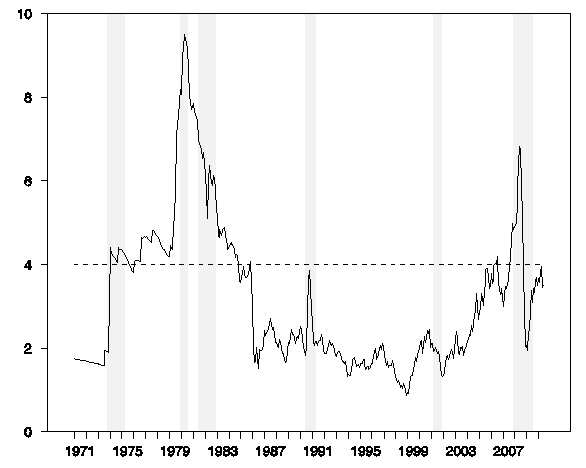 The above graph is an adaptation of Steve Kopits' portrayal of the rough monthly value of U.S. crude oil purchases as a percentage of GDP. We came near what Steve suggests is a critical 4% threshold in the spring, but oil price declines since then have brought the share back down a bit.
Daily price of West Texas Intermediate, via Webstract, Jan 5 to Jul 13, 2010.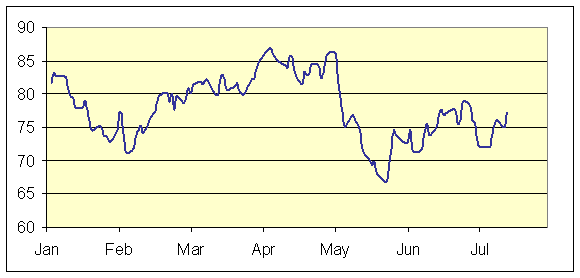 U.S. retail gasoline prices have also eased somewhat from their April peak.
Another measure I look at is consumption expenditures on energy goods and services as a percentage of total personal consumption spending. Here is an update of that graph that includes figures for May.
Energy expenditures as a percentage of consumer spending. Calculated as 100 times nominal monthly consumption expenditures on energy goods and services divided by total personal consumption expenditures. Data source: BEA Table 2.3.5U. Dashed line is drawn at 6.0%.


My view when I reviewed these data last April was that oil prices were exerting a moderate drag on the economy, but would not be enough to derail the recovery, and that is how I continue to see the situation. I expect disappointing, but nonetheless still positive, real GDP growth for the second half of 2010.