August auto sales worst in 27 years, declared some headlines. While the statement may be true, I don't think it's the best way to summarize what we're seeing.
The graph below is my preferred way to view the auto sales data; as far as I'm aware Econbrowser remains the only place on the web you'll find auto sales data displayed this way. The graph allows you to compare each month with the same month in previous years (by looking at different colors within each group) or different months in the same year (by looking at the same color across groups). These numbers are not seasonally adjusted, and it's true there are strong seasonals in auto sales. But there are often big outliers as well (such as the cash-for-clunkers effect for August and part of July last year) that can throw standard seasonal-adjustment filters out of whack but are pretty easy to see visually in a plot like this.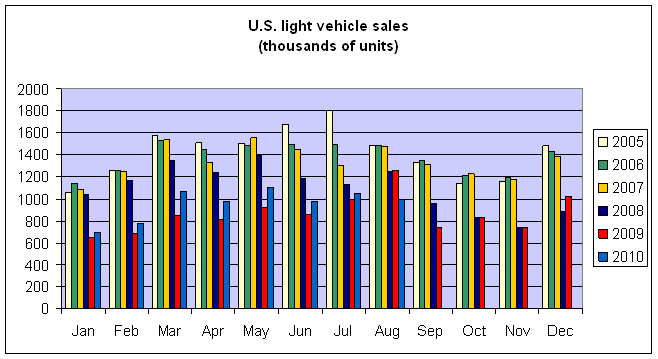 And what you see in the data is that, although seasonally unadjusted auto sales for August 2010 were 5% below July 2010 and 21% below August 2009, they really don't describe anything very different from what we've been seeing for the last six months. And that is a level of sales that's 8% above the average for the same six months over 2009, but 30% below the average for March-August over 2005-2007.
So the story for autos remains pretty much what it has been for some time– we've bounced off the bottom, but remain stuck at a point far below what would normally be expected. Double dip? Not here, not yet. Disappointingly sluggish growth? Very much so.