From the just-released Kauffman Economic Outlook, authored by Tim Kane, an indicator of what some economists thought the ARRA accomplished, in terms of unemployment.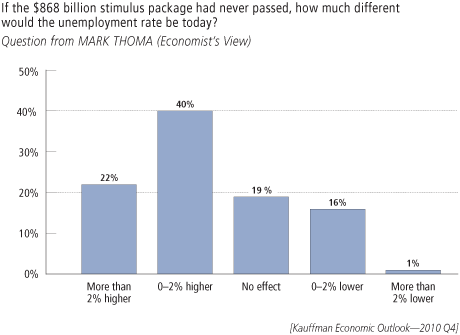 n=76.
From the commentary:
Over a year has passed since the
controversial "stimulus" bill became
law. A solid majority of economics
bloggers (62 percent) believes
that the stimulus helped fight
unemployment. One-fifth of the panel
thinks the U.S. rate of unemployment
would be more than 2 percent higher
without the law, and another twofifths
think it would be 0-2 percent
higher. Many believe the law had no
effect on unemployment (19 percent),
and nearly as many (17 percent)
think the stimulus actually raised
unemployment above what it would
have been today absent the law.
From the notes on the methodology:
Invitations were sent to more than 200 top economic bloggers, most of whom were on
the Palgrave's Econolog.net December 2009 rankings (its methodology is described at
http://econolog.net/stats.php). Some blogs with multiple authors have more than one
respondent in the panel. For example, both James Hamilton and Menzie Chinn, co-bloggers
at EconBrowser.com, participated, as did Tyler Cowen and Alex Tabarrok, co-bloggers at
Marginalrevolution.com. The panel includes a total of seventy-six respondents.
From CBO's August assessment of ARRA::
Looking at recorded spending to date as well as estimates of the other effects of ARRA on spending and revenues, CBO has estimated the law's impact on employment and economic output using evidence about the effects of previous similar policies on the economy and using various mathematical models that represent the workings of the economy. On that basis, CBO estimates that in the second quarter of calendar year 2010, ARRA's policies:



Raised the level of real (inflation-adjusted) gross domestic product (GDP) by between 1.7 percent and 4.5 percent,

Lowered the unemployment rate by between 0.7 percentage points and 1.8 percentage points,

Increased the number of people employed by between 1.4 million and 3.3 million, and

Increased the number of full-time-equivalent (FTE) jobs by 2.0 million to 4.8 million compared with what those amounts would have been otherwise. (Increases in FTE jobs include shifts from part-time to full-time work or overtime and are thus generally larger than increases in the number of employed workers.)
One differing opinion on the effectiveness of the stimulus package, discussed here. See also this discussion of the unemployment impact.
Update 10/31/2010 10:20pm Pacific In response to reader tim kemper's assertion that income tax receipts rose in response to the passage of the 2001 tax cuts (aka EGTRRA), here is the NIPA data.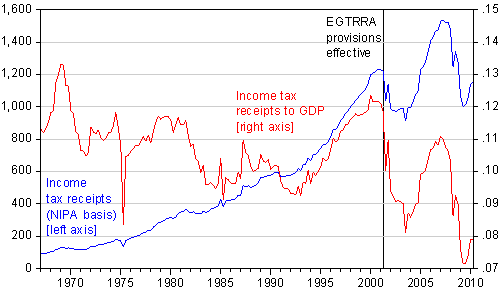 Figure 2:
Sum of Federal personal income tax and corporate income tax, in billions of dollars, SAAR (blue, right axis), and as a proportion of GDP (red, right axis). Source: BEA, GDP 2010Q2 3rd release (lines 3, 7 of Table 3.2), and author's calculations.