Recalling President Reagan's statement, "Facts are stupid things", it's no surprise that the disinformation campaign arguing that the Fed has been pressured into engineering a bout of high inflation continues. Jeffrey Frankel helps bring some facts to the table. From "The pot again calls the kettle red: Republicans, Democrats, the Fed and QE2″.
…

If the National Journal and Wall Street Journal are right that the Republicans are trying to stake out a position that Democrats are pursuing inflationary monetary policy, they are on very shaky ground. I will leave it to others to make the important point of substance: how low is the risk of excessive inflation now compared to the risk of alarming Japan-style deflation, with the economy having only begun to recover from its nadir of early 2009. Or to acknowledge that QE2 — the Fed's new round of monetary easing — is only a second best policy response to high unemployment. (Fiscal policy would be much more likely to succeed at this task, if it were not for the constraints in Congress.)



I will, rather, respond to the partisan content of the National Journal's question by pointing out some insufficiently understood history:





Republican President Nixon successfully pushed Fed Chairman Arthur Burns into an excessively easy monetary policy in the early 1970s — leading to high inflation which the White House tried to address with wage-price controls. Nixon, of course, also devalued the dollar, and took it off gold, thereby ending the Bretton Woods system.


Republican Presidents Ronald Reagan and George H.W. Bush repeatedly tried to push Fed Chairmen Paul Volcker and Alan Greenspan into easier monetary policy. This is documented in Bob Woodward's 2000 book Maestro. The White House succeeded in making life unpleasant enough for inflation-slayer Volcker that he eventually asked not to be reappointed, prompting James Baker to exult "We got the son of a bitch!" (p.24).

Democratic Presidents Jimmy Carter and Bill Clinton are the two presidents who have refrained from pushing their Fed Chairmen (Volcker and Greenspan, respectively) into inflationary monetary policy.

Under Republican President G.W.Bush, monetary policy once again became excessively easy, during 2003-06, contributing substantially to the housing bubble and subsequent crash.

…
The entire post is here.
My previous post regarding actual inflation expectations data is here. The Philadelphia Fed Survey of Professional Forecasters reports today:
Forecasters Reduce Projections for Inflation, but See Little Risk of Deflation


The current outlook for the headline and core measures of CPI and PCE inflation during the next two years is lower than it was in the last survey. Over the next 10 years, 2010 to 2019, the forecasters expect headline CPI inflation to average 2.3 percent at an annual rate, down from 2.4 percent in the last survey. The 10-year outlook for PCE inflation of 2.11 percent is slightly lower than that of the last survey.
Regarding the open letter to Bernanke published in the WSJ (here), advocating a cease and desist of QE2, RTE is careful to note that not all of the signers have degrees (either graduate or even undergraduate) in economics or finance; this is not so clear in this WSJ article.
Update1: From RTE, the truth comes out:
Rep. Mike Pence of Indiana, a top House Republican, said he plans to introduce legislation Tuesday to end the Federal Reserve's dual mandate, which requires the central bank to balance both employment and inflation concerns in its monetary policy.
Update2, 5:45pm Pacific 11/15/2010
Here is an update on inflation expectations. From the gap between the nominal and TIPS yields: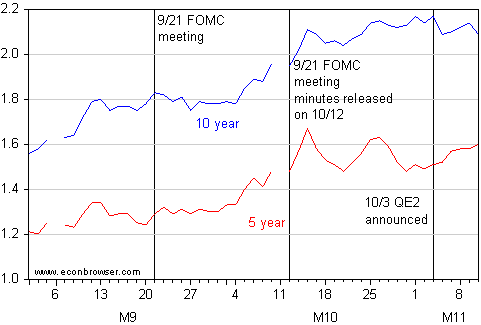 Figure 1:
Difference between 10 year constant maturity Treasury yields and corresponding TIPS yields (blue), and difference at 5 year constant maturity (red), daily frequency. Source: FRED II, and author's calculations.
And here is the just-released survey based measures from the Philadelphia Fed: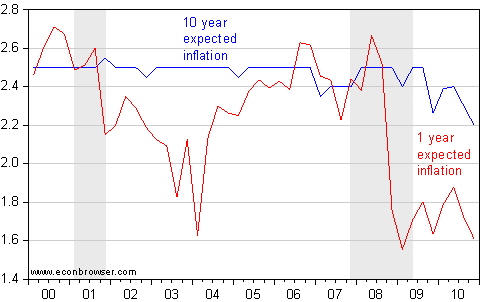 Figure 2:
Median expected 10 year CPI inflation (blue) and 1 year CPI inflation (red). recession dates shaded gray. Quarterly observations pertain to mid-quarter month. Source
Philadelphia Fed Survey of Professional Forecasters
, NBER, and author's calculations.
Ten year average expected inflation is 2.2!
Update, 2:15pm Pacific, 11/17: Reader Steve writes:
Do any of you folks use the grocery store? Is anybody looking at the price of the raw commodities that go into goods that will be produced? The working class is already experiencing inflation at at 4-5% rate, probably will peak out at 12-14% for 2 years. …
My answer is, yes, I go to the grocery store. And here is the inflation for the food and beverage CPI component.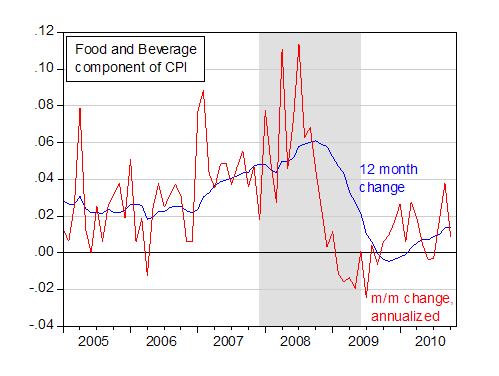 Figure 3:
12 month inflation for food and beverage component of CPI (blue) and month-on-month inflation, annualized (red), both seasonally adjusted. Source:
FRED II