Four Acronyms in a Very Depressing Play
Truly we are in a strange world where legislative extension of unemployment insurance payments, which is highly effective at maintaining aggregate demand, is stalled, while giving tax cuts to households with income in excess of $250K (a.k.a. the Todd Henderson households) moves forward despite having very little impact on employment and aggregate demand. In other words, on benefit-cost grounds we would want to do exactly the reverse. Given the sheer incoherence of some of the arguments being propounded, it might be useful to recap some findings.
Jobs and Benefit-Cost Calculations (BCA)
Here's CBO's assessment (first discussed in this January post).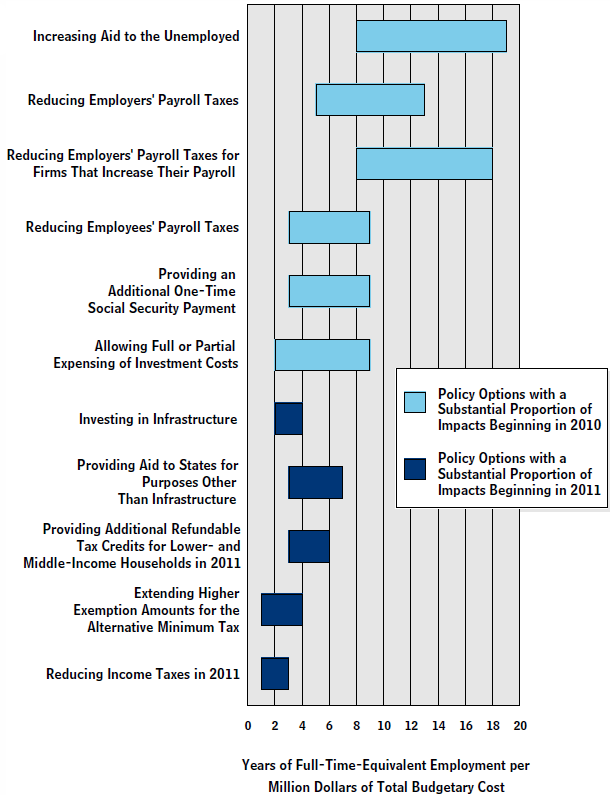 Figure 2 from CBO Director D. Elmendorf, Policies for Increasing Economic Growth and Employment in the Short Term February 23, 2010.

Note that in terms of years of full time equivalent employment per million dollars of total budgetary cost, aid to unemployment (including unemployment insurance) rates extremely high, between 8 to 19. In contrast, extending EGTRRA/JGTRRA combined with AMT patch for one year would have an effect of between 1 and 3.
The Administration earlier on pushed for an extension only for households below $250K income per year ($200K for single filers). The CBO observes:
One variant on this option is to defer most of the tax increases in EGTRRA and JGTRRA for one year but allow the rate increases for the top brackets to go into effect. That approach would cost less than would deferring all of the scheduled tax increases, and it would be more cost-effective because the higher-income households that would be excluded would probably save a larger fraction of their increase in after-tax income. However, the difference relative to the option analyzed here would be small, because much of the remaining tax reduction would still go to higher-income taxpayers. [Emphasis added — mdc]
One can wonder what happens if the EGTRRA/JGTRRA extension is permanent. Then the impact in 2010-11 is higher, but the impact averaged over several years is lower.
In other words, when advocates in favor of a permanent extension of EGTRRA/JGTRRA at all levels also assert that "jobs" should be number one priority, they are embarking upon a logical inconsistency, at least insofar as the economics literature is concerned. Of course, as some have observed, that is no impediment to incoherence.
Impact on GDP
Back in August, Macroeconomic Advisers assessed the impact on GDP of a partial permanent versus full permanent extension of EGTRRA/JGTRRA. Full extension has only minimal additional impact on GDP relative to partial extension.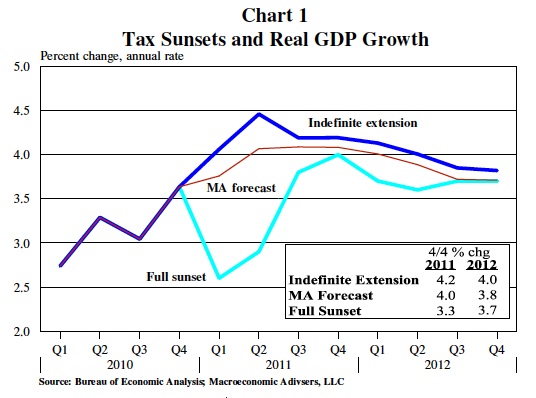 Source:
Macroeconomic Advisers (August 2010)
.
Clearly, the increment to GDP growth from allowing the over $250K households to keep their tax cuts is minimal (the difference between the blue line and the brown line, where the brown line incorporates the indefinite extension for households with incomes below $250K).
I know there is a meme out there that asserts that allowing the tax rate on those households to revert to pre-2001 levels would reduce labor supply and destory the entrepreneurial forces of the economy; according to this argument, there was little entrepreneurship before 2001. For a slightly technical assessment of the first count, see this post. For a quantitative assessment of the impact on entrepreneurship, see this article; a non-quantitative view, here.
Impact on the Budget
At the same time, full extension is pretty expensive, in terms of its impact on the budget deficit, particularly in the out years.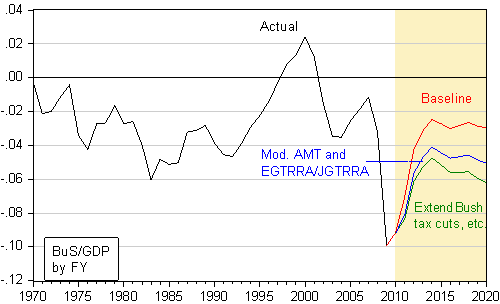 Figure 1:
Deficit as a share of GDP, actual (black), under CBO baseline (red), under President's tax proposals for EGTRRA/JGTRRA and modification of AMT (blue) and extension of EGTRRA and JGTRRA and indexing AMT for inflation (green), by fiscal years. Shaded area is projected. Source:
CBO, Budget and Economic Outlook: An Update (August 2010)
;
CBO, An Analysis of the President's Budgetary Proposals for Fiscal Year 2011 (March 2010)
, CBO
Historical Statistics
, and author's calculations.
In other words, full extension EGTRRA/JGTRRA puts the Nation on a faster path toward large budget deficits (after all, to my knowledge no one advocating full extension has simultaneously advocated finding offsetting cuts in spending or tax increases elsewhere to finance extension, in a manner comparable to the demands for spending cuts to finance UI extension).
Pie in the Sky
In an ideal world, we would let all of EGTRRA/JGTRRA lapse, and use other measures (those with higher benefit cost ratios in Figure 2) to sustain employment growth. But this is a world, apparently, where a strategic arms reduction treaty and tax cuts are linked [1], and where inflation fears mount even as actual inflation dives. So in this world, given a choice between indefinite and full extension versus letting 'em lapse, the latter looks best (among two bad alternatives).
Finally, lest we forget, just a reminder (from Ezra Klein) of who gains from a full extension of EGTRRA/JGTRRA, relative to the President's proposal for a limited extension.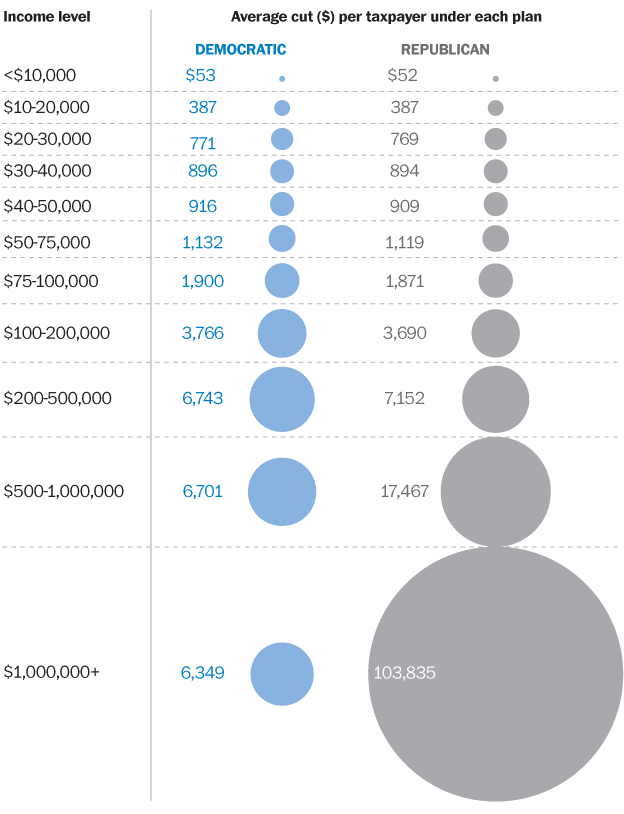 Figure
from
E. Klein, "The Bush tax plan vs. the Obama tax plan in one chart," WaPo, Aug. 17, 2010.
Other commentary on the tax cut extension issue: [Economist Mom] [Economists View] [Econbrowser]