David Leonhardt had an interesting post noting how low core inflation had been, in historical context. In fact, many measures of inflation are at very low levels, indeed close to zero.
First, inflation rates for core CPI, personal consumption expenditure deflator, and PPI (finished goods), on a three month annualized basis, are either under 1 percent, or in the case of the PPI, less than zero percent.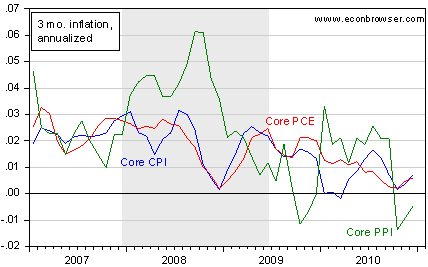 Figure 1:
Three month annualized inflation for core CPI (blue), core personal consumption expenditure deflator (red), and core PPI (green). NBER recession dates shaded gray. Source: BLS, BEA via FREDII, and author's calculations.
Second, what about pressures from the labor market? Labor compensation (so, wages and salaries and benefits) is growing at 2 percent (q/q, annualized).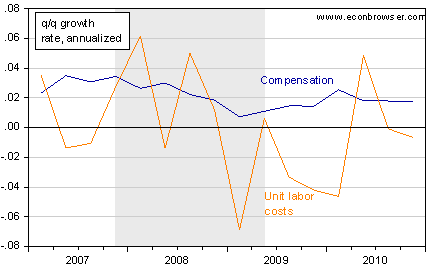 Figure 2:
Quarter-on-quarter annualized growth rates for private sector labor compensation (dark blue) and unit labor costs for nonfarm business sector (orange). NBER recession dates shaded gray. Source: BLS, BEA via FREDII, and author's calculations.
However, the relevant cost of labor to a firm is the compensation cost divided by per hour output, i.e., unit labor costs. In 2010Q4, the q/q annualized growth rate of this series was a negative figure. On a year-on-year basis, it was still below zero, although higher than the trough of -3.5 percent recorded in 2009Q4.
In sum, the inflationary pressures that Representative Paul Ryan worried about on Wednesday do not appear in these statistics. Perhaps that is why he had to resort to a study about the "tooth fairy" compensation rates to substantiate his fears. From Kwak in the Baseline Scenario:
Ryan pointed to numerous studies showing that, despite ongoing economic sluggishness, the Tooth Fairy is paying much more for children's baby teeth than in past years. In neighborhoods such as Winnetka, Cleveland Park, the Upper East Side, and Palo Alto, children can receive more than $20 per tooth — a dramatic increase from the 25-50 cents that the Tooth Fairy paid only a decade or two ago. In the Hamptons, summertime prices for teeth can easily exceed $100, according to a survey commissioned by the American Enterprise Institute.* Because the Tooth Fairy is able to create money magically, her purchases of unused teeth (with no apparent economic value**) increase the money supply, fueling inflation. Without explicitly accusing Bernanke of participation in the Tooth Fairy's scheme, Ryan implied that the Tooth Fairy's higher payouts may be part of the Federal Reserve's quantitative easing scheme.



Ryan pointed to Tooth Fairy-driven inflation as part of "a sharp rise in a variety of key global commodity and basic material prices" that, he said, threaten to produce higher overall inflation and reduce the value of the dollar. "The inflation dynamic can be quick to materialize and painful to eradicate once it takes hold," said Ryan, calling on Bernanke to end the quantitative easing program and raise interest rates in order to counteract the expansionary policies of the Tooth Fairy.

By the way, I can't seem to lay my hand on the actual AEI survey which provided the basis for Ryan's statement; if anybody has it, please email it, or the link, to me; I need a good laugh.
Update, 12:25pm:: Reader don writes: "…inflation will be muted until it isn't." Tautologicslly, that must be true. But, considering about this statement a bit more analytically, I thought it might be useful to see if actual m/m inflation turns on a dime. Well, sometimes it does, but mostly as a blip. When inflation moves from low to a sustained high, rate, it's usually accompanied by a supply, specifically oil price, shock. Below, I plot m/m inflation from headline CPI and PCE.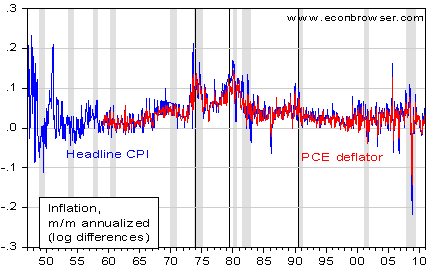 Figure 3:
Month-on-month annualized inflation, from CPI-all (blue) and personal consumption expenditure deflator (red), calculated as log-differences. Vertical lines at oil price increases (using WTI from FREDII). NBER defined recession dates shaded gray. Sources: BLS, BEA via FREDII, NBER, and author's calculations.
This suggests to me that those who fear a quick turnaround in actual and expected inflation must be anticipating — either implicitly or explicitly — a supply shock as well.
As of 2/8 (the day before yesterday!), the spread between 5 year constant maturity Treasurys and TIPS implies a 1.95% inflation rate over the next five years.