I spent the better part of last Friday at an Institute for Research on Poverty conference, entitled "Employment Prospects for Lower Wage Workers: Easing the Implications of a Slow Recovery Conference". It was a tremendous learning experience for me (since I'm not a labor economist), and a chance to be reminded of the full enormity of the challenges facing policymakers, as the economy limps in a fitful recovery, with little succor from further aggregate demand stimulus measures, and threatened by supply shocks as well as incoherence in fiscal policymaking. I mentioned the conference in a post last week, but the presentations and papers are now online.
The first presentation, entitled "The 'Polarization' of U.S.Employment Demand", was by David Autor (MIT), who outlined the following:

1. Two inertial forces on a collision course


a. Polarization of job opportunities, reducing opportunities for middle-educated workers (high school grad esp)


b. Stagnating educational attainment


2. Males are adapting particularly poorly


3. Social consequences extend beyond labor market


4. Why job opportunities are polarizing





Technological change (of course)

Trade also appears an important factor



5. Policy responses




Boosting college attainment (of course)

Enabling non-college workers to enter good careers

Professor Autor highlighted many points; one was the decline in share of middle-skill jobs, contrary to the oft asserted loss of low-skilled jobs. This conclusion was illustrated in this slide: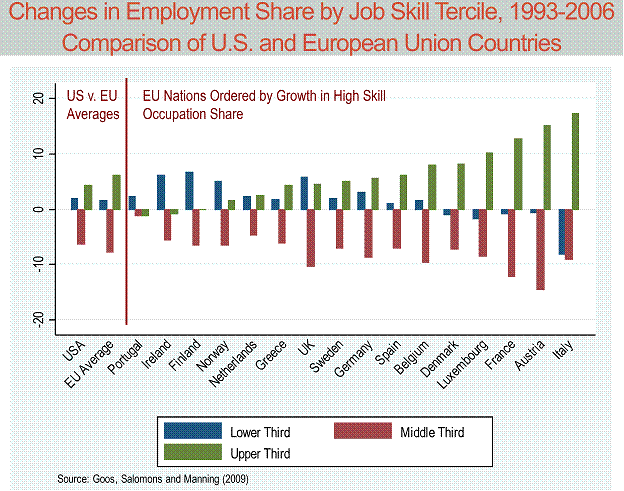 Figure
from
Autor
.
Perhaps the most interesting at least to me included those pertaining to the impact of China. Autor and co-authors, as recounted in Rortybomb, found a very large impact on wages from Chinese imports (see slide 27 of the presentation).
Harry Holzer (Georgetown) provided a more sanguine view of the prospects for the middle. In my one sole intervention of the day, I asked how much the projections relied on continuation of trend penetration by China, given the possibility of deglobalization [1] [2], and the exhaustion of surplus labor in China. One response was that given the wage differentials, the pressures would persist for a while still.
James Rosenbaum (Northwestern) recounted the characteristics of "Occupational Colleges", and how these institutions worked in terms of imparting skills and encouraging program completion. (ITT and DeVry are examples of Occupational Colleges, but are not in the paper's data sample.) He also noted how we (as academics) knew almost nothing (quantitatively) about these widely diverse institutions. Sarah Turner (U.VA) also examined the diversity of resource levels and outcomes (in terms of completion rates), but for four year colleges and community colleges.
The conference ended with an overview of the likely resource constraints facing education sector, provided by (my old colleague at CEA), Doug Holtz-Eakin (American Action Forum). He focused in on how spending (including particularly entitlements) would have to be restrained (The discussant, John Karl Scholz, from the UW Economics Department, observed that tax revenues could be raised, and not all of the adjustment had to come from spending restraint, including spending restraint on discretionary spending). The other speaker, Till von Wachter (Princeton), observed that the cost of job loss was most persistent, not for the lowest educated workers, but for those who had completed high school and had some college.
Figure
from
Till von Wachter
.
Von Wachter ends with some policy implications:
Policies for Redistribution – Compensate the losers?




Short-term: fill gap due to imperfect coverage by UI for low wage workers





provide financial support to families to avert long-term effect on children


Long-term: consider policies raising employment for low-wage men






for these men have seen a long-term trend decline in participation, rise in SSDI rolls

from a budgetary point of view, it may be cheaper to pay these men to work
The entire agenda is here. It's well worth looking at the powerpoint slides to see what the newest thinking on labor market developments and policy is.
Some of these issues, including the trade and automation ones, will figure in the forthcoming La Follette/WAGE conference Mark Copelovitch and I are organizing, addressing the topic of "Long term unemployment in industrial countries: Causes, Consequences and Policy Responses" (4/28) temporary link.
Update, 12:17pm Some recent commentary on labor markets and policy by Spence and Hlatshwayo, and from Burda and Hunt (h/t Di Leo/WSJ RTE) and DeLong.