The President's new initiative on increasing energy independence inspired much commentary on how much it was aspirational, rather than realistic; see for instance this extensive NYT article. In this post, I want to consider whether reduced dependence on imported energy is a worthwhile objective.
Oil Price Shocks: How Important in the Past?
What are the macroeconomic consequences of oil shocks. Jim has covered this extensively recent article by Prakash Loungani recounts Jim's take on the impact of oil price hikes in the lead up to the recession.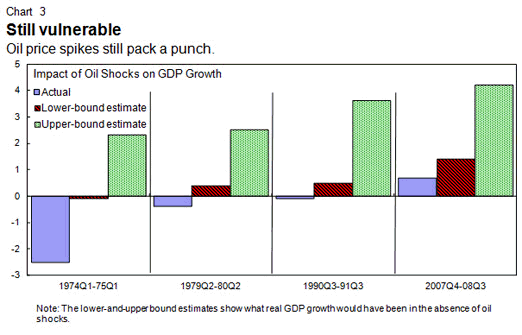 Chart 3: from Loungani (2011).
Loungani notes Olivier Blanchard's recent work with Marianne Riggi asserting a smaller impact on GDP in recent decades due to decreasing real wage rigidity and enhanced monetary policy credibility [VoxEU] paper based upon estimates derived from structural VARs.
Chapter 3 of the IMF's World Economic Outlook, just released today, has an extensive discussion of the role of oil in macroeconomic performance. One interesting table highlights the differences in views regarding the impact of an oil shock.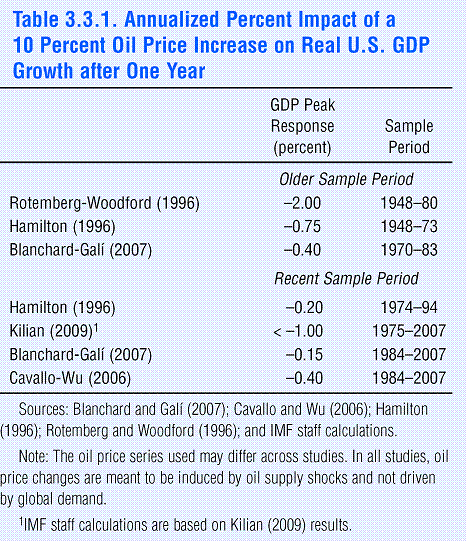 Table 3.3.1. from IMF WEO April 2011, Chapter 3.
Clearly, energy — and oil — are important. But it might be useful to think about why they are important. And here, the change over time in the structure of the economy seems to be key.
Energy Intensity versus Oil Imports
First, it's clear that energy intensity is decreasing. Figure 1 depicts log quads of primary energy consumption versus log real GDP. Holding all else, one might think that reduced energy intensity would result in lower sensitivity to energy price shocks. Unfortunately, as Jim Hamilton points, out, there's no clear relationship between intensity and output sensitivity to energy shocks (on a sectoral basis).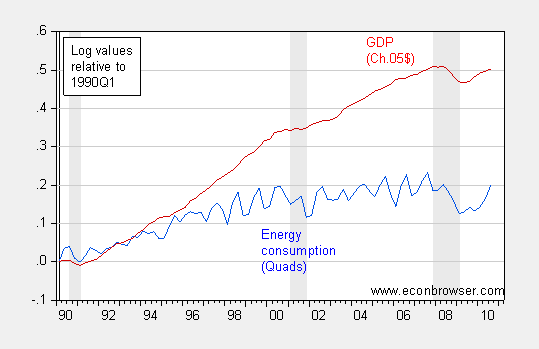 Figure 1: Log energy consumption, in quads (blue), seasonally adjusted using X-12, and log GDP in Ch.2005$ (red), normalized to 1990Q1=0. NBER defined recession dates shaded gray. Source: Energy Information Administration, BEA, NBER, and author's calculations.
So, we might not want to take too much comfort from the fact that energy intensity has decreased over time, at least from the production side.
Second, the quantity of oil imports (in real units) is decreasing, as shown in Figure 2. This is probably a short term phenomenon; with resurgent growth, the volume of oil imports should increase. Nonetheless, for now, the volume of oil imports is down.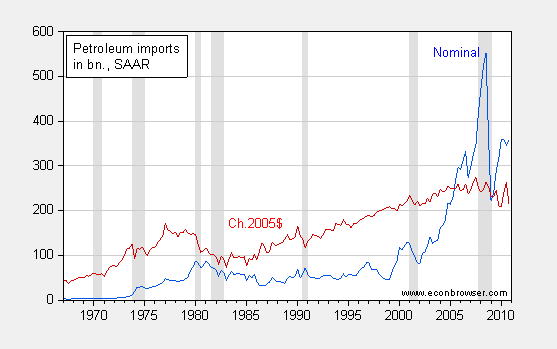 Figure 2: Petroleum imports, in bn.$ (blue), and in bn Ch.05$ (red), both SAAR. NBER defined recession dates shaded gray. Source: BEA, 2010Q4 3rd release.
Do either of these trends work to mitigate worries about rising oil prices, and what do they imply for policy?
At this juncture, I think it is of interest to consider the different effects emanating from an oil price increase. First, consider the demand side. When the relative price of oil rises, then spending is diverted to abroad. In other words, with higher oil prices, a transfer is effected thereby reducing aggregate demand.
If preferences were such that even as relative prices changed, expenditure shares remained constant (e.g., Cobb-Douglas utility function), then the transfer effect would be minimal. But I think the presumption is that when oil prices rise, spending on oil related products also rise squeezing expenditures on other goods. Hence when the nominal value of oil imports rise, there are essentially two impacts on the demand side: the transfer to rest-of-the-world, and decrease in spending on non-oil goods and services. These effects are in addition to the supply side impact.
On the supply, side, the increase in oil prices feeds into the cost of production. If wages relative to other input prices do not fall, then the overall price level rises. Whether the change in oil prices feeds into either a relative factor price change or a general price level increase depends critically on monetary policy, and how price level changes influence expected price levels.
The Blanchard-Riggi results speak most to these supply side effects (although I admit I've not figured out all the details of the model). But the demand side effects are arguably of comparable importance.
This is where I think the President's proposals to reduce oil import dependence by increased domestic production do not directly address minimizing the supply side impact. Increased domestic production wouldn't really help, except to reduce the size of transfer to the rest of the world (which is not necessarily a bad thing).
However, increasing the substitutability between energy and other consumption goods, and reducing the amount of oil use would mitigate the negative consequences of oil price shocks. That is why the development of effective green technologies, might be a more efficacious route than "drill, baby, drill". [1] [2]
Addendum: Prakash Loungani also has an interesting working paper on energy security, including a discussion on the geographical sourcing of supplies.