Reuters reported yesterday that the preliminary July reading for the Thomson Reuters/University of Michigan's index of consumer
sentiment fell to 63.8, the lowest level in more than two years. In fact, that's about as low as this measure ever got in the recessions of 1981-82 or 1990-91, and is well below values for the recession of 2001.
Black line: Reuters/Michigan index of consumer sentiment, from FRED and contemporary news accounts. Blue line denotes most recent value (63.8), and shaded areas indicate U.S. recessions.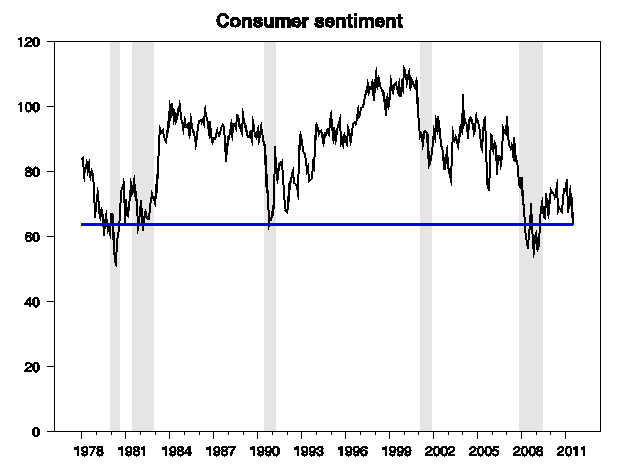 Here's an update of a graph I last looked at in January, plotting consumer sentiment over the last 10 years along with real gasoline prices, with the latter shown on a negative scale to make the negative relation between gasoline prices and consumer sentiment more apparent. Consumer sentiment had been holding up reasonably well despite the high gasoline prices of 2011. That is, it was until yesterday's report.
Consumer sentiment and negative of real gasoline prices, 2002:M1-2011:M7. Black line (scale on left): Reuters/Michigan index of consumer sentiment, from FRED and contemporary news accounts. Blue line (scale on right): negative of the average U.S. retail gasoline price in 2011 dollars per gallon, based on regular gasoline, all formulations, from EIA. Deflated using the 2011:M6 CPI from FRED.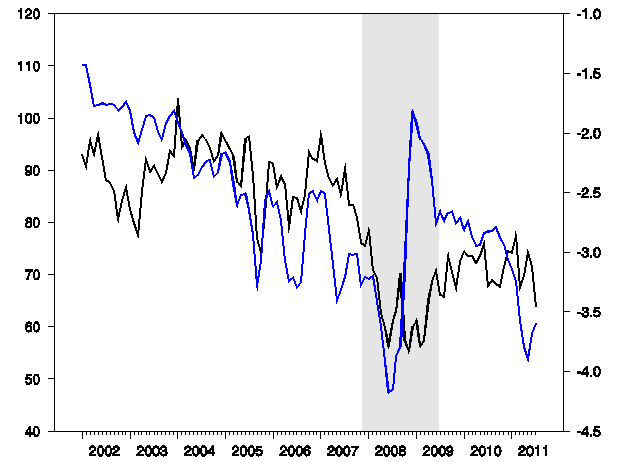 While I'm at it, here's an update of another graph I often look at, which shows consumer spending on energy goods and services as a percentage of total personal consumption expenditures. The blue line here is drawn at 6%, above which we usually see a consumer response. We've been above that threshold for each of the last 3 months.



Energy expenditures as a percentage of consumer spending, 1959:M1 to 2011:M5. Calculated as 100 times nominal monthly consumption expenditures on energy goods and services divided by total personal consumption expenditures. Data source: BEA Table 2.3.5U. Blue line is drawn at 6.0%.

Yesterday's consumer sentiment report is preliminary, and even the revised value for this series is not a terribly reliable predictor of economic activity. But this is the second "oh no!" report in the last two weeks, following the dreadful employment numbers released last week.
The recent batch of bad economic news led Goldman Sachs to lower their forecast for real GDP growth for Q2 from 2% to 1.5%, and for Q3 from 3.25% to 2.5%.
And I'm not going to argue with that.