Today's two sessions — one in the NBER's International Finance and Macro group and one in Monetary Economics — included papers that tackled multipliers from a variety of directions. The general results indicated to me that, while multipliers are sometimes below unity, for conditions prevailing in the United States in 2011, they are typically above.
The first paper, by Ethan Ilzetzki, Enrique Mendoza, and Carlos Vegh, entitled "How Big (Small?) are Fiscal Mutlipliers?", too a cross country view, applying panel regressions and panel VARs to the question. From the abstract:
We contribute to the intense debate on the real effects of fiscal stimuli by showing
that the impact of government expenditure shocks depends crucially on key country
characteristics, such as the level of development, exchange rate regime, openness to
trade, and public indebtedness. Based on a novel quarterly dataset of government
expenditure in 44 countries, we find that (i) the output effect of an increase in gov
ernment consumption is larger in industrial than in developing countries, (ii) the fiscal
multiplier is relatively large in economies operating under predetermined exchange rate
but zero in economies operating under flexible exchange rates; (iii) fiscal multipliers
in open economies are lower than in closed economies and (iv) fiscal multipliers in
high-debt countries are also zero.
The authors obtain their findings in part using stratified samples. One key result — that the multiplier is larger in cases where the exchange rate is fixed — is illustrated in Figure 7.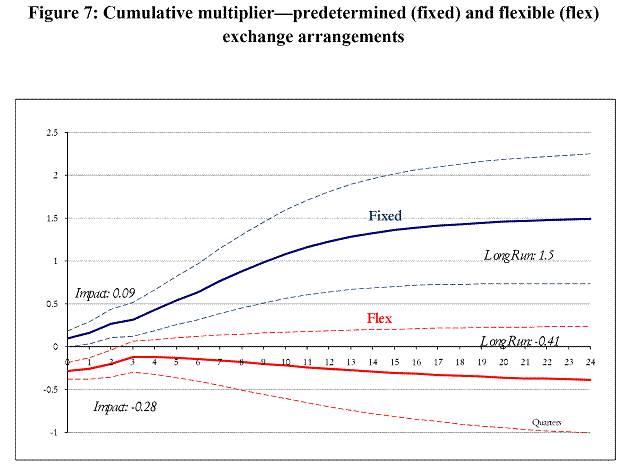 Figure 7 from Ilzetzki et al (2011).
Why is the multiplier larger for countries fixed exchange rates? One interpretation, consistent with the Mundell-Fleming model (under high capital mobility) is that expansionary fiscal policy is more accommodated under pegged rates; the authors find that monetary policy is indeed more accommodative under fixed rates.
Paul Krugman has interpreted this finding as applying to the United States, to the extent that the Fed is pursuing an accommodative policy; and to the extent that we are at the zero interest rate bound for what appears to be indefinitely, given recent reports of economic weakness, that conjecture seems right to me.
Another finding is that closed economies have larger multipliers, a result once again consistent with a Keynesian model. Figure 10b shows the IRF for the case when openness is measured by trade shares; in this case, as indicated in Table A5, the US is a closed economy, far below the threshold for the definition of openness. [add'l text added, graph changed from 10a to 10b 7;20 pm]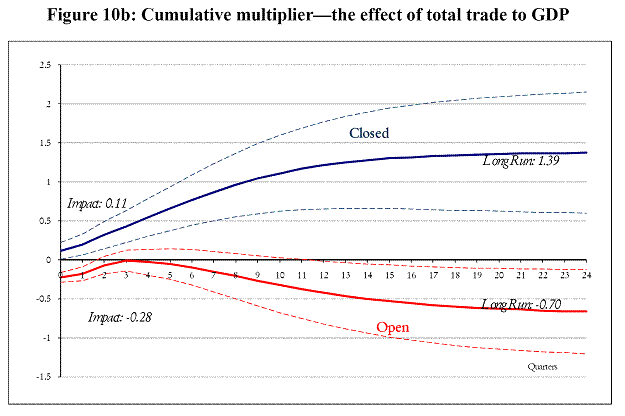 Figure 10b from Ilzetzki et al (2011).
In addition, if the countries are stratified by size (and the US is definitely large in this context), then once again the multipliers are larger in the large economies, in a manner consistent with Figure 10b. [add'l text added 7:20pm]
So, ask yourself — is the US a small country with the monetary authorities actively moving the interest rate around in order to respond to fiscal impulses; or is it better characterized as a large, relatively closed, economy with short interest rates at near zero. Then consider which results apply.
The next paper, by Emi Nakamura, and Jon Steinsson, entitled "Fiscal Stimulus in a Monetary Union: Evidence from U.S. Regions", looked to intra-country data. From the abstract:
We use rich historical data on military procurement spending across U.S. regions to estimate
the effects of government spending in a monetary union. Aggregate military build-ups and
draw-downs have differential effects across regions. We use this variation to estimate an open
economy relative government spending multiplier of approximately 1.5. We develop a framework
for interpreting this estimate and relating it to estimates of closed economy aggregate multipliers.
The closed economy aggregate multiplier is highly sensitive to how strongly aggregate monetary
and tax policy "leans against the wind." In contrast, our estimate "differences out" these effects
because different regions in the union share a common monetary and tax policy. Our estimate
provides evidence in favor of models in which demand shocks can have large effects on output.
The basic empirical results are summarized in Table II of the paper: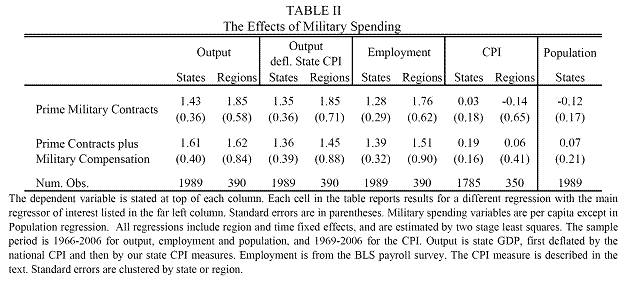 Table II from Nakamura and Steinsson (2011).
Finally, in the last paper, Price Fishback, and Valentina Kachanovskaya go back in time, in "In Search of the Multiplier for Federal Spending in the States during the New Deal". From the abstract:
If there was any time to expect a large peace-time multiplier effect from federal
spending in the states, it would have been during the period from 1930 through 1940.
Interest rates were near the zero bound, and unemployment rates never fell below 10
percent and there was ample idle capacity. We develop an annual panel data set for the
48 states from 1930 through 1940 with evidence on federal government grants, loans, and
tax collections and a variety of measures of economic activity. Using panel data methods
we estimate a multiplier, defined as the change in per capita economic activity in
response to an additional dollar per capita of federal funds. The state per capita personal
income multiplier with respect to per capita federal grants was around 1.1. Some point
estimates for multipliers for nontransfer grants and nonfarm grants were higher but not
statistically significantly different from one. There is some evidence that AAA farm
grants had negative or no effect on personal income. Federal grants had stronger effects
on consumption than on personal income, but they had no positive effect on various
measures of private employment.
Key results are presented in Table 3.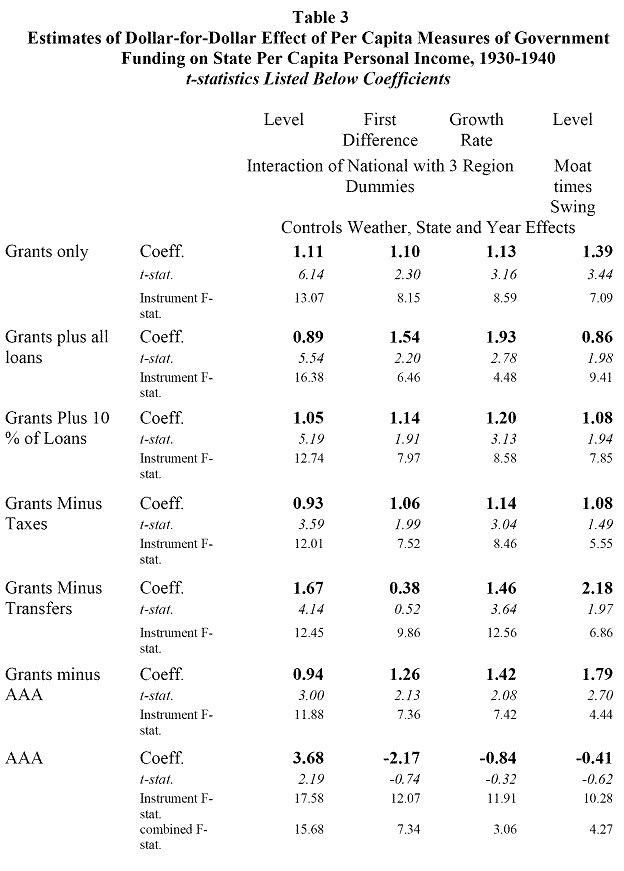 Table 3 from Fishback and Kachanovskaya.
The empirical results were dispersed, and in my opinion one particularly important drawback of the analysis is the use of state income as the dependent variable. Ideally, one would want gross state product, analogous to the national-level gross domestic product, but the data are the data, and one has to work with what one has.
I would tend to focus on the results under the column labeled "growth rates", as first log differencing should eliminate trend effects. What we see there is that the point estimates are above unity (except for AAA payments which are aimed at reducing crop production).
What I take from these papers' empirical results is that the proposition that multipliers are positive and (for government consumption and/or investments) in excess of unity, for conditions most applicable to the United States. This charactization is in line with the my (many) earlier posts on the subject of multiplier, which are collected here.