From the Washington Post:
…"If this guy [Fed Chairman Bernanke] prints more money between now and the election, I don't know what y'all would do to him in Iowa, but we would treat him pretty ugly down in Texas. Printing more money to play politics at this particular time in American history is almost treacherous, or treasonous, in my opinion."
Perry continued by saying that printing more money would be "devaluing the dollar in your pocket, and we cannot afford that. …"

The Philadelphia Fed's August Survey of Professional Forecasters was released on Friday. Ten year CPI inflation expectations are presented below.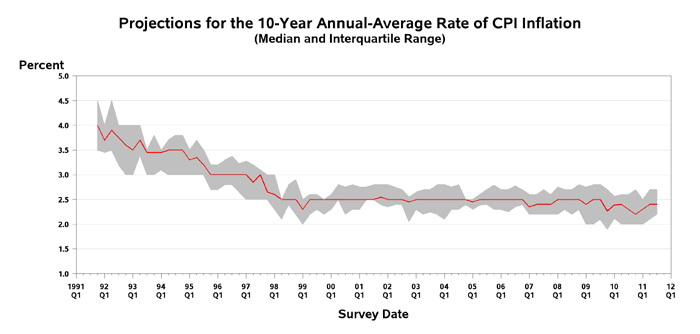 Update: 9:12AM Pacific 8/16: Some readers have questioned the reliance on survey based expectations (these are probably the same readers who take at face value surveys of purchasing managers, etc.). In any case, here are some market based indicators:
Figure 2
from
Christensen and Gillan (June 2011)
.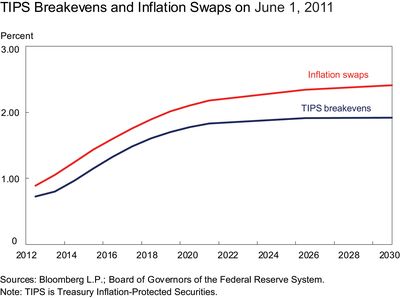 Figure from Lucca and Schaumberg (August 2011).

Update 2: 11AM Pacific: Commentary by [RA/Free Exchange] and [Economists View], [Grunwald/Time], [Sargent/Plum Line]. In my view, heated rhetoric of this nature regarding monetary policy is not constructive. [0]