Here are some macro indicators for the Wisconsin macroeconomy. In sum, civilian employment is rising (to essentially 2011M01 levels), but nonfarm payroll employment is declining; private sector employment (ex-farm) is flat, while government employment is declining; and leading indicators are pointing to a downturn.


Figure 1: Wisconsin civilian employment (blue), and nonfarm payroll employment (red), seasonally adjusted, in thousands. NBER recession dates shaded gray. Dashed line at 2011M01. Source: BLS, and NBER.

Civilian employment is essentially unchanged since 2011M01. nonfarm payroll employment is up by 11,800.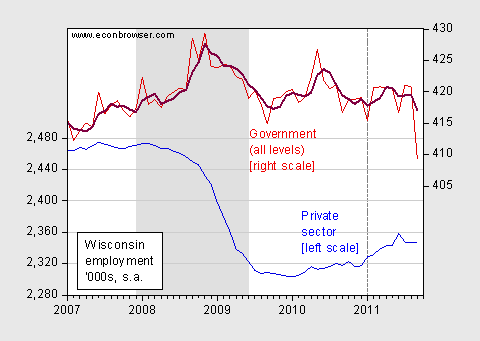 Figure 2:
Wisconsin private sector, calculated as total minus government (blue, left axis), and government employment (red, right axis) and three month moving average (purple, right axis), seasonally adjusted, in thousands. NBER recession dates shaded gray. Dashed line at 2011M01. Source:
BLS
, NBER and author's calculations.
Private sector employment has risen 18,000, as government employment has declined.
Figure 3:
Leading indices, for Wisconsin (blue) and for US (red). Source:
Philadelphia Fed
.
The leading indices are described thus:
The leading index for each state predicts the six-month growth rate of the state's coincident index. In addition to the coincident index, the models include other variables that lead the economy: state-level housing permits (1 to 4 units), state initial unemployment insurance claims, delivery times from the Institute for Supply Management (ISM) manufacturing survey, and the interest rate spread between the 10-year Treasury bond and the 3-month Treasury bill.



A time-series model (vector autoregression) is used to construct the leading index. Current and prior values of the forecast variables are used to determine the future values of the index.

In other words, prospects for Wisconsin are somewhat less bright than for the US overall.
It seems that we don't necessarily need to wait six months to see the outcome. Figure 4 shows actual nonfarm payroll employment, and the forecast cited by the Fall Wisconsin Economic Outlook, released October 21st.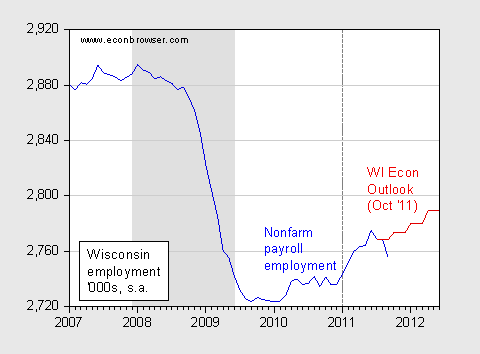 Figure 4:
Wisconsin nonfarm payroll employment (blue), and forecasts from Fall 2011 Wisconsin Economic Outlook (red), seasonally adjusted, in thousands. NBER recession dates shaded gray. Dashed line at 2011M01. Source:
BLS
,
Wisconsin Economic Outlook
Appendix 1, and NBER.
As noted in AP via Business Week (October 24th):
The secretary of the agency in Gov. Scott Walker's administration charged with connecting job seekers with employers resigned Monday, marking the second time in 10 months that the head of the department abruptly quit.

…

Walker's main campaign pledge was that as governor there would be 250,000 private sector jobs added under his watch by 2015.



But in Walker's first nine months in office, just 29,300 jobs have been added, which is not on pace for him to meet his campaign pledge. The unemployment rate in September was 7.8 percent. On Friday, Walker's own Revenue Department released a more pessimistic economic forecast that predicted that by the end of 2014 only 136,000 jobs will have been added in Wisconsin.

In my view, the lackluster performance along several dimensions of economic activity is not particularly surprising. See [1], [2].