That statement is from Wisconsin Governor Scott Walker's State of the State address. Here are some additional remarks:
Tonight I'm happy to report that after three years of losing 150,000 jobs Wisconsin actually added thousands of new jobs in 2011. New business formations are up by over 2 percent. And our unemployment rate is down from a year ago.
In fact, Wisconsin's unemployment rate is not only lower than the national average but much better than our neighbors to the south in Illinois.
Figure 1 provides a comparison of Wisconsin's performance, in terms of economic activity, using data released on Thursday by the Philadelphia Fed.

Figure 1: Log coincident index for Wisconsin (WI, bold blue) and US (bold black), and other state indices associated with the Federal Reserve District 7 plus Minnesota, all rescaled to 2011M01=0. Vertical line at 2011M01. Source: Federal Reserve Bank of Philadelphia and author's calculations.
Figure 2 provides the private nonfarm payroll series for Wisconsin (in contrast to the civilian employment series stressed at certain points by the Governor).

Figure 2: Wisconsin private nonfarm payroll employment from BLS (blue) and projections from Wisconsin Economic Outlook (red), in 000's. NBER defined recession dates shaded gray. Vertical line at 2011M01. Sources: BLS, October Wisconsin Economic Outlook and NBER.
Nonfarm payroll employment also exhibits a similar pattern. See [1].
While it is true that civilian employment (which includes self-employment, farm employment, government employment) has risen, it has risen more slowly than the national series. The US series is 1% above 2011M01 levels, while the Wisconsin series is 0.7% above (in log terms); moreover, the Wisconsin civilian employment series remains 0.2% below the May 2011 levels.
Further, while unemployment rates have fallen in both Wisconsin and in the US, it's important to recall the unemployment rate is the ratio of two variables (employment, measured labor force), and hence can move as a result of either variable moving. The labor force has shrunk noticeably (half a percentage point) in Wisconsin over the last six months, while it has risen in the US slightly. In this sense, the unemployment rate is a less informative indicator than some others.
Returning to the macroeconomic indicators for Wisconsin, the Philadelphia Fed provides this map identifying three month trends: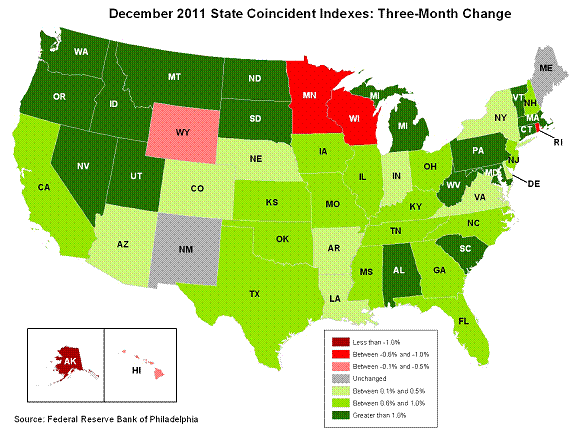 Source: Federal Reserve Bank of Philadelphia, "State Coincident Indexes: December 2011″ (January 26, 2012).
According to this map, Wisconsin is indeed moving in a direction.