I was wondering how long real long term (ex post) interest rates remained negative after the onset of the Great Depression. This is obviously interesting given the large amount of slack currently in the global economy, and the rampant fears of crowding out (see [1]) as governments continue to run deficits (and are likely to continue as leaders refuse to raise tax revenues). Fortunately, Lawrence Officer and Sam Williamson have done the profession an enormous service by compiling online historical series on many variables, including interest rates and price, at Measuring Worth. It turns out ex post real rates were really low for a very long time…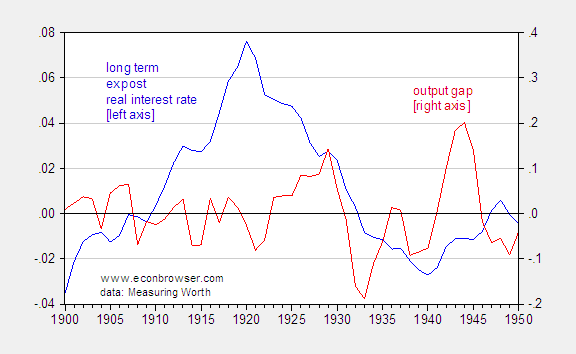 Figure 1: Long term interest rates minus 20 year inflation (blue, left axis), and output gap (red, right axis), both in decimal form. Long term interest rate is interest rate on prime corporate bonds with at least 20 years to maturity (see Officer (undated), page 86); inflation is 20 year log difference of CPI divided by 20; output gap is the cycle component from Hodrick-Prescott filtered log real GDP in 2005$ estimated over the entire 1794-2010 period. Source: GDP, CPI, interest rates from Measuring Worth; and author's calculations.
Of course, the ex ante real interest rate is what matters. If rational expectations holds, then these ex post rates are unbiased observations on the ex ante.
The output gap goes negative in 1930, and remains negative. Ex post real interest rates go negative in 1930 and remain in negative territory until 1947. Of course, we go into a war in 1941, so a caveat should apply for the 1941-45 observations (although the war doesn't stop many others from using those observations, so perhaps I should be similarly undaunted…).