Professor Lazear on CNBC yesterday reiterates and unhedges his thesis that the causes of the 1980 and 1982 recessions are essentially the same as that of the 2007-09 recession.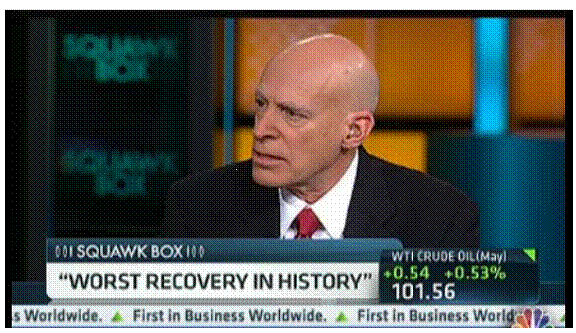 Source: "SquawkBox," CNBC, April 11, 2012.

Check at time index 2:08 minutes in, in response to the observation that the causes of the two recessions were different.
Joe:. the causes [of the two recessions] were different, too.




Lazear:They were, they were, but that's not an obvious situation. When you think about people like John Taylor, he would argue that the causes are not so different. in fact, that the causes were misbehavior by the central bank. that's a controversial position, as you know. but the point is that there were financial issues involved in the '80-'82 recession…
Reader Jeff argues that I misconstrue because I omitted some dialog. I have added it now (in italics) so readers can decide for themselves.
I think the logical steps going from the observation that the financial crisis of 2008 was Fed induced (!) to the argument that the "causes" of the 1980/82 recessions and the 2007 recession were the same are of dubious merit.
Just a quick observation. The next post will be non-Lazear related.