Official figures indicate employment declines in April, according to the BLS. Private payrolls are 4700 below January 2011 Levels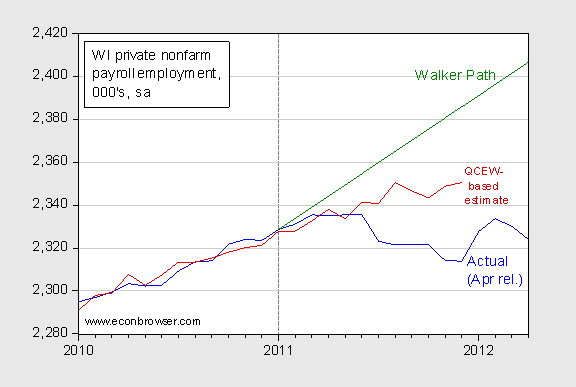 Figure 1: Actual Wisconsin private nonfarm payroll employment (blue), QCEW and DWD data based estimate of WI NFP (see post) minus government employment (red) and Walker path (green). Source: BLS (April release), author's calculations.

Note that the numbers released by Governor Walker's Administration (pertaining to data through 2011M12) have no bearing on the direction of change in employment recorded in April.
Wisconsin nonfarm payroll employment is 12,800 below 2011M01 levels. Even if one used QCEW based numbers for private employment (see this post), and assumed the private employment changes since 2011M12, then April's level would be 41.1 thousand below the Walker target.