That's the question posed in an interesting new paper by UCSD Professor Takeo Hoshi and University of Tokyo Professor Takatoshi Ito.
Although there has been much discussion recently of debt levels of some European governments, Japan is in a class by itself. Hoshi and Ito (2012) note the consensus among academic researchers that Japan's current fiscal path is unsustainable:
Doi (2009), Doi, Hoshi, and Okimoto (2011), Doi and Ihori (2009), Sakuragawa and Hosono (2011), Ito (2011), Ito, Watanabe, and Yabu (2011), and Ostry et al. (2010) all find that without a drastic change in fiscal policy, the Japanese government debt to GDP ratio cannot be stabilized.
Nevertheless, lenders to the Japanese government seem to have no concerns, as yields on the government's debt remain extremely low.
Outstanding Japanese government bonds (trillions of yen, left scale) and interest rate on the debt (in annual percentage rate, right scale). Source:
Hoshi and Ito (2012).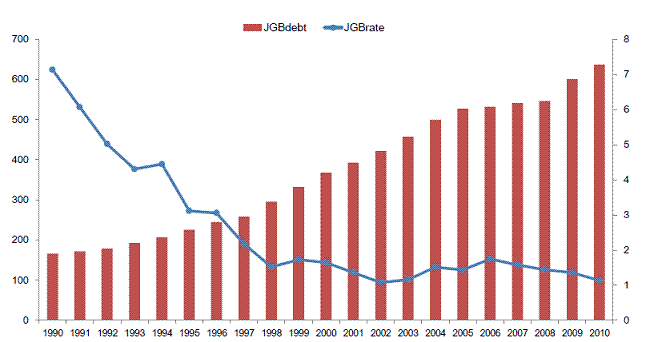 Hoshi and Ito (2012) argue that the key feature that has kept this process going has been that 95% of the Japanese government debt is domestically owned. Japanese residents put their savings into banks and insurance companies who along with pension funds lend to the government at very low rates. But as more Japanese retire from the workforce, that is likely to change dramatically. When Hoshi and Ito extrapolated current saving rates associated with different age groups into the future as the population ages, here is what they predict will happen to the Japanese saving rate in the years ahead.
Hoshi and Ito then put those saving rates together with the assumption that tax revenues and social security contributions remain at their current values of 30% of GDP while expenditures follow existing projections. Given a rate of growth of GDP and an assumed path for future interest rates, projecting future Japanese debt as a percentage of GDP is then a straightforward exercise. The chart below is based on what the authors describe as the
"unrealistically optimistic assumption that Japan's GDP will grow at 2% annually for the next 40
years".
The purple path labeled "Debt1" assumes that the interest rate equals the growth rate. Under these assumptions, Japanese government debt would rise to 300% of GDP by 2024 and 400% by 2034.
Government debt and private sector financial assets for 2010-2040 under assumption of 2% GDP Growth.
Source:
Hoshi and Ito (2012).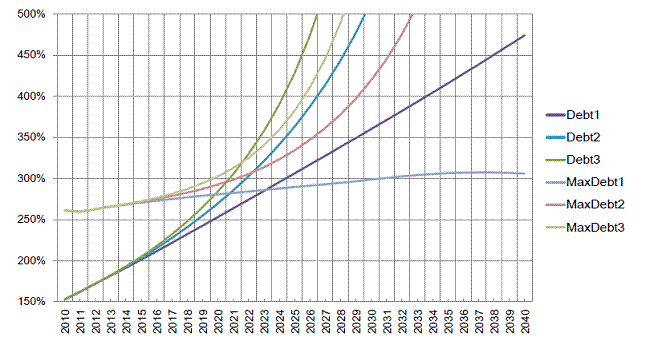 Hoshi and Ito then ask, who is going to buy that debt? Projecting saving rates forward they calculate what total domestically held financial
assets would be under those same assumptions. This is the blue-grey line labeled "MaxDebt1" in the graph above. Total financial assets held by domestic residents are never projected to get much above 300% of GDP. In other words, under these assumptions, Japan would soon reach a point where even if government debt were the only financial asset held by domestic residents, the government would still need to borrow overseas to continue to finance its deficits. Presumably foreigners would be much less willing to continue lending at historically low rates.
Hoshi and Ito performed alternative simulations under the assumption that as the debt-to-GDP ratio increased, the yield on government bonds would begin to rise. Under this scenario, the Japanese themselves would be able to absorb a higher level of debt, because the accrued interest to the Japanese holders of the government bonds gives them additions to paper wealth (a version of the "we owe it to ourselves" argument). This is reflected in the red "Maxdebt2" line in the graph above. However, higher interest rates also make the debt itself accumulate faster (the turquoise "Debt2" line above). Given the fundamental driver that the deficit exceeds household savings, the result is that Japan exhausts domestic savings even sooner, although debt rises to a higher percentage of GDP before doing so. The "Debt3" and "Maxdebt3" lines assume an even faster rate of increase in interest rates.
If the Japanese government is soon forced to offer higher yields to foreign lenders, the result could be very troubling. Again from the paper:
the crisis would have a large adverse impact on financial institutions, because the majority of long-term government bonds are held by Japanese banks and insurance companies. When the interest rate rises, they suffer valuation losses. For example, Japanese banks collectively hold about 142 trillion yen of central and local government bonds as of the end of March 2010. This is about 32% of total bank loans. The interest rate risk is large, too. According to Bank of Japan (2010), 100 basis points increase in JGB yields is estimated to cause about 4.7 trillion yen of losses for Japanese banks collectively (BOJ 2010, Chart 3-2-3, p.39). This is about 11.7% of the Tier I capital at the end of March 2010 and about twice as much as the income before tax for the accounting year ending on March 31, 2010. The interest rate risk as of March 2008 was estimated to be around 3.5 trillion yen. This may not reduce regulatory capital immediately because the banks are not required to mark all the securities to the market, but many will none the less tighten their credit provision.
As concerns about Greek sovereign debt and continuance with the euro intensified over the last two years, the troubling question became, "who's next?", a contagion of fear that continues to rattle Europe at the moment. If the scales tip for Japan as well, it is hard to imagine that the willingness of the world community to continue to buy U.S. Treasury debt would continue to be unaffected.