In a new working paper, David Austin argues that for a variety of reasons, private agents do not optimize with respect to energy efficiency measures. From Addressing Market Barriers to Energy Efficiency in Buildings:
… I argue that imperfections—relating to misperceived prices, imperfect information, and biased reasoning—in markets for energy-using products interfere with people's ability to make privately optimal decisions. The result is an energy-efficiency gap, or an "energy paradox": Energy-efficient technologies with lower lifetime costs diffuse more slowly through the economy than would be expected given their cost advantages.



Because of energy's social costs—not only regional pollutants (primarily particulates and oxides of sulfur and nitrogen) and global greenhouse gases (primarily carbon dioxide) from energy production and consumption, but also local pollution, traffic, and noise from resource extraction and transport—there are social benefits from policies that narrow the energy-efficiency gap. Growing concerns about global climate change have made it important to identify ways of reducing greenhouse-gas emissions at relatively low cost. Policies that address imperfections in markets for energy efficiency can reduce polluting emissions at a cost that is relatively low compared with the benefits. With buildings responsible for a substantial share of U.S. energy consumption, such policies make buildings an important potential source of lower-cost emissions reductions.
Austin cites the three sources of these distortions:


Energy prices are misperceived and may differ from the incremental cost of service;

Consumers' responses to price signals are hampered by imperfect information; and

Consumers' assessments of potential energy savings tend to be too low because of biased reasoning.

The second reason was more familiar to me; underprovision of information is commonplace when the benefits cannot be appropriated. The first and third are (to me) more novel. He cites as an example the tenant/landlord issue, or "split incentive" problem. Builders/landlords are unable to recoup the higher costs associated with greater investment in energy efficiency since evidence of that investment for tenants is difficult to discern. The third reason is not one that is typically assumed in neoclassical economic analysis, but seems to be important in practice.
As a consequence, putting a price on carbon emissions reflecting current estimated damages would not eliminate the energy-efficiency gap (the difference between existing and economically-rational levels of energy efficiency), or the rationale for other energy-efficiency policies. But higher future carbon prices, reflecting rising present-value damages, would further narrow the gap. This point is illustrated, in a heuristic fashion, in Figure 1: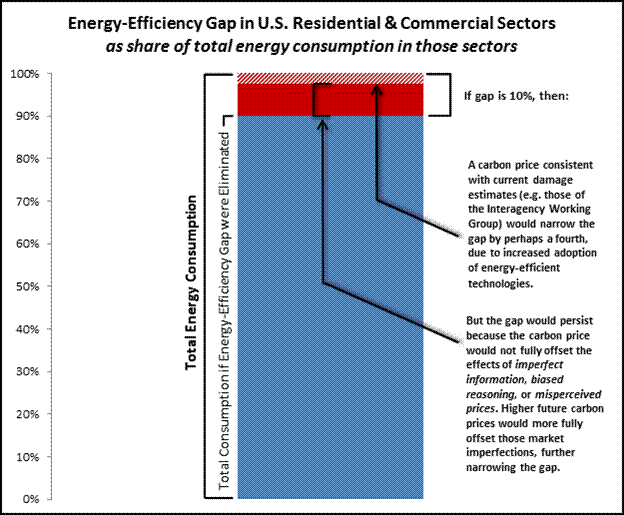 Figure 1:
Energy-efficiency gap.
The stakes are large. Policies to reduce energy consumption in buildings by 5%, narrowing the energy-efficiency gap by half, would result in reduced environmental damages by between $600 million to $4.6 billion per year (in 2012 constant dollars).
The working paper is here.