Maybe. Governor Romney has stated that he will declare China a currency manipulator on Day One, should he be elected President. In contrast to his other policy positions – from tax rates on the upper incomes, defense spending, coverage of pre-existing health conditions, the Blunt Amendment, Afghanistan timetable, first strike on Iran – he has exhibited remarkable (and pretty unique) constancy in his desire to call China a currency manipulator. In fact, one can find news reports from 2007 onward attesting to this long-standing stance [1], [2], [3]; so if there is any promise we should believe he will follow through on, it's this one. And from Believe In America: Mitt Romney's Plan for Jobs and Economic Growth (under "Day One"), it is:
An Order to Sanction China for Unfair Trade Practices




Directs the Department of the Treasury to list China as a currency manipulator in its biannual report and directs the Department of Commerce to assess countervailing duties on Chinese imports if China does not quickly move to float its currency.
In a recent post, I asserted that this is an odd time to undertake this type of action. That is because (1) the Chinese currency has appreciated considerably since 2005 to arguably near equilibrium levels, and (2) Chinese reserve accumulation has tailed off; in particular accumulation of USD has stabilized. (I leave aside the logistical constraints on implementing the declaration on January 21, 2012 [4]. Unless Congress confirms the Treasury Secretary on Day One, this will not literally occur.) I know facts are of little consequence to some, but I thought it useful nonetheless to document these assertions.
First, to the point of Chinese currency appreciation. Figure 1 shows the nominal bilateral USD/CNY exchange rate, with Deutsche Bank forecasts, and the trade weighted real CNY exchange rate.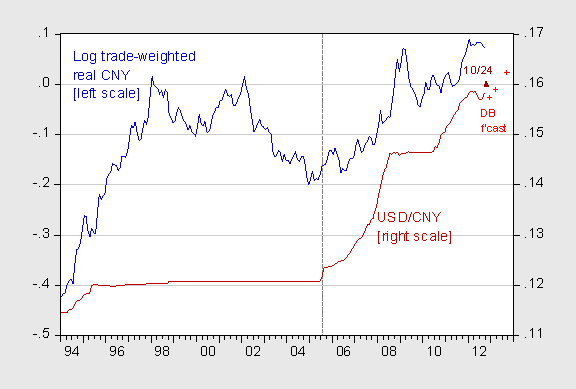 Figure 1:
Log trade weighted real (CPI deflated, broad basket, 2010=0) CNY index (blue, left scale), nominal USD/CNY exchange rate (dark red), as of 10/24 (dark red triangle), and forecasts from Deutsche Bank (Oct. 3) (red +). Sources: BIS, St. Louis Fed FRED, and Deutsche Bank,
Exchange Rate Perspectives
(October 3, 2012).
In general, the trade weighted real exchange rate (blue line) is the most relevant one for assessing China's role in the world economy; it has appreciated substantially since the end of the Great Recession. The BIS (and IMF) trade weighted exchange rates are CPI-deflated. One might reasonably argue that this measure of competitiveness (see Chinn (2006) for definitions) is not the most appropriate. It turns out that using unit labor costs does not change the conclusion considerably. Figure 2 shows that the IMF CPI deflated measure and the unit labor cost deflated to do not differ substantially (and in fact has exhibited greater appreciation since 2009Q2).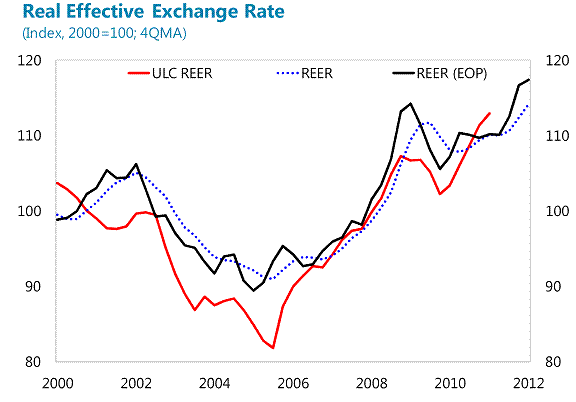 Figure 2:
Excerpt from Figure 4 of
IMF, Staff Report for Article IV Consultation: People's Report of China (July 2012)
.
A review of recent estimates of misalignment, using a variety of approaches, is shown in this paper by Yin-Wong Cheung. Slightly older estimates here. Since the real effective CNY has appreciated in the last couple years, the extent of measured misalignment is likely to have decreased. Furthermore, using the IMF's new approach to evaluating the appropriate exchange rate and current account balances, the IMF finds relatively minor undervaluation – between 5-10% [1] (For more on the IMF's EBA, see this post, and technical appendix).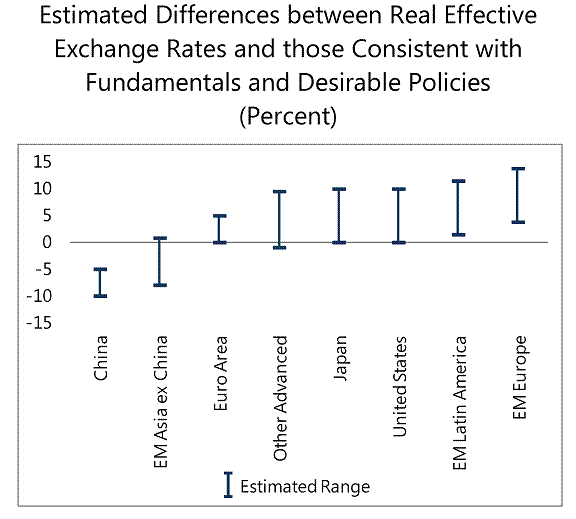 Figure 3:
Excerpt from "Figure 4: Estimated ESR Positions" from
IMF (2012)
.
Governor Romney argues that China is keeping the exchange rate weak in order to gain competitive advantage, presumably by intervening in foreign exchange markets. However, the evidence for massive intervention is quite limited, insofar as we can infer from the data.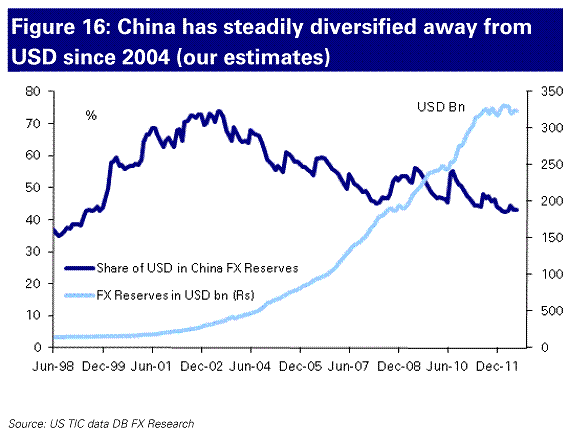 Figure 16
from Deutsche Bank,
Exchange Rate Perspectives
(October 3, 2012).
Total reserves are barely rising, while the share of reserves held in US dollar assets is estimated by DB to be declining over time. Moreover, it is not quite right to equate reserve accumulation with the trade surplus, as shown in the below figure from the Wall Street Journal Real Time Economics:
Figure 4.
Source:
"Capital Inflows Become Outflows in China, WSJ Analysis Shows," WSJ Real Time Economics (October 16, 2012)
.
Would it be better for the U.S. and world economy if the Chinese allowed the currency to appreciate more rapidly? Most likely; as I've argued, this would help re-allocate aggregate demand away from China and to the rest-of-the-world. But declaring China a currency manipulator seems a particularly risky way to achieve something that is already occurring.
[When asked during the debate about the possibility that declaring China a currency manipulator might trigger a trade war, he answered no in the same way he assured Candy Crowley the tax measures "added up", with a repeated/stressed "Of course…". I must confess that does not make me overly sanguine.]
So, of all the campaign promises, the Governor seems to hold most steadfast to the Day One manipulator declaration. But, then, according various experts, he has become a bit malleable on even that promise.