Lessons from the American Recovery and Reinvestment Act (ARRA)
Or, cognitive dissonance in the conservative world
Almost three years ago, some analysts (I use the term loosely) argued that the stimulus embodied in the ARRA (which was about one third tax reductions) would have no impact on GDP, i.e., would not be stimulative. Consider the following statement by Mr. Brian Riedl of the Heritage Foundation:
… Spending-stimulus advocates claim that Congress can "inject" new money into the economy, increasing demand and therefore production. This raises the obvious question: From where does the government acquire the money it pumps into the economy? Congress does not have a vault of money waiting to be distributed. Every dollar Congress injects into the economy must first be taxed or borrowed out of the economy. No new spending power is created. It is merely redistributed from one group of people to another.
Now, as I discussed in this post, there is a model that rationalizes this perspective. (It is, by the way, not S ≡ I, which is an identity in a closed economy) Assume supply is given by:
Y = ΦF(K,N)
And demand is given by:
Y = α[A + β(M/P)]
When P is perfectly flexible, then output is always determined by the level of technology, Φ, the capital stock (K), and the labor force (N). α is the (IS-LM) Keynesian multiplier (any variant will work), and β is a function of investment and money demand interest sensitivities. This is depicted in Figure 1 below; movements in aggregate demand have no impact on output, only on the price level.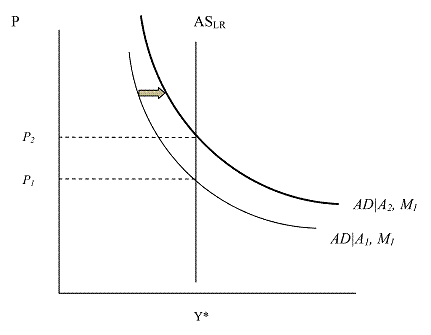 Figure 1:
Aggregate Supply and Aggregate Demand in a Classical Framework; and AD shift
The AS curve is vertical in short and long run; shifts in the AD curve merely get reflected in changes in the price level.
What this implies is that if the stimulus was ineffective because each dollar spent by the government was a dollar taken away from the private sector, then we should rejoice when each dollar no longer spent on defense (paying fighter pilots guarding US airspace, maintaining nukes, etc.) is released to the private sector for purchases of yachts and mansions. (By the way, a new classical formulation leads to a similar conclusion.)
Of course, there is a pretty solid consensus that the ARRA did have a measurable impact on output and employment (so, I'm excluding Heritage Foundation, Eugene Fama, etc., and including CBO, CEA, IMF, Federal Reserve Board (see FRB/US simulations), and most of the business sector economists). Hence, I think we should worry. Figure 2 shows the trajectory of GDP under current law, and under the CBO's fiscal alternative, and if only low income tax cuts are implemented.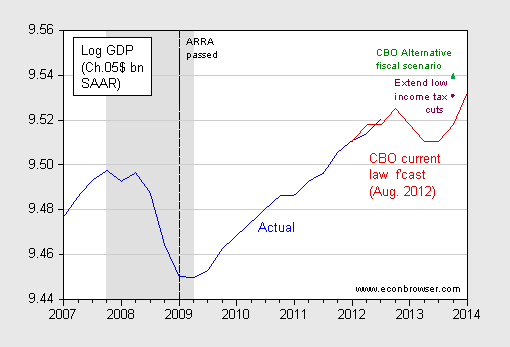 Figure 2:
Log GDP (Ch.2005$, SSAR) (blue), CBO August forecast (red), CBO Alternative Fiscal Scenario (green triangle) and extending low income tax cuts only (purple circle). NBER defined recession dates shaded gray. Dashed line at 2009Q1 (passage of ARRA). Source: BEA (2012Q3 2nd release), CBO,
Budget and Economic Outlook: An Update
(August 2012), and
CBO, Economic Effects of Policies Contributing to Fiscal Tightening in 2013, November 2012
.
CBO's Alternative Fiscal Scenario includes eliminating the "automatic reductions in defense spending specified in the Budget Control Act, eliminate the automatic reductions in nondefense spending specified in the Budget Control Act and the scheduled reductions in Medicare's payment rates for physicians, extending most expiring tax provisions and index the AMT for inflation" for two years.
Note that if one excludes tax cuts for income above $250 thousand from the CBO Alternative Fiscal Scenario, the difference in income is virtually indistinguishable from zero on this graph. [1]
So for me, there is a macroeconomic impact from the sequester, and there is an impact from the tax increases (although the impact via disposable income is larger than via labor-leisure tradeoffs). But I have the advantage of internal consistency — I believed that the ARRA had an impact on economic activity.
More on the empirics of stimulus here.