The agreement arrived at on New Year's day implies that output at the end of 2013 will be between 0.6 to 1.0 percentage points higher than it otherwise would be under what was until New Year's, current law, according to CBO's preferred multipliers. The uncertainty arises in part from the unresolved nature of the sequester deal.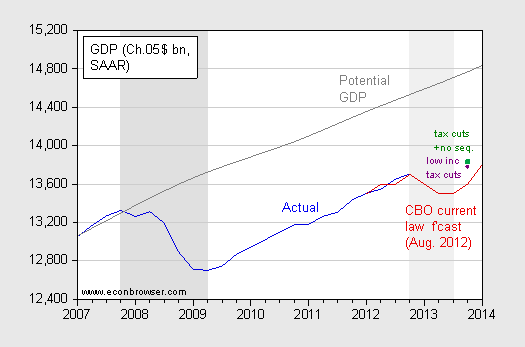 Figure 1: GDP (blue), forecast GDP under current law, from August 2012 (red), GDP under HR8 (assumed equivalent to low income tax cuts and no sequester) (green square) and GDP if low income tax cuts extended plus AMT fix (purple circle). NBER defined recession dates shaded dark gray; implied informal recession dates shaded light gray. Source: BEA, 2012Q3 3rd release; 2012Q4 assumes 1.5% growth SAAR (from MacroAdvisers (12/21/2012); CBO, Budget and Economic Outlook: An Update (August 2012), CBO, Economic Effects of Policies Contributing to Fiscal Tightening in 2013 (November 2012), NBER, and author's calculations.
4 quarter growth by 2013Q4 would be 1% (conditional on the CBO's August 2012 forecast) assuming the sequester is held in abeyance. If the sequester is fully put into effect, growth would be under 0.6%. These are calculations based on the CBO's preferred multipliers; it's likely that the multipliers are higher, given the accommodative nature of monetary policy.
see CBO update here
Using the high multiplier estimates, and assuming that no sequestration eventually occurs, then growth would be 2.3% 4q/4q. Working in the opposite direction is uncertainty. Given that the sequester issue and debt ceiling increase will come up in two months, one could reasonably expect that policy uncertainty will persist (exactly the concern many conservatives have highlighted over the past years).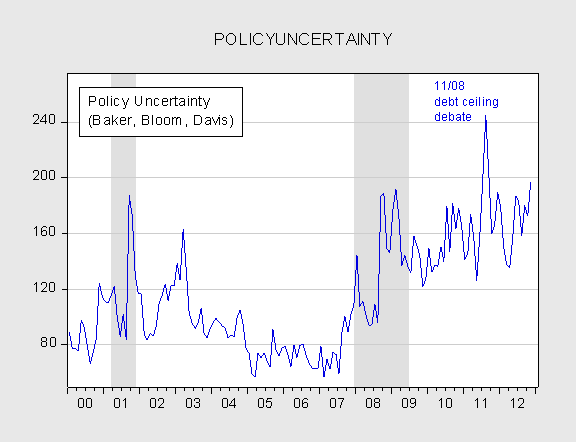 Figure 2: Economic Policy Uncertainty index (new version). NBER defined recession dates shaded gray. Source: Baker, Bloom and Davis, at Policy Uncertainty.
Baker, Bloom and Davis (2013) argue that a 112 point innovation in the index leads to a 2.3% reduction in GDP after 4 quarters (peak response). The jump in uncertainty associated with the previous debt ceiling impasse was about 120 points (which is not quite the same as an "innovation", but I'm pretty certain the difference is inessential in this calculation), so a back of the envelope calculation, assuming a similar elevation of uncertainty, suggests that a noticeable impact on GDP (taken literally, it implies a rule-of-thumb recession).
In other words, a prolonged debt ceiling debate could negate the stimulative effects of retaining the tax cuts for lower incomes, and eliminating the sequester (even if that occurs). This point should be remembered when some argue for using the raising of the debt ceiling as leverage to achieve specific goals (e.g., [1]).
More analysis from Economists View, Tim Duy, Izzo/WSJ RTE and Krugman; forecasts are summarized by Reddy/WSJ, Izzo/WSJ RTE, and Lange/Reuters.
Update, 1:40PM Pacific: Macroeconomic Advisers have bumped up their (conditional) forecast of 12/28 of 2.6% 4q/4q growth in 2013Q4 to 2.7% as of today.