From Reuters:
The country's gross domestic product fell 0.3 percent in the fourth quarter, the Office for National Statistics said on Friday, sharper than a 0.1 percent decline forecast by analysts.


The news is a blow for Britain's Conservative-led government, which a day earlier defended its austerity program against criticism from the International Monetary Fund. It needs solid growth to meet its budget targets, keep a triple-A debt rating and bolster its chances of winning a 2015 election.


…

Osborne's coalition partner, Liberal Democrat leader Nick Clegg, has said the government of which he is part had cut investment spending too rapidly.
It's not as if observers hadn't warned about the effect of contractionary fiscal policy. From the July 2012 IMF Article IV:
69. Deeper budget-neutral reallocations could also support recovery. Such reallocations within the current overall fiscal stance could include greater investment spending funded by property tax reform or spending cuts on items with low multipliers. Automatic stabilizers should continue to operate freely. It will also be important to shield the poorest from the impact of consolidation.

70. Scaling back fiscal tightening plans should be the main policy lever if growth does not build momentum by early-2013 even after further monetary stimulus and strong credit easing measures. To preserve credibility, any adjustment to the path of consolidation should be in the context of a multi-year plan and ideally accompanied by deeper entitlement reform, such as legislating accelerated increases in the pension age. Temporary easing measures in such a scenario should focus on infrastructure spending and targeted tax cuts, as they may be more credibly temporary.
What are the lessons from the UK experience? I think one can be learned from comparing the US to the UK.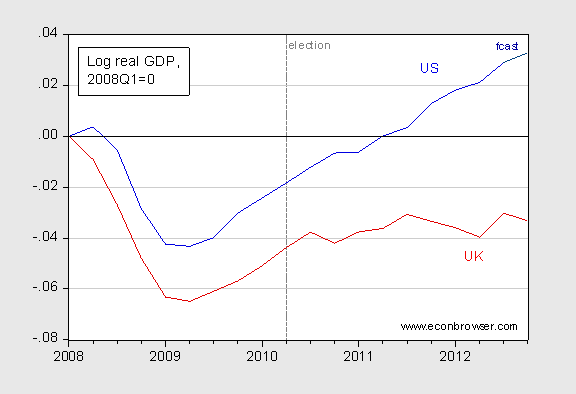 Figure 1:
Log real US GDP (blue) and real UK GDP (red), both normalized to 2008Q01. US 2012Q4 observation based on WSJ January 2013 survey. Source: BEA and UK
Office of National Statistics
, preliminary estimate.
Note the divergence in the two trajectories, post-(UK)election.
Now, it's true that fiscal policy is only part of the overall macro policy framework. Monetary policy is also different between the US and the UK. Here is rely upon former MPC member Adam Posen's assessment, as related by Adam Davidson in the NYTimes Magazine:
Soon after Cameron was elected, Posen argued that the committee should endorse a more radical, expansionary approach of economic recovery. He believed that the data indicated the sputtering would end and the economy would grow only if the Bank of England began buying many billions of pounds' more worth of bonds. This added stimulus would flood the banking system with new cash and indirectly push banks to lend to businesses and citizens. (Banks don't make money by sitting on cash.) Some of Posen's colleagues warned that this would lead to inflation. He countered that the economy was operating below its capacity, so there was no reason to fear inflation.



Each month, the committee heard Posen's advice. Each month, it voted 8 to 1 against him. The bank eschewed his more expansionary suggestions and stuck to a more conservative approach of keeping interest rates low and modest bond-buying. Soon Posen became a famously divisive figure in London's financial community, alternatively the enlightened genius trying to save the country and the mad Yank who wanted to inflate the pound out of existence. "There was this period," he remembers, "when I would lie awake at night and think: Am I just crazy? Maybe I'm nuts. It's like the scene in '12 Angry Men.' I almost wavered. But then I decided: No, no, no. I was convinced: They're nuts and I'm right."



It wasn't necessarily that simple. Over the past several years, the economic data in Britain have been so unusual that they have forced a rethinking of some of the most fundamental assumptions underlying economics. There just isn't any pre-existing narrative to explain what's going on. When major market economies have experienced extended periods with little or no growth, like the global economy during the Great Depression or Japan in the 1990s, unemployment always shot up. In sluggish post-crisis Britain, though, unemployment has barely moved for three years.

Davidson is not quite correct to state the results in the UK were to strange — as Paul Krugman has repeatedly observed, slow growth was to be expected. In other words, I think that the evidence has now accumulated to totally overwhelming levels that Posen, and the others who believed that a front-loaded fiscal contraction combined with less than fully expansionary monetary policy, were correct in their assessment of the UK situation. And the fact that the US has grown substantially faster with a more expansionary fiscal and monetary policy framework in place is consistent with the view that growth cannot be induced by contractionary fiscal and monetary policies in the current economic environment.
Previous posts on the non-appearance of expansionary fiscal contraction in the UK [1] [2] [3] [4] [5]. And apologies to Krugman for appropriating the title