Updating last year's post, indicators via representation at the (now ongoing) Allied Social Sciences Association meetings.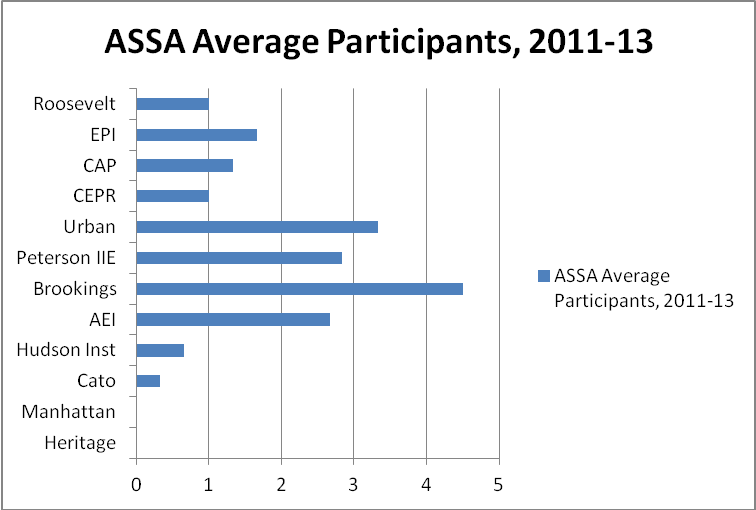 Figure 1: Average number of participants at ASSA 2011 and 2012. EPI is Economic Policy Institute, CAP is Center for American Progress, CEPR is Center for Economic and Policy Research, AEI is American Enterprise Institute. Source: ASSA 2013, 2012, 2011 and author's tabulations.
Note that these are people presenting or presiding on panels, not just attending (and not "at the booths").
Some patterns remain constant over time. The first is that Brookings* remains at the top of the list, with Urban and Peterson** coming up close behind. The second is that Heritage and Manhattan remain completely unrepresented.
The pattern could be explained by the fact that these institutions do not have the funds to support travel to conferences, as universities sometimes do. However, this does not explain the paucity of representation by Heritage (note I am referring to the nonlobbying arm of Heritage). As noted by Roll Call:
The Heritage Foundation also uses congressional travel to promote its polices, focusing in particular on the House Republican Study Committee, the conservative wing of the Republican caucus.
A representative described a retreat last January in Philadelphia as "a 50,000-foot extended dissertation" on the organization's principles. It cost Heritage more than $50,000 to send 40 members and a handful of staffers on the three-day visit to the City of Brotherly Love, where they attended panels and visited the Liberty Bell.
In 2011, Heritage spent almost $125,000 to fly about 50 lawmakers and a few staffers — along with spouses and other family members — to a Simi Valley, Calif., retreat at the Ronald Reagan Presidential Foundation and Library.
For more on the blurring lines, see Bruce Bartlett.
Disclosures: * Employed by Brookings, 1983-84. ** PIIE Academic Advisory Board member.