Empirical evidence on Inter-war multipliers
There is a growing literature that seeks to evaluate multipliers during periods of slack or at the zero lower bound.[1] In the former case, threshold regression has been used. For the latter, it is more difficult since our post-war experience is restricted to the last five years. So it is natural to appeal to cross-country data from the last episode of low interest rates — the 1930's. From Miguel Almunia, Agustín Bénétrix, Barry Eichengreen, Kevin H. O'Rourke and Gisela Rua, "Lessons from the Great Depression," Economic Policy (2010):
…They suggest that fiscal policy
made little difference during the 1930s because it was not deployed on the requisite
scale, not because it was ineffective. They suggest a positive impact of government
expenditure on GDP during the interwar period, with substantial fiscal multipliers:
for example, the first set of VAR exercises suggested that these were 2.5 on impact
and 1.2 after one year. Where significant fiscal stimulus was provided, output and
employment responded accordingly. Where monetary policy was loosened, recovery
occurred sooner. In the VARs in differences, we found that central bank discount
policy was effective in boosting GDP.69 These results are less robust than those for
fiscal policy, but again we think that the implications are clear. The most successful
economies during the 1930s were those whose governments pursued the least
'orthodox' policies.
I find these results of particular interest, given the strong parallels in critiques between the 1930s and now. The baseline impulse response functions are shown below: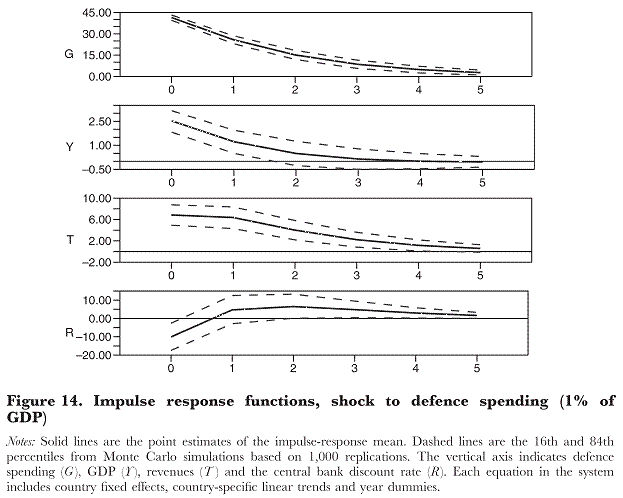 Source: Miguel Almunia, Agustín Bénétrix, Barry Eichengreen, Kevin H. O'Rourke and Gisela Rua, "Lessons from the Great Depression," Economic Policy (2010).
Moreover, these results pertain to a period not characterized by rationing (e.g. WWII).
It has been argued that fiscal policy is unlikely to boost output
today because it did not work in the 1930s. … But, as we show, fiscal policy where applied worked in the 1930s, whether
because spending from other sources was limited by uncertainty and liquidity constraints
or because with interest rates close to the zero bound there was little crowding
out of private spending. Previous studies have found no effect of fiscal policy,
not because it was ineffectual, but because it was hardly tried (that is, the magnitude
of the fiscal impulse was small).
While there are other studies that have encompassed the interwar period by using threshold regressions, this is to my knowledge one of the few papers that deals with the special characteristics of a liquidity trap by expanding the sample across countries.
Ungated version of the paper here; additional discussion of the ZLB issue here.
Addendum: Reader Jeff points out that discount rates were not at zero during the 1930's. However, short term rates for surplus funds for financial institutions were substantially lower than discount rates. Here are US and UK series.

Figure 1: Short term rates for surplus funds of financial institutions. Source: Measuring Worth.