More analysis from the Heritage Foundation
In a recent post, economist Salim Furth holds forth on the recent CBO Budget and Economic Outlook. In his explanation of why the CBO has repeatedly overpredicted growth, he writes:
The release of the Budget and Economic Outlook gives economists, policymakers, and observers a framework to raise questions about the health and future of the American economy. Beyond the truism that the economy is in a nasty slump, data and theory indicate that the economy is worse than one would expect based on economic factors alone.

The policies of the past five years have systematically harmed the economy in both the short run and the long run. Policies aimed at the unemployed have decreased their rewards from work. Policies in the business sector attenuate the pressure to innovate and adapt, allow established firms to reap profits without improving their products, and shrink the overall "pie" in order to serve a bigger slice to those favored by government. Policies on taxation have twice increased tax rates on capital, discouraging investment and lowering GDP.
Dr. Furth attributes overprediction by CBO and other forecasters to (1) the inherent difficulties of forecasting, (2) the debt overhang and other shocks, and (3) poor policymaking in Washington. On (2), he writes:
Economic factors such as private and public debt overhang, Europe's depression, economic uncertainty, or pessimistic financial markets can all slow growth and have certainly contributed to the slow recovery. But these elements are usually taken into account by forecasters. They may explain why the forecast does not predict even stronger growth, but unless the problems are getting progressively worse over time, they do not explain why the economy continues to underperform.
The Rational Expectations Hypothesis in Forecasting
The implication of this argument is that (3) is the cause of the continuous downward revision in GDP growth forecasts. But before leaping to that conclusion, let's consider his basic assertion about why the forecasts get revised downward over time. In an equilibrium rational expectations framework, where all agents understand the model governing the economy, and we are in a steady state, forecasts errors should be unbiased and serially uncorrelated (actually, it's stronger — the errors should be true innovations). I have two observations. First, I wonder if people properly incorporated the depth and extent of the Euro zone crisis and other events into their 2009 forecast (I will admit that in 2009, I did not foresee the Libyan civil war and the resulting surge in oil prices in 2011 either; hence that is an exogenous event in my conceptual framework — but perhaps others were more prescient than I). (I will further note that the empirical evidence regarding forecasters in the real world is somewhat at variance with the idealized Rat-Ex world I have just described — see Loungani, Stekler and Tamarisa, 2011.)
The Reinhart-Rogoff Stylized Fact
Second, by far the most interesting aspect of Dr. Furth's argument is the assertion that most forecasters incorporated the implications of Reinhart and Rogoff's findings into their forecasts. I think it's too easy to forget how long it took for this view to become incorporated into the conventional wisdom. For instance, the last Bush CEA report (January 2009) [1] did not, and according the blue chip forecasts around that time, a relatively quick bounceback was forecasted. [2] So I am dubious of the proposition that continuous downward revisions are primarily attributable to bad policymaking. Rather, I think it's the slow realization in the profession that balance sheet financial recessions are different. (That being said, continuously driving the government to the brink of default –- either technical or actual –- cannot be particularly helpful to recovery. [3])
Interestingly, while Dr. Furth cites Reinhart and Rogoff's results about the slow pace of growth in the wake of major financial crises, he does not cite this recent Reinhart and Rogoff piece that is particularly relevant in addressing the question at hand.
… we assess how the US has fared, so far, compared to other advanced economies that experienced systemic financial crises in 2007-2008 as well other advanced economies that experienced borderline episodes. Focusing on real per capita GDP, we show that

The recent crises patterns confirm our earlier result that the countries that recently suffered systemic financial crises have generally fared quite poorly compared to countries where the financial problem was less severe, that is, those with borderline crises; and
Although tracking worse than the countries that did not have systemic financial crises, the US output performance is, in fact, among the best of those that did.
Reinhart and Rogoff provide this graph, comparing against US historical experience:

Source: Reinhart and Rogoff, "This time is different, again? The US five years after the onset of subprime," VoxEU (October 2012).
(I am tempted to call this a Marshall McLuhan moment! Or a "Lazear-ism")
In addition, Moritz Schularick and Alan Taylor provide a cross country comparison of recent US performance, based upon a regression methodology. (More discussion here)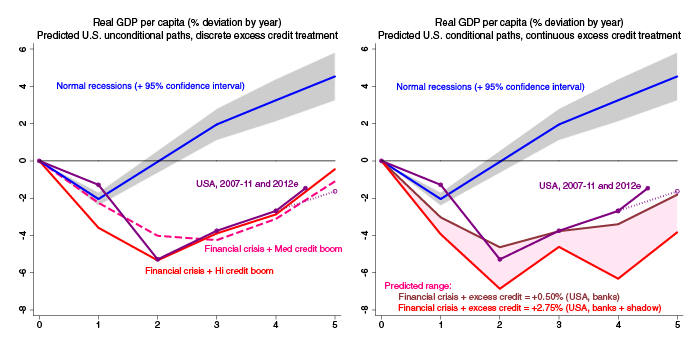 Source: Schularick and Taylor, "Fact-checking financial recessions: US-UK update," VoxEU (October 2012).
So, it might be that the worsening outlook relative to prediction is due to increasingly bad macro policy making (my candidates differ from Dr. Furth's), but I would say a more important aspect is that more and more forecasters have recognized the basic truths of the Reinhart and Rogoff and Taylor et al. findings.
Notes on Footnoting
Finally, a mis-interpretation alert: Dr. Furth writes:
CBO concludes that the U.S. has reached a level of debt at which growth will probably be harmed.
A footnote is provided (a good thing!) citing Congressional Budget Office, The Budget and Economic Outlook, p. 35. I turn to page 35 in the CBO document and find:
…less fiscal tightening this year would lead to stronger growth in 2013 but, if not accompanied by sufficient additional tightening in later years, would also restrain real output and income in the middle of the decade and beyond owing to higher federal debt.
Perhaps I am missing the relevant text, but if this is the one Dr. Furth is quoting, then I am puzzled.
The CBO alludes to the middle of the decade and beyond; and it's a conditional prediction. According to my calendar, we're not quite there – so I am not sure Dr. Furth's description of what the CBO is saying is the same as what the CBO is saying. It's a seemingly minor point, but as an academic, I like to accurately quote my sources.