The Economic Report of the President, 2013, released last Friday, devotes some attention to global rebalancing, a topic that I've addressed on a number of occasions. [1] [2]; and this paper. Exchange rate movements are critical, but so too are productivity and wage movements.
From Chapter 7:
Several recent reports have concluded that manufacturers increasingly view the United States as a favorable production location. Factors cited for this change include trends in unit labor costs, expansion of domestic energy resources such as wind and natural gas, and greater recognition of the "hidden costs" of moving production abroad.

Over the past decade, U.S. unit labor costs—the cost of labor required to produce one unit of output—have grown much more slowly than in other developed nations (Figure 7-7). U.S. hourly compensation in manufacturing has grown somewhat over the past decade, but rapid productivity growth has reduced the cost of producing a unit of manufactured output in the United States. Meanwhile, when measured in U.S. dollars, the cost of manufacturing a unit of output in key trading partners has risen, in some cases substantially.

Several recent studies by management consultants argue that these trends create the potential for a "manufacturing renaissance" in the United States and estimate that the result could be 1 million or more new manufacturing jobs by 2015 (Boston Consulting Group 2012; Inch and Dutta 2012; Simchi-Levi et al. 2011). A key assumption of most of these analyses is that U.S. manufacturing wages continue to be stagnant. Thus, while these trends provide favorable tailwinds for U.S. manufacturing, they will not by themselves lead to sustainable prosperity. In contrast, the "high road" model discussed above also yields favorably low unit labor costs—but does so by increasing productivity, rather than by reducing wages.
Here is Figure 7-7: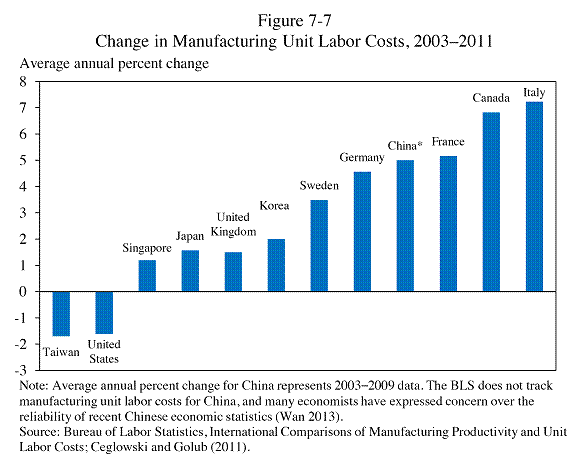 More discussion of competitiveness, here.
The entire ERP is here.