Additional evidence addressing the question asked by Betsey Stevenson and Justin Wolfers.
It's a fair question when you read the introduction to the House budget:
…Unless we act, by 2023, we will add another $8.2 trillion to our national debt. That debt will weigh down our country like an anchor.


Unless we change course, we will have a debt crisis. Pressed for cash, the government will take the easy way out: It will crank up the printing presses. The final stage of this intergenerational theft will be the debasement of our currency. Government will cheat us of our just rewards. Our finances will collapse. The economy will stall. The safety net will unravel. And the most vulnerable will suffer.
So, not Greece, but Weimar Republic.
Market Expectations and Survey Data
Stevenson and Wolfers cite market based evidence that suggests little chance of high inflation, as Representative Ryan fears. They write of Representative Ryan's forecast that it is:
So shaky, in fact, that either Ryan is being dishonest or he's placed himself on the Spam-hoarding radical fringe, far outside any standard approach to monetary economics.
Who am I to disagree? (See [1] [2] [3] [4]) Here I provide some additional evidence to buttress their assertion.
First, the breakeven inflation rates from Treasurys and TIPS, and the survey based expectations, they mention.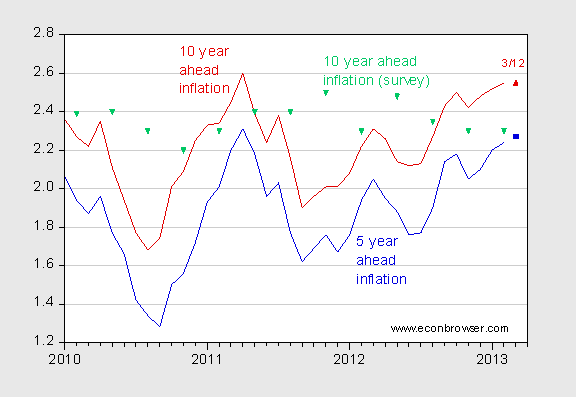 Figure 1:
Expected inflation implied by ten year constant maturity yields minus TIPS yields (red), and five year (blue); March data for 3/12. Mean expected ten year inflation from Survey of Professional Forecasters data (green inverted triangles). Source: St. Louis Fed FRED, Federal Reserve Bank of Philadelphia.
Implied inflation from bond yields suggest inflation over the next ten years averaging less than 2.6% as of 3/12, and over the next five years less than 2.3%. Survey data from the Philadelphia Fed SPF confirm the absence of high expected inflation: 2.3% as of mid-February.
Since long term nominal interest rates arguably incorporate an inflation premium, one can't necessarily read expected inflation off of the gap between Treasurys and TIPS. Haubrich, et al (2008) have developed a methodology to extract the pure expected inflation component from inflation swaps: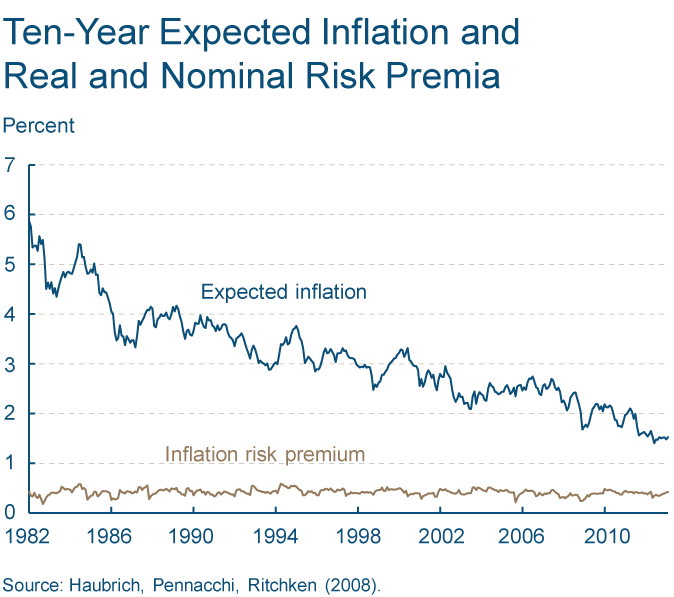 Source:
Federal Reserve Bank of Cleveland
.
Learning from History: Inflation in Prolonged Periods of Slack
The last reason that one should not fear high inflation relies upon observations of the behavior of inflation during periods of high slack – or persistent and large output gaps (PLOGS). From Andre Meier, in Still Minding the Gap:
This paper studies inflation dynamics during 25 historical episodes in advanced economies where output remained well below potential for an extended period. We find that such episodes generally brought about significant disinflation, underpinned by weak labor markets, slowing wage growth, and, in many cases, falling oil prices. Indeed, inflation declined by about the same fraction of the initial inflation rate across episodes. That said, disinflation has tended to taper off at very low positive inflation rates, arguably reflecting downward nominal rigidities and well-anchored inflation expectations. Temporary inflation increases during episodes were, in turn, systematically related to currency depreciation or higher oil prices. Overall, the historical patterns suggest little upside inflation risk in advanced economies facing the prospect of persistent large output gaps.
This point is highlighted in Figure 3 from the paper.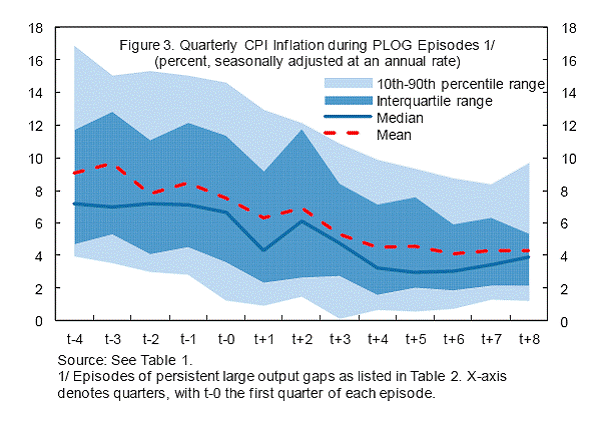 Figure 3
from
Meier (2010)
.
The author defines an episode of persistent large output gap (PLOG) as at least eight consecutive quarters of negative output gaps greater than 1.5 percent in absolute terms. The October 2012 IMF World Economic Outlook indicates the 2013 US output gap of -4.0% of GDP represents a decline (in absolute terms) from -5.6% in 2009, so the US clearly fits the bill for continued low inflation.
Concluding Thoughts
Market based and survey based data indicate stable inflation expectations. Historical experience also suggests that inflation will remain low. However, history has never been an impediment to a faith-based view of economics. [5]
My one quibble with the Stevenson and Wolfers article: What's so bad about hoarding spam?.