The CBO has just released estimates of the cyclically adjusted budget balance (or, specifically, the budget balance without automatic stabilizers). The cyclically adjusted budget balance is a better measure of the fiscal stance. The evolution of this series is interesting.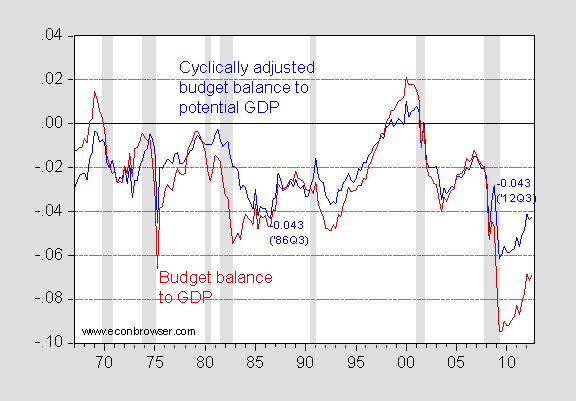 Figure 1: Budget balance without automatic stabilizers as a ratio to potential GDP (blue), and budget balance as a share of GDP (red). NBER defined recession dates shaded gray. Source: CBO (March 2013), and CBO (February 2013), NBER, and author's calculations.
As CBO reported last week (and Paul Krugman highlighted), the cyclically adjusted budget deficit next year is projected to be 1% of potential GDP, under current law.
One interesting observation is that the 2012Q3 value is the same as that in 1986Q3 (and only slightly greater in magnitude than that recorded in 2003Q3).