Today we are fortunate to have a guest contribution written by Yuriy Gorodnichenko (UC Berkeley) and Michael Weber (UC Berkeley). It is based upon their paper entitled "Are Sticky Prices Costly? Evidence From The Stock Market".
---
We argue that the inflexibility of firms in adjusting prices after nominal shocks is associated with real costs. Employing information in the stock prices of firms, we show that, in a high frequency event study around policy decisions of the Fed, monetary policy shocks lead to a larger increase of conditional volatility for sticky price firms compared to flexible price firms, thus confirming a cornerstone of New Keynesian macroeconomics and offering a justification for active fiscal and monetary policy.

In principle, fixed costs of changing prices can be observed and measured. In practice, such costs take disparate forms in different firms, and we have no data on their magnitude. So the theory can be tested at best indirectly, at worst not at all.
Alan Blinder (1991)
Debates in business cycle macroeconomics are often centered around two questions. First, positively, can central banks influence the real economy? Second, normatively, should central banks do anything to stabilize business cycles? In the context of real business cycle models, the answer is a clear "no" to both questions because purely nominal shocks are neutral (that is, changing money supply does not influence real output) and agents' responses are optimal so that stabilization policy can only reduce welfare. On the other hand, a central feature of modern New Keynesian models is price rigidity in the short run which leads to inefficient fluctuations in the economy thus calling for stabilization policies. This feature also makes central banks a potent force in the economy as money is no longer neutral when prices are fixed. The contrast between these models is further amplified when one considers their predictions with respect to the size of fiscal multipliers. For example, government spending shocks in real business cycle models strongly crowd out private consumption and investment so that the multiplier is generally small and well below one (that is, a dollar increase in government spending raises output by less than a dollar), while in New Keynesian models the multiplier can be much larger due to price rigidities and other frictions.
Knowing which of these models is appropriate for policy is especially crucial in the current environment of depressed economies and so this is not just an academic debate between different schools of thought in macroeconomics. How can one differentiate between these models? Which of them is a better description of reality and hence a foundation for policy? While there are potentially many tests, it seems that it would be most informative to explore if price rigidities, the fundamental premise of New Keynesian models, are meaningful.
There seems to be a growing consensus that prices at the micro-level are fixed in the short run (Bils and Klenow (2004), Nakamura and Steinsson (2008)), but it is still unclear why firms have rigid prices. A central tenet of New Keynesian macroeconomics is that firms face fixed "menu" costs of nominal price adjustment which can rationalize why firms may forgo an increase in profits by keeping existing prices unchanged after real or nominal shocks. However, the observed price rigidity does not necessarily entail that nominal shocks have real effects or that the inability of firms to adjust prices burdens firms. For example, Head et al. (2012) present a theoretical model where sticky prices arise endogenously even if firms are free to change prices at any time without any cost. This alternative theory has vastly different implications for business cycles and policy (e.g., nominal shocks are neutral and thus a central bank has little if any influence on the economy). How can one distinguish between these opposing motives for price stickiness? Our key insight is that in New Keynesian models, sticky prices are costly to firms, whereas in other models they are not. While the sources and types of "menu" costs are likely to vary tremendously across firms thus making the construction of an integral measure of the cost of sticky prices extremely challenging, looking at market valuations of firms can provide a natural metric to determine whether price stickiness is indeed costly. In a recent paper (Gorodnichenko and Weber 2013), we exploit this key insight using stock market information to quantify these costs and—to the extent that firms equalize costs and benefits of nominal price adjustment—"menu" costs. The evidence unambiguously supports the New Keynesian interpretation of price stickiness.
Specifically, we merge confidential micro-level data underlying the producer price index from the Bureau of Labor Statistics with tick by tick stock price data for individual firms from NYSE Trade and Quote. As a first pass, we sort firms into portfolios based on the frequency of price adjustment and find a premium for holding the portfolio populated by firms with the stickiest prices relative to the portfolio populated by firms with the most flexible prices equivalent to at least 0.3% – 0.8% loss in revenue.
While this summary statistic provides a simple metric, it does not explain how nominal rigidities affect firms at the micro level. To identify a causal effect of price rigidity on stock returns, we use rich cross-sectional heterogeneity of firm characteristics and high frequency stock market data. Our source of variation are monetary shocks identified from futures on the fed funds rates—the main policy instrument of the Fed—in a narrow time window around press releases of the Federal Open Market Committee. We calculate the response of returns for firms with different frequencies of price adjustment over the same narrow window so that we can rule out reverse causality and other aggregate shocks.
To guide our empirical analyses, we show in a basic New Keynesian model that firms with stickier prices (larger menu cost φ) should experience a greater increase in the volatility of returns than firms with more flexible prices after a nominal or real shock. Intuitively, firms with larger costs of price adjustment tolerate larger departures from the optimal reset price. Figure 1 plots the profit function of a firm in a static New Keynesian model and illustrates this intuition. In response to a shock that shifts the profit function from "old" to "new", both flexible and sticky price firms might experience an increase or decrease in returns. Hence, looking solely at profits or returns is not sufficient. However, there is an unambiguous prediction with respect to the variance of changes in payoffs in response to shocks: firms with high menu costs (stickier prices) should experience larger variability in payoffs than firms with low menu costs.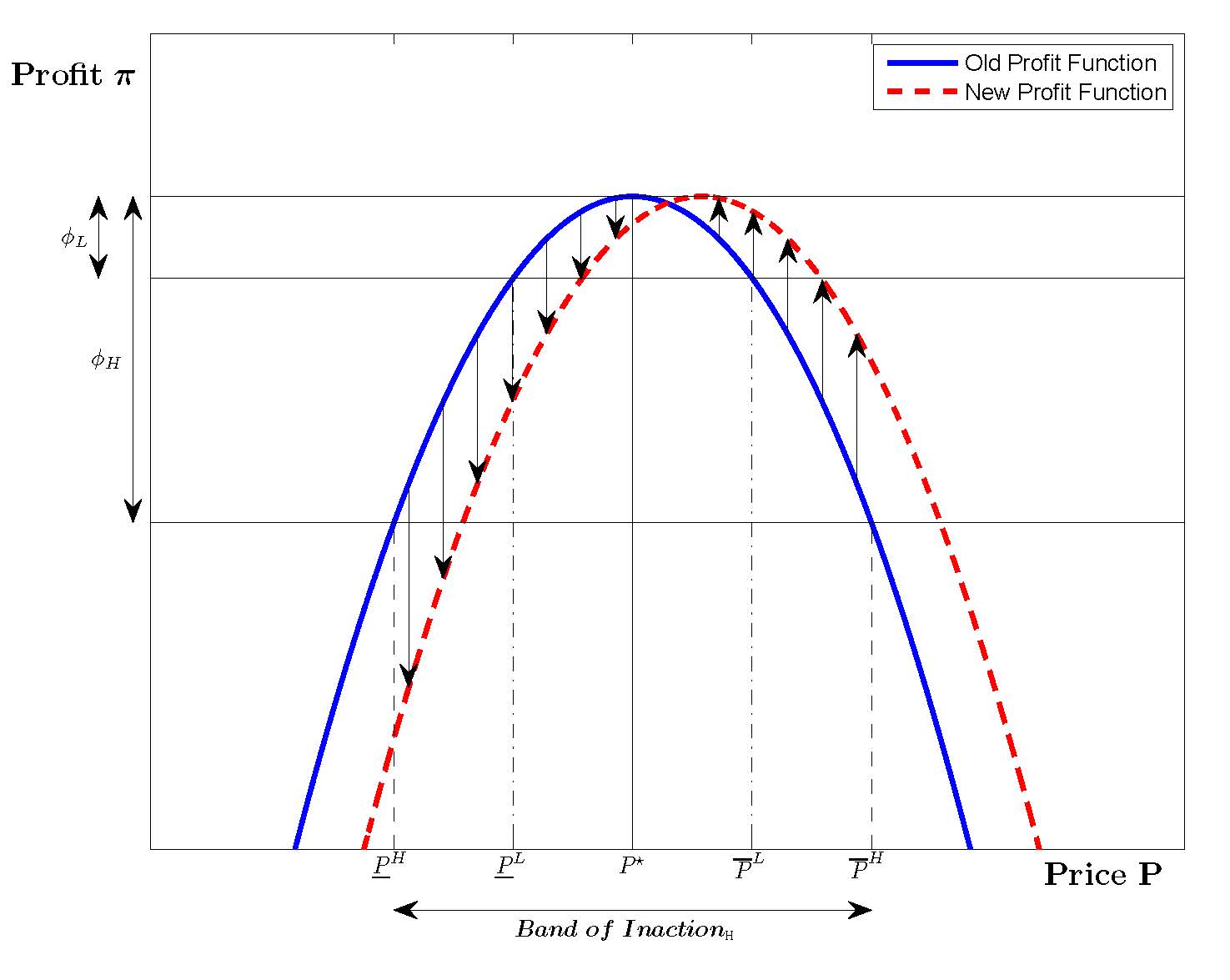 Consistent with this logic, we find that returns for firms with stickier prices exhibit greater volatility after monetary shocks than returns of firms with more flexible prices, with the magnitudes being broadly in line with the estimates from a calibrated New Keynesian model with heterogeneous firms: a hypothetical monetary policy surprise of 25 basis points leads to an increase in squared returns of 8%2 for the firms with stickiest prices. This sensitivity is reduced by a factor of three for firms with the most flexible prices in our sample. Our results are robust to a large battery of specification checks, subsample analyses, placebo tests, and alternative estimation methods.
In summary, our results suggest that sticky prices are indeed costly for firms — consistent with the tenets of New Keynesian macroeconomics. While price inflexibility is only one of the key ingredients in many modern macroeconomic models, it can justify policies aimed to stabilize business cycle fluctuations as well as inform us about the design of optimal stabilization policies for central banks and fiscal authorities. Our results are unambiguously consistent with theories calling for active, expansionary fiscal and monetary policy in the current economic environment.

References
Bils, M. and P. J. Klenow (2004). Some Evidence on the importance of sticky prices. Journal of Political Economy 112 (5), 947-985.
Blinder, A. S. (1991). Why are prices sticky? Preliminary results from an interview study. American Economic Review 81 (2), 89-96.
Gorodnichenko, Y., and M. Weber (2013). "Are Sticky Prices Costly? Evidence From The Stock Market," NBER Working Paper #18860.
Head, A., L. Q. Liu, G. Menzio, and R. Wright (2012). Sticky prices: A new monetarist approach. Journal of the European Economic Association 10 (5), 939-973.
Nakamura, E. and J. Steinsson (2008). Five facts about prices: A reevaluation of menu cost models. Quarterly Journal of Economics 123 (4), 1415-1464.
---
This post written by Yuriy Gorodnichenko and Michael Weber.