Today Econbrowser hosts this guest contribution from Robert Pollin and Michael Ash of the Department of Economics and Political Economy Research Institute (PERI) at the University of Massachusetts-Amherst.
Reply to Prof. Hamilton regarding "Reinhart-Rogoff Data Problems"
by Robert Pollin and Michael Ash
We appreciate the opportunity to respond to the careful comments posted by Prof. Hamilton concerning our critical replication with Thomas Herndon of the 2010 Reinhart/Rogoff study, "Growth in a Time of Debt." We will focus on what we see as the three main issues being raised by Prof. Hamilton.
But before we get to these questions, it will be useful to clarify what our paper is about and not about. For starters, let's just be clear that there is not one word in our paper that suggests that one should never, categorically, worry about high sovereign debt loads. The purpose of our paper is much more focused, and is captured in our paper's title: "Do high public debt levels consistently stifle economic growth?" RR's answer to that question was "yes." But their answer was based on flawed calculations and methodology. We argue that the accurate answer based on a corrected analysis of the RR dataset is "no." We show, using RR's own dataset, that there is definitely no threshold point, at 90 percent public debt/GDP, at which countries can anticipate GDP growth dropping sharply on a consistent basis.
Now to the main questions raised by Prof. Hamilton:
1. High sovereign debt loads and long-term interest burdens.
Deficit hawks have been predicting sharp rises in interest rates since the U.S. fiscal deficit rose sharply in 2009 as a result of the financial crisis and onset of the Great Recession. That means they have been badly wrong for four years running. Of course, the interest rate on U.S. Treasuries has been, and now remains, at historic lows, not highs. The deficit hawks may eventually be right. But the fact that they were wrong over these four years also matters a lot. It means that the U.S. has had a great deal of fiscal space to pursue countercyclical measures. Crucially, it also means that the U.S. has been carrying for these past four years—and will continue to carry for at least a few more years—historically low interest payment burdens as a share of total government expenditures. At present, government interest payments as a share of government expenditures are less than half of what they averaged under Presidents Reagan and Bush-1. We consider this an absolutely critical factor to incorporate into the types of discussion Prof. Hamilton has raised. We are not sure why this point is almost universally neglected in current fiscal policy debates. In any case, the basic points are documented in a 2012 paper by one of us (Bob) paper from the Cambridge Journal of Economics Bob has also produced more updated versions of these data. The most up-to-date federal interest payment/expenditure ratio is shown in the figure below. Such figures, of course, are quite easy to obtain and derive.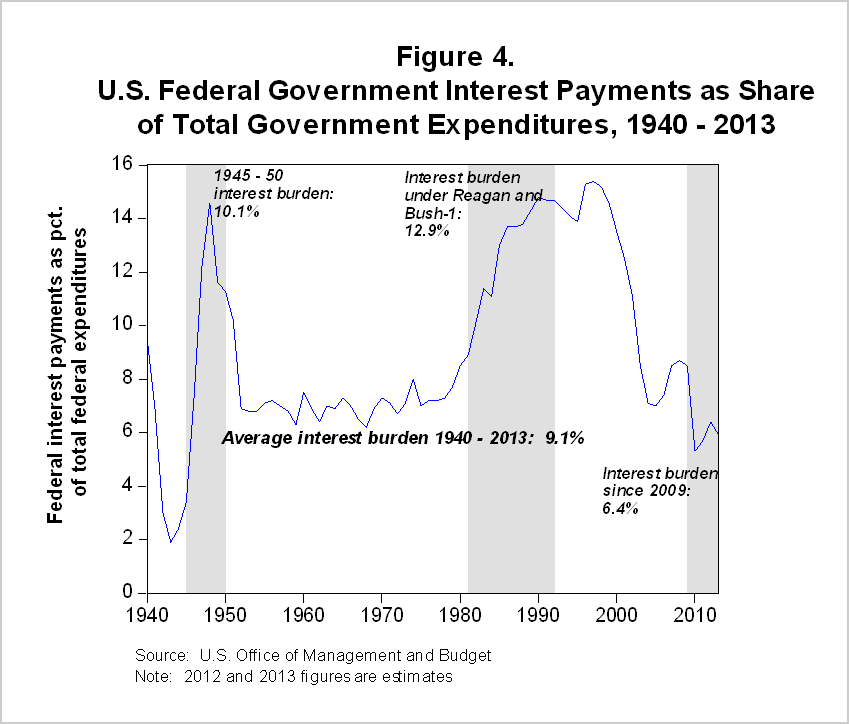 Moreover, this pattern of low interest payments will almost certainly continue at least until the Fed alters its current monetary policy stance. Chair Bernanke has stated repeatedly that the Fed will continue with its current policy course at least until unemployment falls below 6.5 percent. Meanwhile, the Fed itself is forecasting unemployment to remain between 7.3 – 7.7 percent through 2013.
2. Interpretation of our recalculations from RR data
It is not accurate to say that the main source of the difference in GDP growth was their method of averaging, not their spreadsheet errors and exclusions. It is the combination of these factors that leads to our result that average GDP growth in the +90% public debt/GDP category is positive 2.2 percent, not negative 0.1 percent. If this wasn't clear enough in the version of the paper we posted last Monday, it should be clearer now in the slightly revised version. Our full narrative around this slightly revised table can be found here.
As for RR's justification of their averaging technique, it is certainly unusual to, for example, weight the experience of one year in New Zealand equally with 19 years of the UK. It is RR's obligation as researchers to state clearly in their published work that this is what they have done and to justify their methodology. They did not do so. We do state in our paper that due, for example, to issues of serial correlation, one might not want to give fully 19 times the weight to the UK experience relative to the one New Zealand year. Just to make sure this is clear, here is what we say on pp. 7-8 of our working paper:
RR does not indicate or discuss the decision to weight equally by country rather than by country-year. In fact, possible within-country serially correlated relationships could support an argument that not every additional country-year contributes proportionally additional information. Yet equal weighting of country averages entirely ignores the number of years that a country experienced a high level of public debt relative to GDP. Thus, the existence of serial correlation could mean that, with Greece and the UK, 19 years carrying a public debt/GDP load over 90 percent and averaging 2.9 percent and 2.4 percent GDP growth respectively do not each warrant 19 times the weight as New Zealand's single year at −7.6 percent GDP growth or five times the weight as the US's four years with an average of −2.0 percent GDP growth. But equal weighting by country gives a one-year episode as much weight as nearly two decades in the above 90 percent public debt/GDP range. RR needs to justify this methodology in detail. It otherwise appears arbitrary and unsupportable.
In short, doing simple country-year weighting strikes us as more reliable in this case than taking country averages. Beyond this, to be reliable as a guide on important public policy issues, their results need to be robust to alternative defensible averaging methods. We have shown that their results are clearly not robust.
3. Do our overall findings end up close to RR?
RR have said this in their response to us, and Prof. Hamilton seems to agree. We disagree. First, the finding from RR that has driven policy discussions was the idea that countries will consistently experience a sharp, even precipitous, decline in GDP growth once they pass the 90 percent public debt/GDP threshold. This is the message that is conveyed through the average figures they reported: when public debt/GDP is between 60 – 90 percent, GDP growth averages 3.2 percent, but when public debt/GDP exceeds 90 percent, average growth falls to -0.1 percent. Based on our recalculations, we see, on average, a much more mild growth decline with their full 20 country sample over their full set of years. This becomes more evident when we added the 90 – 120 percent public debt/GDP category in our paper. We show that when public debt/GDP is between 90 – 120 percent, average GDP growth is 2.4 percent. This compares with 3.2 percent growth when public debt/GDP ranges between 60 -90 percent.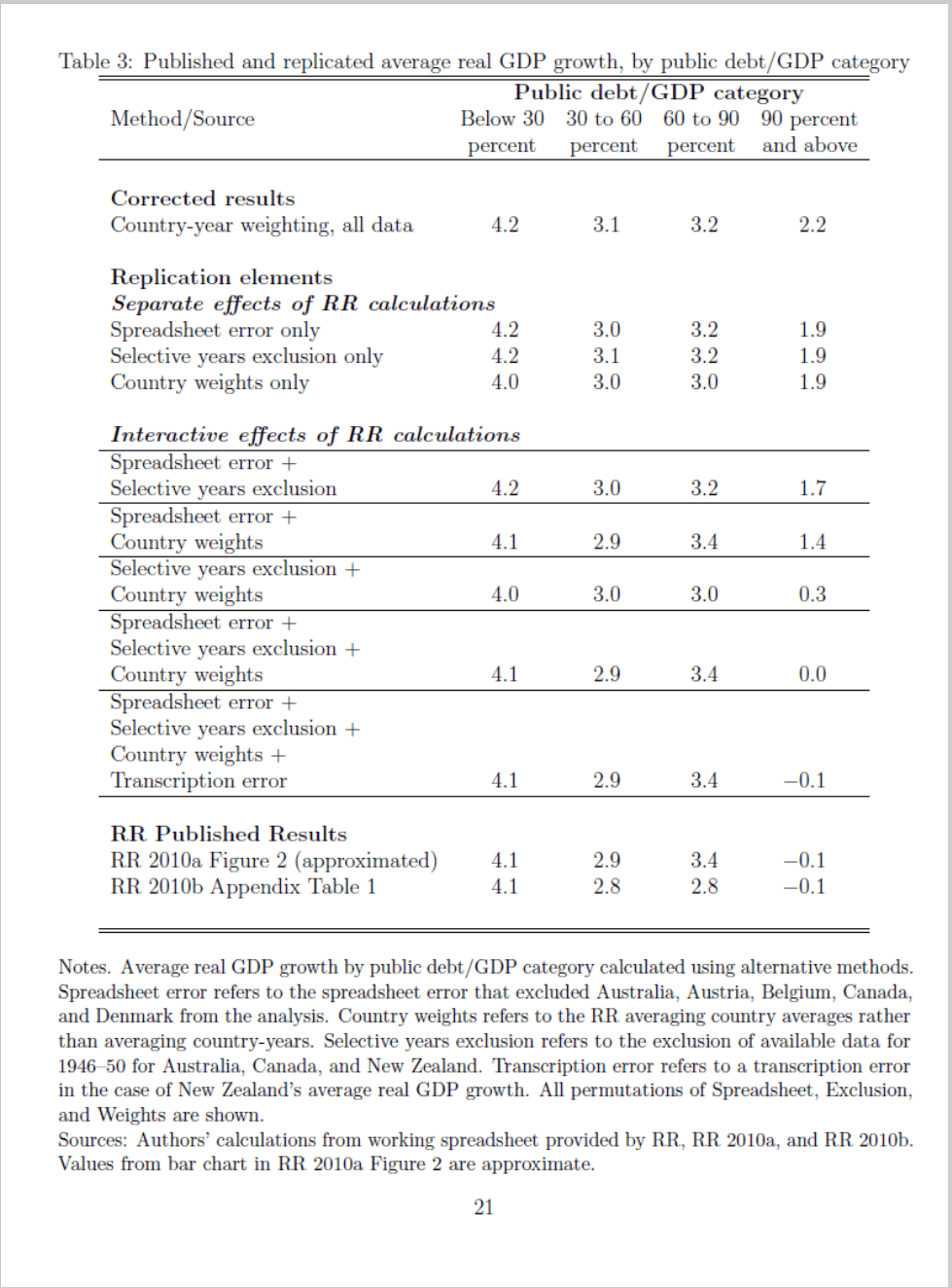 Still more significant, in our view, are the results we reported in Table 5 of our paper, which we reproduce below.
As we show there, working with the RR corrected data, the GDP drop-off at over 90 percent public debt/GDP declines with time. In particular, over the most recent decade of RR data, 2000 – 2009, we see that the average GDP growth rate when public debt/GDP is over 90 percent is actually either comparable to or higher than when the ratio falls between 30 – 90 percent.
Overall then, from our replication of RR, we conclude that there is no robust evidence showing that countries consistently experience sharp growth declines when public debt level exceed the 90 percent public debt/GDP threshold. We need to emphasize once again: this does not mean that we believe governments can borrow money and pile up debt at will. Considering the U.S. economy specifically, in general, over the course of full business cycles, we believe public borrowing should fall within the historic U.S. range of between 2-3 percent of GDP. However, the 2007 -09 financial crisis and subsequent Great Recession have presented us with extraordinary policy challenges. Under these circumstances, an aggressive program of government deficit spending to combat the downturn was the appropriate policy intervention. Ongoing deficit spending remains the appropriate policy stance now, in combination with expansionary money and credit policies, because we still have not returned the economy onto a healthy growth trajectory, in which we can count on significant declines in mass unemployment.
---
This post was written by Robert Pollin and Michael Ash