That's the title of an IMF conference taking place starting tomorrow (April 16-17). The program is below, and the live webcast will be available here (and follows up on a 2011 conference on the same subject).
Five years into the crisis, the contours of the macroeconomic policy of the future are only slowly coming into focus. From macroeconomic to financial stability, policy makers have realized that they have to watch many targets. They have also realized that they have potentially many more instruments at their disposal, from macro prudential tools to unconventional monetary policy. But how to map instruments to targets remains very much a work in progress. — Olivier Blanchard
Below is the agenda.
SESSION I: Monetary Policy, Chair: Janet Yellen




Discussants




Lorenzo Bini-Smaghi

Mervyn King

Mike Woodford





SESSION II: Macroprudential Policies, Chair: Chair
Andy Haldane




Discussants




Claudio Borio

Stanley Fischer

Choongsoo Kim





SESSION III: Financial Regulation, Chair: Sheila Bair




Discussants






Jeremy Stein

Jean Tirole

John Vickers

SESSION IV: Fiscal Policy, Chair: Janice Eberly




Discussants






Anders Borg

Roberto Perotti

Nouriel Roubini

SESSION V: Exchange Rate Arrangements, Chair: Agustín Carstens




Discussants






Jay Shambaugh

Martin Wolf

Gang Yi





SESSION VI: Capital Account Management, Chair: Duvvuri Subbarao




Discussants






Philipp Hildebrand

Márcio Holland de Brito

Hélène Rey





PANEL DISCUSSION






George Akerlof

Olivier Blanchard

David Romer

Joseph Stiglitz

Some of Olivier Blanchard's views on the subject were recounted in this WSJ article.
For me, one key lesson from the last five years regarding macro policy relates to the plausibility of expansionary fiscal contraction at the zero lower bound (see [1], and this post). And one graph suffices to summarize that lesson.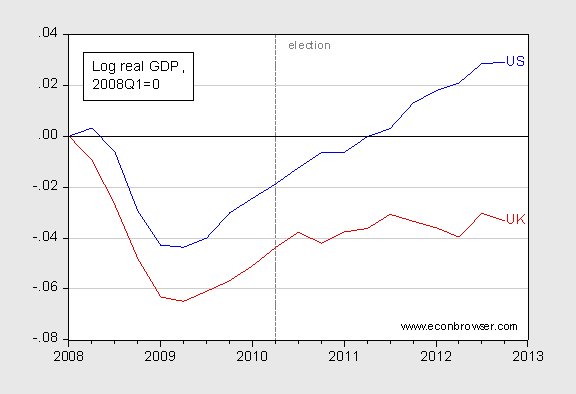 Figure 1:
Log real GDP for US (blue), and for UK (red), rescaled 2008Q1=0. Dashed line at election of Conservative/Liberal government. Source: BEA and ONS, and author's calculations.