The Heritage Foundation's Salim Furth writes:
If interest rates are responsive to news, most macroeconomic models agree that government "stimulus" spending crowds out private investment. In usual times, with responsive interest rates, New Keynesian models[4] typically have a strong role for monetary (Fed) policy but little or no role for fiscal policy (stimulus spending or tax rebates). In Neoclassical[5] as well as New Keynesian models, government stimulus spending diminishes private activity—especially investment—as private borrowers are crowded out of the market by government borrowing. In contrast, New Keynesian models suggest that when the interest rates relevant for investing are constrained by the zero lower bound, the crowding-out mechanism stops functioning and fiscal policy can be expansionary.

…

…in 2009, Christina Romer and Jared Bernstein published the economic bases of the Obama Administration's $800 billion stimulus plan.[8] The cornerstones of their estimates were the multipliers reported on page 12, in a table entitled "Output effects of a permanent stimulus of 1% of GDP."[9] These estimates came from forcing their models to constrain all interest rates at the zero lower bound regardless of the performance of the economy.[10] …
I find this description odd, as the multipliers used are an average of the Fed's FRB/US and a private macroeconometric model (my guess is Macroeconomic Advisers, a standard in EOP and Treasury, at least back in my day). This description of FRB/US makes clear that even if the Fed funds rate was kept at zero, the long term rate would not necessarily be zero; in other words, there's a term premium, so a pure EHTS is not imposed. (And if Macro Advisers is the private model, then the same applies — see here).
In any case, what did nominal rates actually do? I plot a slightly longer sample than Furth does (starting in 1967 rather than 1990), highlighting exactly how extraordinarily low long rates are.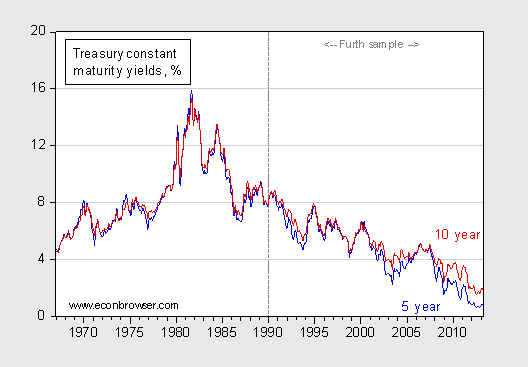 Figure 1: Nominal constant maturity yields on 10 year Treasurys (red), and on 5 year Treasury's (blue). Source: St. Louis Fed FRED.
Furth cites a Swanson and Williams paper that indicates a responsiveness of long term rates to announcements through 2011, as proof that there is no liquidity trap. Hence, in this interpretation, the American Recovery and Reinvestment Act (ARRA) might have crowded out investment.
In order to evaluate crowding out, one needs to examine the correlation of the stimulus package with real interest rates. This is shown in Figure 2.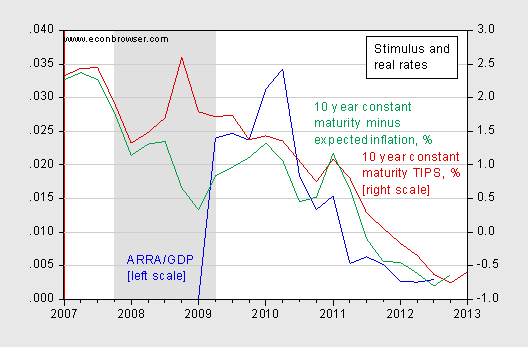 Figure 2: American Recovery and Reinvestment Act (ARRA) outlays and tax cuts as share of GDP (blue, left scale), and 10 year constant maturity TIPS, % (red, right scale), and expected inflation adjusted 10 year constant maturity Treasurys, % (green, right scale). NBER defined recession dates shaded gray. Source: CEA, BEA, NBER, St. Louis Fed FRED, and Survey of Professional Forecasters.
A big upward shift in real rates is not apparent to me. It is true that real rates might have been even lower had there been no stimulus package. Whether that would have spurred significantly more investment is an interesting question.
The interesting thing is that according to the Swanson and Williams paper Furth cites, we are now in a liquidity trap-like situation. Now is exactly the time to undertake expansionary – not contractionary — fiscal policy. At the very least, one would not want to cut government spending without cause. Interestingly, this implication Dr. Furth fails to note.