From 30 'Memos to the Left' entitled 'Progressive Governance: The Politics of Growth, Stability and Reform'.
For over four years, the economies of the Euro zone, the UK, US and Japan have been mired in a slow and hesitating recovery from the deepest recession since the Great Depression. In the beginning, policymakers responded aggressively to both the illiquidity and insolvency problems in the financial systems, and the collapse in aggregate demand. …
…However, in many instances, efforts to stimulate the economy were too soon withdrawn, or severely curtailed, despite the enormous amount of slack in these economies.

In the United States, Republicans stalled any substantial increments to the 2009 stimulus legislation; in the Euro zone, the absence of a centralised fiscal authority prevented an effective response to the sovereign debt problems that arose in the periphery countries. Can we stimulate growth at a time when traditional macro-economic management tools are restricted because of seemingly unsustainable national deficits?
I believe it is possible to accelerate growth in these hard-hit economies, now that the nostrums of expansionary fiscal contraction have been discredited, except all but the most ideologically blindered. However, doing so requires making some difficult choices. …

…
This graphic illustrates the counterproductive aspects of the policies implemented in several countries.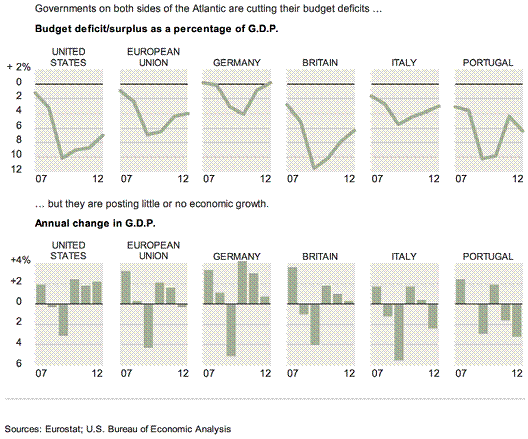 Source: "Austerity Wins!" NY Times, 22 May 2013.
My recommendations include: