The Philadelphia Fed's coincident indices for April are out (h/t Mike Ivey). Wisconsin economic activity as measured by this index continues to surprise, but not in a good way.
Source: Federal Reserve Bank of Philadelphia, April release.
Wisconsin's decline is notable because the three month trajectory is not shared by any other state save one — Wyoming.
A time series graph highlights the remarkable persistence of Wisconsin's economic underperformance since 2011M01.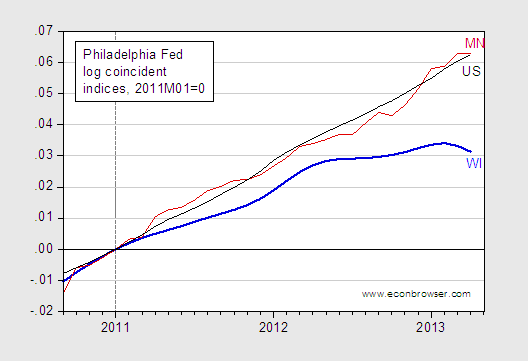 Figure 1: Log coincident indices for Wisconsin (blue), Minnesota (red) and US (black), rescaled to 2011M01=0. Source: Philadelphia Fed and author's calculations.
The fact that the Wisconsin index declined is no surprise to anybody who saw the establishment employment release for Wisconsin (refer to this post). However, it is interesting how few other states are experiencing declining coincident indices over the last three months, as shown in the first figure.
It is an interesting question why Wisconsin continues to lag the rest of the country, and why the gap is widening, rather than stabilizing or shrinking.
Update, 1pm: Mike Ivey has an examination of recent proposals to spur the Wisconsin economy via regressive tax cuts.